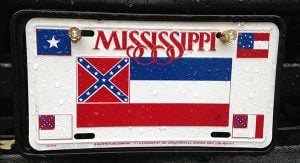 This morning as students at the University of Mississippi (aka "Ole Miss") trudged their way through the drizzly remnants of what used to be Hurricane Patricia, campus police officers were permanently removing the state flag of Mississippi (depicted on the front of my neighbor's pickup truck, see picture) to be put away for good in the university archives.
A week ago, student senate leaders voted 33-15-1 to request that the university take down the state flag, which is the last of the state flags still bearing the symbol of the Confederacy. Within the span of one week, similar approvals of this move passed in the Faculty Senate, the Graduate Student Council, and the Staff Council. In response to their requests, interim Chancellor Morris Stocks agreed to remove the flag in a ceremony this morning on the Lyceum Circle. Stocks went on to say:
"I understand the flag represents tradition and honor to some. But to others, the flag means that some members of the Ole Miss family are not welcomed or valued. That is why the university faculty, staff and leadership have united behind this student-led initiative."
Earlier this year, state Speaker of the House Philip Gunn became the highest ranking state official to call for a change in the state flag, a move which got voted down 2-to-1 fourteen years ago in a statewide vote. Governor Phil Bryant has repeatedly stated he does not support such a move because he believes a majority of Mississippians would still vote it down (and as we all know, the "rightness" of things is always decided by popular vote). Perhaps this bold move from the flagship school of the state will reopen that discussion so that my state can finally move beyond the shadows of its past—marked by loss, racism, death, and lots of things burning—to embrace a more successful future. Stocks went on to say:
"Mississippi and its people are known far and wide for hospitality and a warm and welcoming culture. But our state flag does not communicate those values. Our state needs a flag that speaks to who we are. It should represent the wonderful attributes about our state that unite us, not those that still divide us."
I couldn't agree more.
My mother's brother was the Vice President of the Student Council the year James Meredith enrolled as the first black student at Ole Miss. The night before that momentous occasion, a group of agitated white students tried to raise Confederate flag in the middle of the campus. Someone came and alerted my uncle, who had a fair amount of pull among the local student body. He found those students and convinced them to put away their flag because nothing good could come of insisting that after a hundred years, our state had done nothing to move past the racial injustices for which it had become so famous.
In 1962 it took a National Guard presence to force white Mississippians to treat black students equally, but today we're seeing the students, faculty, and staff of the same school calling for the state to take a step forward into the 21st century. On this particular day, I'm proud to see what people in key positions in my state are pushing to see.
Want to honor your heritage? Embrace the kind of changes which ensure what they fought for not only has a past but a future. #olemissflag

— Neil Carter (@godlessindixie) October 21, 2015
__________
Enjoying what you've read here? "Like" Godless in Dixie on Facebook to read more!