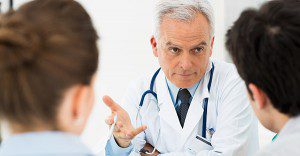 Did you know that if you have ovarian cancer for which the treatment would cause sterility, healthcare facilities run by religious institutions will withhold specific types of chemotherapy and not tell you they even exist? The same goes for treatments of testicular cancer. Any course of treatment which renders a man unable to reproduce is strictly forbidden by the United States Conference of Catholic Bishops. If you are a victim of rape and you check into a Catholic emergency room, they won't even tell you there is such a thing as a "morning after pill," and nothing requires them to tell you that.
Each year, 1 in 6 Americans receives their healthcare services from religiously-based hospitals, clinics, and physician groups. Recent developments in state and federal law have shored up the rights of both corporations and healthcare providers to withhold from employees and patients those benefits and services which offend the religious beliefs of the owners of those entities under the rubric of protecting their religious freedoms.
Uncoupling the rights of patients and employees from the religious biases of these institutions presents a thorny legal problem to anyone who resents letting other people's religious beliefs dictate the healthcare services available to them. But someone has just had a brilliant idea.
Amanda Knief is the Legal and Public Policy Director for American Atheists and she has authored a bill, introduced just this week into the Arizona state legislature, which will require healthcare providers to inform their patients about which services they are refusing to provide because of their religious preferences. The Patient's Right to Know Act (full text available here) is the first piece of legislation to require such a thing, and if it does well in Arizona, you should expect to see dozens of similar bills introduced soon thereafter into other states across the country.
Amanda explained it to me very simply weeks ago:
[This] patient's rights bill requires any healthcare entity to provide you with a form that says that, if they are withholding any medical treatment or information based on their philosophical or religious beliefs that would otherwise be available to you, they must inform you and you must give written consent to it being withheld.
That. is. brilliant.
This legislation says nothing of the healthcare provider's right to withhold those services. It only dictates that they must be transparent about this decision. They must disclose their decision to withhold those services out of deference to the individual patient's right to know what services are available, and doing so does not impinge upon their own legal justification for withholding those services in any way.
This a fantastic idea, and I hope to see it succeed at the state level so that it can eventually be introduced at the federal level as well. Perhaps eventually this requirement can be made mandatory for any hospital, clinic, or doctor's office which receives Medicare or Medicaid reimbursement. What a far-reaching possibility this provides!
Making a Real Difference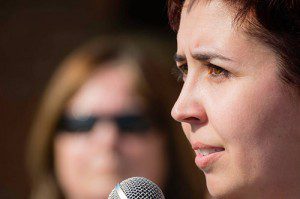 As a side note, if you don't know who Amanda Knief is, you really should. She has a long history of activism in women's rights, global humanitarian aid, and secularism. Her legal training uniquely equips her to work within the legislative process to envision improvements for the rights of Americans unencumbered by religious restrictions on issues such as birth control, cancer treatments, blood transfusions, and mental healthcare. Writing about these things is great, but doing something about them is even better. That's were people like Amanda provide such an irreplaceable service to women and to the secular community.
Religious communities have been directly influencing the legislative process for decades, but many in the secular community have been slower to come around to understanding the importance of activism for people like us. Organizations like the Secular Coalition for America (who also helped lobby for this legislation in Arizona) have been working to effect change at the local, state, and federal levels for many years, and I would like to see a whole lot more of us getting involved in what they do. I could also highly recommend the tireless folks at the American Humanist Association and at the Freedom From Religion Foundation.
If you haven't yet settled upon a career, perhaps you could pursue a legal career so that you can do the same things these organizations are doing right now? We need at least a dozen Amanda Kniefs all over the country, and we also need laypeople to get involved in the lobbying process. Sitting around and talking about it is nice, but getting out and doing something about it will accomplish a lot more.
Amanda doesn't just gripe about how bad things are. She uses her legal training to draft new legislation which pushes back against the creeping influence of religion in the public square. Be like Amanda.
[Image Sources: Adobe Stock, Biblename Foto]
__________
If you'd like to keep up with what I'm doing, you can "Like" the Godless in Dixie Facebook page: