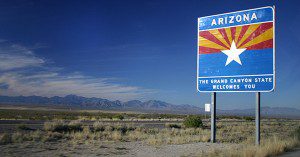 If you live in Arizona, I might be coming to your neighborhood this weekend!
I'll be visiting five or six places between Thursday and Sunday, speaking to groups about battling the rise of theocracy, why I don't think religion is going away any time soon, and what we can do about it. If you happen to live around any of these places, you should come out and see me!
On Thursday night a few folks from Freethought Arizona will be getting together for drinks and hangout time at Boulders on Broadway in Tempe at 9pm.
Friday evening I will be meeting with the Flagstaff Freethinkers at the Beacon Unitarian Universalist church at 5pm.
Saturday will be a jam-packed day, starting with the Sedona/Verde Valley Freethinkers at 10am, followed by another meeting with a group of Phoenix Atheists (location TBA) at 2pm, ending finally with a fun game night/meet and greet at a home in Tucson at 7pm (message me for details on that if you're interested).
On Sunday I will be meeting with the Freethought Arizona group in Tucson at 10am in the DuVal Auditorium, and then at 2:30pm I will meet with the Sierra Vista Freethinkers.
Busy weekend!
If you live in or around any of those places, I hope you'll come out and meet with us. See you there!
[Image Source: Wikimedia]
__________
If you'd like to keep up with what I'm doing, you can "Like" the Godless in Dixie Facebook page: