Between writing the blog, responding to emails, interacting with other writers, moderating discussion groups, traveling to speak to groups, appearing on podcasts, and generally networking with a growing list of friends, I've got my hands full!
And there's so much more I'd like to do.  I want to make more videos, and there are several creative projects which will remain on the backburner until I can clear some time in my schedule to devote to them.  I also have the beginnings of three books to write, scads of blog post ideas, and reader questions to answer.
With reader support, I could devote even more of my time to working on these things, and it just so happens there is an excellent way to help me out!
I've set up a Patreon page whereby you can become a monthly sponsor for the creation of more content on this site.  You could give as little as a dollar a month, or you could give more.  If you want to be a regular sponsor, you can set it up to give a small amount every month. Just click the image below: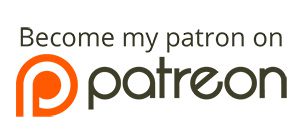 On the other hand, if you'd prefer to just give a gift from time to time to help out (my children will thank you), you can also give through Paypal using this button:
I also have both the Patreon page link and the Paypal button featured on the sidebar on the right so that they will be easy to find in the future.
If you've been helped by what you've read on Godless in Dixie, I hope you'll consider giving a little to help me do more for those who haven't yet connected with people through this site.  I can't keep it up without some help, and there's so much left to do!  I'm excited about the opportunities I see ahead of me, but I can't do it without you.