If you know anything about camps in the region of the country where I live, you know that they're almost uniformly religious in nature. Even the ones which conceal their religious affiliations tend to recruit from among the devout from whichever tradition the directors inhabit…which is fine, if that's what you're looking for.
But what about kids who are non-religious? Who will provide a camp experience for them, where they won't be viewed as prospects for conversion or rededication or whatever? That's where Camp Quest comes in!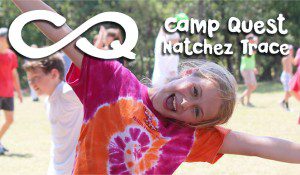 I'm thrilled to announce that Camp Quest is coming to my home state, which means you can bet your hopefully active rump I'll be there. I will be serving as the guys' Cabin Area Leader, coordinating the other male cabin leaders, and pitching in here and there wherever a need arises that I can help fulfill (subject to change on the fly because that's how camp works).
[And incidentally, for its debut year, CQ Natchez Trace will be coordinated by CQ South Carolina. So don't let the URL throw you off. For at least this first year, CQNT and CQSC are partnered up as one.]
If you happen to live within driving distance of Tishomingo State Park, especially if you have any past camp experience to draw from, we could also use some additional volunteer help! Feel free to drop them a line if you have anything you can contribute, either now or in the future.
What? When? Where? How Much?
Camp Quest Natchez Trace is centrally located within driving distance between Nashville, Memphis, and Birmingham. So if you live in or near any of those places, this is perfect for you. This year camp will be held the last week of June, from Sunday the 25th through Saturday, July 1st.
Registration is $600 per camper. They offer a sibling discount of $50 for each additional camper after the first from the same family. A $100 deposit is required with registration. All balances must be paid by May 25, 2017.
The registration deadline is May 25, 2017. However, please note that they are accepting only a limited number of campers for their debut year. Spaces are available on a first come, first served basis, so please register as soon as possible to ensure your camper's spot.
Registration costs go up $50 on March 1st, which is next Wednesday, so if you'd like to get in on the lower rate, register before then. Note that an electronic deposit of $100 (non-refundable) will be required upon registration. Financial aid is available for qualifying applicants, but note that those applications need to be in by April 30th.
So to sum up, here are the pertinent details:
Website: Camp Quest Natchez Trace
Dates: June 25th to August 1st 2017
Location: Tishomingo State Park, near Tupelo, MS
Age Range: Campers ages 8-15, Counselors-in-Training ages 16-17
Typical Attendance: 40 campers accepted for the first year
Price: $600
Special Activities: Swimming, Hiking, Arts and Crafts, Socrates Café, Carnival, Talent Show, Dance
Questions? Contact us and select Camp Quest Natchez Trace for more information.
Hope to see some of you there!
[Image Source: Camp Quest]