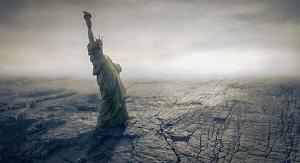 What if I told you the book of Revelation really does have something to say to our current political situation?
In post-Christian discussion groups online, people often ask what we are to make of this confusing book now that we've left our faith, and it turns out at the moment that it might be the most relevant book in the whole Bible.
What's Revelation About?
So much has been said about this book over the centuries, and most of it is fanciful nonsense. But the book isn't actually as mysterious as people make it out to be. It's just that people have been using it as a tool for their own purposes for so long that people don't know what to think about it anymore.
The "book" of Revelation is really just a circular letter written to seven churches in Asia Minor sometime toward the end of the First Century C.E. How do I know that? Because it says so in the fourth sentence of the letter. It even lists the seven churches in the next two chapters.
The point of the book isn't really a mystery, either. The language and imagery may be fantastically colorful, but it's merely following an ancient literary genre we call apocalyptic literature. In ancient Mediterranean cultures, apocalyptic writing was used as a way to speak in code about present geopolitical realities they couldn't openly talk about without encountering retribution from "the powers that be." And in the life and times of these seven churches in Asia Minor (roughly modern day Turkey), that power belonged to the all-powerful Roman Empire.
Simply put, the book of Revelation was a circular letter written to seven specific historical churches to remind them that their first loyalty lies with their God rather than with Caesar, and that in the spiritual battle going on between the two, they should trust that God will ultimately win.
That's it. It's that simple. The whole letter is a call for the Church to stand up to increasing pressure to participate in the imperial cult of Rome. Now you understand the book of Revelation, whether you know what each exotic image and symbol in the book stands for or not. I'll explain why that's relevant today in just a moment (if you haven't already guessed).
What's the Mark of the Beast?
We already know what many of the symbols in the book are intended to signify. For example, it's no mystery that the "Great Harlot" at the center of the epic battle in the author's vision is the city of Rome itself. We know this because he says it's a city on seven hills, and that happened to be the very empire demanding the kind of worship that the Church was supposed to reserve for Jesus himself and not for Caesar.
We even know what the mark of the beast represents. And no, it's not a futuristic vision of microchips being implanted under our skin, nor is it the internet itself (the 6th letter of the Hebrew alphabet looks like a "W"), nor is it smart phones like a Russian Orthodox Patriarch said last week. Most historians of antiquity agree that it was a coded way of naming the Emperor of Rome without actually saying his name.
Back in those days it was customary to use the numerical value of a person's name as a shorthand way to reference them. Excavators at the site of ancient Pompeii discovered numerous gematria preserved on the walls like the graffiti they found declaring young love for "the woman whose number is 545." Now guess what the number of Caesar Nero's name added up to once you transliterated it from Greek in to Hebrew? That's right…666. Figured a slightly different way, it adds up to 616, which as it turns out appears in early variants of the text of Revelation found in a library in Egypt.
Meanwhile evangelical preachers rifle through daily news headlines looking for the next Eastern European politician or whatever to fulfill this prophecy or that one from a letter written to people who died twenty centuries ago. Back when I was a kid the Bogeyman was supposed to come from Russia, but here lately evangelicals seem to trust Russian leaders more than they do American ones.
Related: "Deconstructing the End of the World"
Oh, and as for the "mark" being on their foreheads or on the back of their hands…if you've read much of the Old Testament, you know that it tells them to take the commandments of God and "bind" them onto those same two places as a symbol of their faithfulness. Rabbinic Judaism maintains this tradition even to this day, as you may have seen those little black boxes strapped onto the heads of Orthodox Jews preparing to worship.
All this imagery in the book of Revelation is indicating that the people in question have exchanged their loyalty to God for loyalty to a man. Once there was a time when I would have found that unlikely for the very devout, but recent developments have changed my mind about this.
What Does It Matter Today?
So what does any of this have to do with us today?
American Christians today could use a heavy infusion of the "screw the Emperor" message we find in the book of Revelation. Their leaders have allowed politics and religion to blend for so many years that they seem to have decided that rendering unto Caesar is rendering unto God.
Just last week, a reporter with The Washington Post asked Liberty University president Jerry Falwell, Jr. if there is anything that his choice for president, Donald Trump, could do to lose his support, and he answered quite abruptly "No." End of answer. When later asked why he doesn't demand a higher moral standard in his choice for Commander-in-Chief, Falwell suggested that it may be immoral not to support him.
Evangelical leaders like Falwell, Dallas pastor
Robert Jeffress
, and Focus on the Family founder
James Dobson
have all not only offered their undying support for the thrice-married owner of casinos with strip clubs, but they have tirelessly stumped for him at every turn using their influential platforms to rally the support of millions for any and every move the president makes.
As perplexing as this turn of events may be to many, the complete identification of evangelical Christianity with the Republican Party is a marriage of convenience that has been a generation in the making. At this point in the life of American Christianity, politics and religion have become so thoroughly blended that the attributes of each have rubbed off on the other so that you can hardly tell them apart.
For example, when I was a kid evangelical churches didn't equate either fiscal conservatism or opposition to immigration and same-sex relationships with the core message of the gospel itself. And when Roe v. Wade was originally handed down by the U.S. Supreme Court, the president of the Southern Baptist Convention, W.A. Criswell (ironically Robert Jeffress's predecessor at First Baptist, Dallas), fully supported it.
Read: "What Does the Bible Say About Abortion?"
Over the course of the last 40 years, however, a sprawling, massively expensive campaign forging a common political platform merging the interests of the Republican Party with those of evangelical Christianity has so equated the two that their fates have become completely indistinguishable.
An Emperor by Any Other Name…
The message and symbols of the book of Revelation self-consciously mimic those of the Old Testament prophets, who were always calling the people of Israel back to faith in God rather than in kings who promised them military might for the low, low price of the forfeiture of their souls.
They were never really okay with a ruler they couldn't see, so they asked instead for a human king who would make them feel like legitimate players on the world stage, and according to the prophets this displeased God a great deal. When God's judgment finally came on the nation of Israel in the Old Testament (usually in the form of another nation taking them over), the prophets laid the blame at the feet of Israel for forgetting they weren't supposed to put their trust in human leaders.
The book of Revelation likewise picks up this theme and reminds God's people not to trust in an empire, no matter how big or how strong. The consequence for doing so, ultimately, is destruction. Why? Because kings will ultimately do what is best for themselves and their own children and because, according to the prophets, God is a jealous God who doesn't like sharing his position with others. Any country who chooses a king over him just gets wiped out, according to the Bible.
Now guess what biblical image evangelical Christians today have taken to using in justifying their support for Donald Trump? That of a king. Specifically, they have taken to comparing him to King Cyrus, who shared none of Israel's values but who made decisions that Israel liked anyway.
It seems lost on evangelicals that kings aren't chosen as freely as presidents are, nor do they seem to care how antithetical to democracy it is to have someone run a country the way you would a kingdom (or even a business). But then again, the Christian faith isn't really the source of democracy as much as American pastors today like to pretend it is. Early Christians like Paul didn't discuss what being a follower of Jesus would look like in a country in which people got to choose their own leaders. That makes the whole Cyrus comparison that much more incoherent and indefensible for Christians in America.
A Coming Judgment?
Now, I no longer believe the Bible is a magic book that can predict the future, particularly when it comes to portions within it which were never intended to be interpreted futuristically in the first place. But if I did, I would have to do an awful lot of soul-searching about the book of Revelation since it appears to contain one of the most relevant words today for those who claim to have no king but God.
If as a Christian I heard my leaders proclaiming their unconditional support for someone who bullies others, calls his political opponents derogatory nicknames, brags about sexual assault, and consistently says one thing but does another, I would have no other choice but to decide my leaders have lost their way. In many ways, in fact, that's exactly what I did almost a decade ago. I would have been tempted to conclude that the great deception spoken of by both Jesus and Paul had already come to pass and that I had no choice but to defect from evangelical Christianity once and for all.
Whether the mess that lies ahead of us is divine judgment or just the consequences of an incredibly foolish decision by hordes of followers unable or unwilling to think for themselves, the unravelling is virtually assured. I'm not looking forward to it, but until then I would love to see at least a few of them realize what they didn't see before it all happens.
[Image Source: Adobe Stock]
_________
If you're new to Godless In Dixie, be sure to check out The Beginner's Guide for 200+ links categorized topically on a single page.
And if you like what you read on Godless in Dixie, please consider sponsoring me on Patreon, or else you can give to help me keep doing what I'm doing. Every bit helps, and is greatly appreciated.