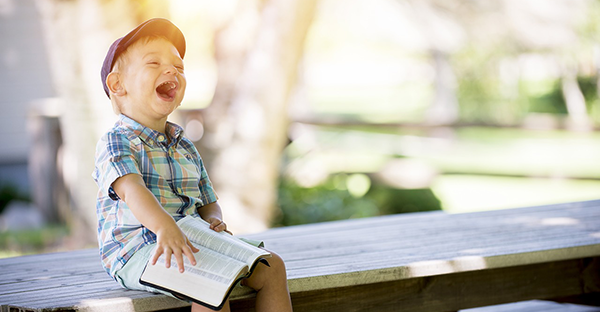 I post a lot on Instagram. Often my posts are poking fun at religion or meant to spark a conversation about it. Of course, it's not surprising that many of these posts upset believers, as these are their most cherished ideas being torn to bits by thousands of people on a public platform. I do understand that it cannot be easy to witness as a religious person. As such, I get a lot of people accusing me of being insensitive to their religion, and they often deliver those accusations in a fairly rude and personal way. So, when I got this email from Bryant, I was pleasantly surprised. He was polite and had a genuine question regarding my frequent attacks on religious ideas:
My name is Bryant. I have been following you mostly on Instagram. I am a person who believes and follows Jesus. In many ways, I find your Instagram posts funny, satirical and thought-provoking.

I read your latest blog post-Christian Says We Need To Embrace These Ideas In The Bible… And I Agree! In many ways, I agree with what you are saying.

However, as I thought a little bit about your response, I was a little thrown because what you say here: " The one thing that Billy missed, though, is that we do embrace these things already. Not all atheists, but there are loads of us who already cherish these ideas; who live them, and preach them and use them as cornerstones in our everyday lives."

Now, I do not doubt that you do not practice these ideas and do practice them within most areas of your life. However, as I follow you on Instagram, I wonder how the majority of your posts help to communicate in others (be they theist or atheist) a sense of love, joy, peace, kindness self-control etcetera. I guess I struggle to see how when you post some things, that you are doing that in a way that is seeking to help someone become a more loving, kind, joyous, or patient etcetera person toward the atheist position? I will say that I do believe from the short time I have followed you, you do seem to exercise some self-control with people who follow you on Instagram and make negative comments and you reply in a much kinder way.

I suppose I am just saying that I am a little bummed because I think, "Wow, this blogger atheist has a such a chance to build up a community of atheist people and rally them around a more intellectual view of life that breaks the shakes of petty belief." But then I see some posts and go, but all I keep seeing is lots of putting down or poking fun at religion that I wonder if it is really producing in people more love, more peace, more joy, more kindness etcetera.
Bryant took the time to be reasonable in his email, so I thought I would take some time to answer him thoughtfully.  I wanted to share my response here because these are questions I often get, and I'm sure more than a few people might get something out of me answering them publicly. Here's what I said:
Hi Bryant,

I am so glad you wrote this email. I understand why you might have wrestled with it, though. Please be assured, I am so very open to hearing from believers and answering these sorts of questions. I am also really glad you emailed me instead of commenting because often I miss comments as I get so many notifications. So, thank you!

First, I want you to know that I have a deep respect for many religious people I know personally, and even many whom I've gotten to know online. So much so, that I have invited many of them to guest blog on my blog. I have much love for many religious people and nothing that I post is meant to be taken personally.

However, it is important to separate ideas from the people who hold them. Even though some of the ideas I am critical of are held dear by some people, they are still ideas. In much the same way that religious people say they "hate the sin, but love the sinner" there are many beliefs I loathe, but still have a deep respect for people who hold them.

For instance, take my mom. She's amazing in every way. She's been my biggest support my whole entire life. She's so intelligent, caring and wonderful and I love her so much. The thing is, she's a follower of alternative medicine, believes in a lot of strange conspiracy theories and I find some of what she believes quite dangerous. I often crack jokes (along with my brother) about her remedies, like suggesting she dip her elbow in apple cider vinegar when she complains of pain or tiredness. These jokes are not meant to hurt her, or be an attack on her. Instead, they are jokes about the ideas she holds. Even though she cherishes these ideas I find incredibly dangerous, I still love and respect her and she loves and respects me, too. It's not personal.

Another example would be if one of your kids joined a cult. You would likely have a great deal of concern for the safety of your child and would probably criticize the ideas put forth by the cult, but that doesn't mean you love your child less. It doesn't mean you're trying to hurt the child. Of course, the things you say might hurt him or her because they feel so strongly about these ideas, but that doesn't mean you should stop criticizing the ideas themselves.

When I poke fun of religion, I am often expressing how I truly feel about it. While my true feelings regarding religion may feel like an attack on someone who holds that religion dear, they are not. They are how I feel and I won't ever pretend I don't feel that way. I have just as much right to express my feelings about religion as religious people do.

he thing is, my Instagram feed is meant to serve atheists. It's meant to be a place where atheists can discuss religion and related topics and feel free to express how they really feel about it. Of course, I love it when religious people join us and I love to be challenged, but the ultimate goal of all of my social spaces is to provide a place for atheists to be themselves.

I also often share posts that I don't agree with. My captions are usually questions on these posts, asking my audience how they feel about it, because these posts are meant to spark conversation rather than be something I endorse.

The truth is, I think a lot of the things religious people believe in are silly. I also think some of the things religious people believe in are scary. As such, my posts reflect that. However, I do not think religious people are stupid or inferior. I don't hate religious people or carry any contempt for them. I respect and love many religious people, but I can't pretend I don't feel amused, concerned or outright disgusted by some the ideas they hold dear.

I hope this sufficiently answers your questions. I know that someone having such contempt for the ideas that shape your life is not an easy thing to swallow. I appreciate you contacting me in spite of that.
That pretty much sums up my position. No matter how many feelings it hurts, my position on religion will be the same and I will express it until such time someone gives me a good reason to respect it. No, I don't have much respect for religious ideas because I've always been an outsider and it's always seemed silly, strange and sometimes scary to me.
Even though I should be used to it by now, it always throws me for a loop when a religious person suggests that should I not have anything nice to say about religion, I shouldn't say anything at all. Imagine if that's how we'd approached slavery or segregation or child labour? Not all ideas deserve respect. Some ideas deserve to be criticized relentlessly, especially those for which there is no demonstrable reason to believe them. Even more especially those ideas that lead to discrimination, abuse and sometimes even death.
It's also as if they are suggesting that only believers should be entitled to openly discuss their feelings about religion; that the feelings atheists hold about religion are invalid or less valuable than those of believers. What else can I really say but, too bad? I'm sorry my opinions on religion hurt your feelings but I'm not going to hide them or change them because they do.
What do you think? Do you think atheists have a right to criticize religion openly and even make fun of it? Let me know in the comments!
Image: Creative Commons/Pixabay