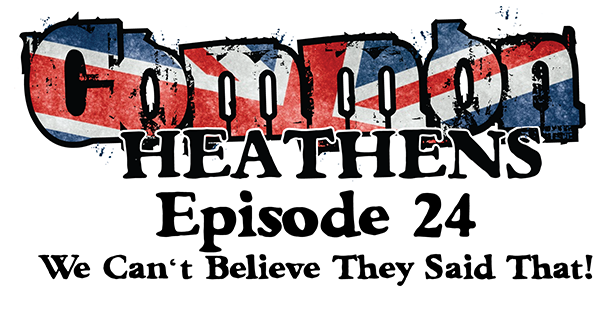 I wonder if all the new readers who came with the new blog know this about me: I have a podcast. I thought I would take some time today to introduce you to it.
My podcast is called Common Heathens as my podcast partner and I both reside in Commonwealth countries and while we try to record it once every two weeks, it often turns out to be once per month. That's because I do my podcast with my good friend, Donovan Badrock who is also known as @MrOzAtheist on Twitter. You know, the guy Ricky Gervais follows and DMs every once in a while? That guy. Yeah, he lives in Australia which is in the future and we can sometimes sort out a time that works for both of us, but often we cannot. You should see us when daylight savings hits one of us… we've got ten calculators, an abacus and Wolfram Alpha trying to sort out when we can podcast but often our efforts fail. So, we record when the podcast gods smile down on us. #PrayForCommonHeathens
Donovan and I have a very casual podcasting style, as both of us are novices when it comes to sound and recording and that sort of thing. We often just pick a topic and fly by the seat of our pants after that. However, because we are such good friends, we never fail to talk forever and have had many listeners tell us they love the chemistry between us. We get a lot of engagement and enthusiasm from the listeners we have now, for whom the both of us are so thankful.
While the core topic we cover is always godlessness, we often touch on other topics such as feminism, politics, racism, current events and more. We're 24 episodes in, with each episode being around an hour.
While we record our episodes, we also stream them live on YouTube. If you want to tune in the next time we are live, you can subscribe here:
Godless Mom on YouTube
. Make sure you click the notification bell so that you get a notification when we begin a live stream. We love to have people in the live chat and interact often with it, so join us live to be part of that!
Catch previous live streams with the playlist here.
You can listen to us on iTunes here: Common Heathens Atheist Podcast
We're also on Soundcloud here: Common Heathens on Soundcloud
Here is our latest episode:
If you like what we do on Common Heathens, you can be a patron here: Common Heathens on Patreon
Also, be sure to leave us a review on iTunes as it helps us reach more people. We welcome criticism and comments, so if you have any, don't be shy! Leave them in the comments below.
What are some of your favourite atheist podcasts? Let me know in the comments!