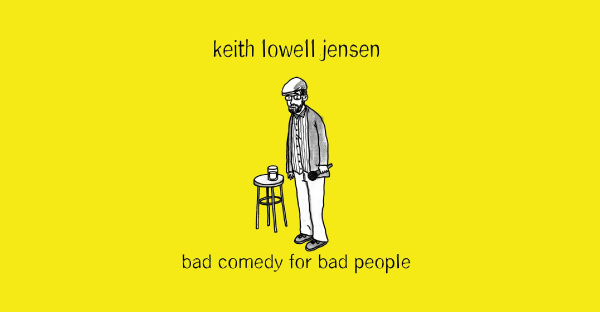 I've followed Keith Lowell Jensen on Twitter for a few years and had the honour of having him follow me back at some point. I've caught his giggle-inducing tweets popping up on my timeline and seen some the memes going around featuring his jokes. I always laugh. He's a delightful addition to my daily social media diet.
The thing is, though, I've never actually listened to his comedy. It's weird how you find yourself conversing with comedians on the interwebs but, in some cases, you don't know their work at all. I am embarrassed to say I'd never caught any of Jensen's stand up work.
Recently I was given the opportunity to do so, though. I got my evil little atheist hands on a copy of his newest release, Bad Comedy for Bad People. I'm a busy person, so the album sat in my inbox for a little while. But when the laundry was finally done (I know… myth) I set my phone to play it.
It really didn't take long before I was laughing my pants off. This album is hilarious from beginning to end. Keith is an absolute pro.
My personal favourite part of this album was the story of Hippity Hoppity the frog. I wasn't expecting it to end the way it did, with a joke about us cruel, joyless atheists, but I laughed so loud I startled my dog.
The majority of this album has not much at all to do with atheism, but it does come up a few times. I love how he handles the topic. It's not preachy or holier than thou. It's a little bit self-deprecating, a lot lighthearted and a metric ton of funny.
Whether you are an atheist or not, if you like to laugh, you should listen to this album. I regret not having checked out Jensen's work before but you can bet I'll be going back through his available material now.
You can grab Keith Lowell Jensen's latest album here: Bad Comedy for Bad People – I would love to know what you thought of it.
Have you heard Keith's work before? Are you a fan? Let me know in the comments!
Image: Keith Lowell Jensen