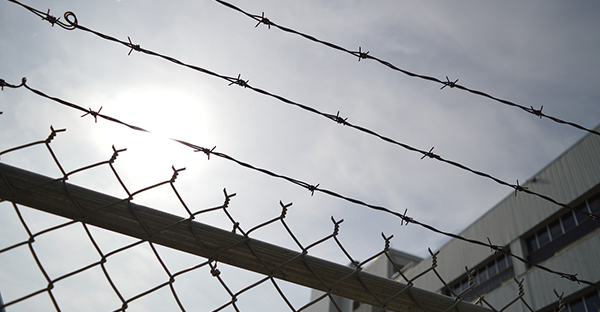 Today, we get to meet a new inmate! He is also from Oregon, like two others we've heard from so far. First, my series blurb…
This post is part of a series on what it's like to be an atheist in prison. To read other parts in the series, click here. Some of these inmates have done things that, to many of you, will be unforgivable. I will be disclosing some of their names, so you can easily find out what they've done to end up in lockup. You may be disgusted to find out their crimes, and you have every right to be. This series, for the most part, will not be about their crimes. I'm interested in painting a picture of what life is like for nonbelievers in prison. If you find it is too upsetting to be part of giving them a platform, please choose not to read this. You don't have to be part of it.
With that said, I've sent each inmate some preliminary questions to get the conversation going. If you find you have questions that arise as you read their responses, please post them in the comments below or email them to me: mommy@godlessmom.com and I will make sure the person gets them.
I'd like to introduce you to Larry Brinkley. Larry was locked up at Eastern Oregon Correctional Institution which is a medium security prison in Pendleton, Oregon His search results on the Oregon Inmate Locator suggest he's recently been moved to South Fork Forest Camp, which is a minimum security work camp. Larry mentions a recent move in his letter. Here's his response:
Hello Courtney

I would be more than happy to tell you about my experience and participate in your blog. I am glad that you got in touch because I want to make contact with people like you who are delivering a subversive message. Education and awareness is where activism begins.

With that said I would like to begin by answering your questions

1. Have you always been an atheist?

I have not always been an atheist. I was raised Christian. Children are good candidates for religious indoctrination because they usually believe what they are told with little hesitation or doubt. They grow up to be good law-abiding adults that do not question authority and pay their bills on time.

2. If not, how did you become an atheist?

I was always curious and all too often the answer that I got was to simply have faith. For a free-thinking individual who is constantly seeking knowledge and enlightenment that can only suffice for so long.

3. Have you ever been treated poorly in prison because you are an atheist?  

The Oregon Correctional Institution I'm at seems to be fairly equal opportunity when it comes to subhuman treatment and the systematic standard issue of hate and disrespect.

4. Do you feel free to tell your fellow inmates that you are an atheist?

Absolutely. I think it is fair to say that the folks who know me know what I am about.

5. What is your overall opinion of religion?

I know quite a bit about the Bible and there are a lot of contradictions (too many to point out). The Old Testament suggests that God is pissed and he wants to kill us all. The New Testament says God loves us and wants to forgive us for being so terrible. It is also written that God is the same yesterday, today and forever. Right…

The main idea that I take away from the major religions is that we are inferior beings and incapable of solving our own problems.

6. What is your day-to-day life like in prison? 

I try to stay as busy and active as I can. I recently transferred to a minimum work camp and got onto an outside work crew with the Department of Forestry. It is hard work, but I love it and it could potentially lead to a career when I get back to the free world. I spend a lot of my downtime focusing on my physical fitness training. I like to read a lot, but I also have the attention span of a fruit fly. I do some creative writing and a bunch of correspondence with my family and friends. I am fortunate enough to have regular contact with both of my daughters. I have positive relationships with their mothers, so I get to visit with them often.

7. What is the hardest thing about being in prison? 

The hardest thing about being incarcerated is being away from my kids and missing out on the amazing things they are doing with their lives.

8. Do you know any other atheists in prison?

I know a lot of atheists and agnostics in here. I also have some friends that are religious. Everybody seems to respect my beliefs and I am respectful in return. I try to judge people strictly by their actions. That is what truly defines a person's character.

9. Do you like to read atheist books and if so, are there any you have wanted to read?

I have read some essays by Emma Goldman and Fyodor Dostoevsky. I would like to read some Noam Chomsky and Frederick Nietzsche. I should read more, but the kid gets distracted!

10. If you have struggled with addiction, have you found an alternative to AA that does not rely on a higher power? Or have you chosen to do the AA program in spite of it?

I attend AA and NA meetings because there is not an alternative to 12 step recovery in prison. I am respectful of others opinions and they understand where I am coming from. The meetings provide a few tools that I can apply to recovery, but overall I run my own program.

11. Do you think being an atheist gets in the way of being granted parole?

I am serving a day-for-day sentence so I will not have to pour myself out in front of a parole board. I do not have to earn good time to keep my release date, so they cannot make me stay longer for refusing to participate in their cookie cutter reform programs.

12. Are there any services atheist inmates lack in prison that are offered to religious inmates by nonprofits and charities aligned with a faith?

I made a false claim about being a Buddhist so I could be put on a vegan diet. I am not a vegan either but the food in county jails is horrible and it just happens to be a better option.

13. Do you perceive the religious inmates around you as "happier" than you? 

I don't think that anybody is happier than I am. Some days I get so stoked about life that I almost make myself sick I'm not sure what is wrong with me but it seems to be working and more effectively than a holy poltergeist.

14. Does the idea of accepting God and Jesus into your life get pushed on you in prison?

My observation from my own personal experience is that the state of Oregon is appropriate in the application of separation of church and state. I am sure that it is not like that everywhere. As for other inmates, I think those that know me know better.

15. What are the coping methods that get you through the day? 

First of all, I do not think that anyone should have to believe in a supernatural daddy in order to do the right thing. Good people have good values. I make things easy on myself by keeping it simple. I surround myself with people I get along with and keep a small circle. I am self-reliant, so I do not expect anything from others and I do my own time. My positive attitude can be mostly attributed to healthy living. Staying in shape and working out nearly every day makes me feel good about myself and keeps me mentally sharp. Listening to music is also a great outlet for me. I find it easier to do my time after accepting that I do not have anything coming. There is no such thing as fair and those who wait on the world to become just will surely die victims. True survivors will always find a way to rise above and overcome any shitty circumstance.

I hope that my story will be an apt contribution to your cause. Thank you for contacting me and I sincerely appreciate what you are doing. I look forward to your feedback and hearing from anyone else who would be interested in connecting with me. Stay radical and keep on grinning in their faces!

With respect,
Flip B

"The ultimate end of all revolutionary social change is to establish the sanctity of human life, the Dignity of man, the right of every human being to Liberty and well-being." – Emma Goldman
What do you think of what Larry has had to say? Let me know in the comments! If you want to reach out to Larry, you can write to him at:
Larry Philip Brinkley #15044233
48300 Wilson River Hwy
Tillamook, OR 97141-9799
USA
Next week, we have an update from Pablo so make sure you are subscribed to be notified when that is posted. You can subscribe using the form in the top right sidebar, or you can follow me on Twitter for all my updates: @godless_mom
To read more installments from this series, click here. To read the first two posts in the series on my old blog, click here.