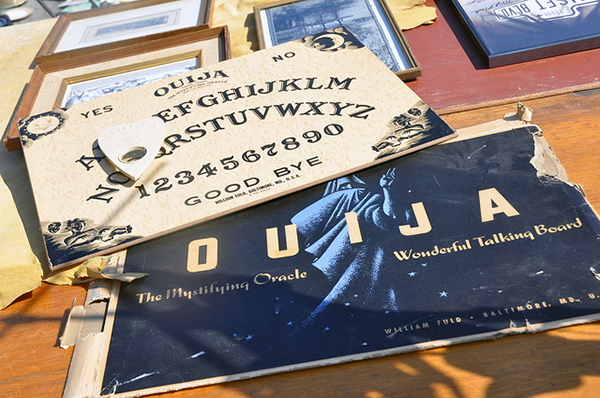 Last week, my son built an Ouija board. He came tearing home from school on his bike, announced he was headed to a friend's house and disappeared.
Prior to this, he'd never shown any interest in telling or hearing ghost stories and had no desire to watch scary movies or shows. Every once in a while, I'd invite him to join his sister and I for a marathon of terrible horror movies.
"Hey, Kiddo, wanna watch Gremlins?"
"Nah," He'd say.
When he'd join his fellow Cubs for a campout and I'd pick him up the next day, after I'd get done blubbering about how much I missed him, I would always ask,
"Did you guys tell ghost stories?"
"Nah," He would always reply.
To be honest, I found it strange. I'd never known a kid who wasn't totally keen to sit criss-cross-apple-sauce and devour a good yarn about the unsettled dead. But my little boy did not. He'd listen to me retell, horribly, stories from history about assassinations and wars and revolutions, but as far as Casper was concerned, my little heathen didn't wanna hear it.
So, when he ripped home from school to build a Ouija board, I thought, this is it! It's finally here! The ghost story phase!
Before you snatch my skeptic card, let me explain.
There was indeed a time, my little devils, when I believed in ghosts.
*Gasp* But I thought you had always been atheist, GM?
It's true, I've always been a godless heathen, but that didn't stop me from believing that every creak of every floorboard was a sure sign Great Aunt Mary had unfinished business to tend to in the land of the living before she could rest in peace. I just didn't think god had anything to do with it.
Yes, when I was but a tiny sinner, I absolutely loved telling ghost stories. I even had a few of my own unexplained experiences that I would blame on restless souls clawing their way out of purgatory. I would steal every moment I could to stow away in a dark corner with my friends and swap spectre stories until none of us would be able to sleep.
I don't believe this stuff anymore, but I still love a good horror flick; I still love hearing a good phantom fiction. I couldn't wait for the day I could sit down with my little boy like I did with my beautiful girl and wax Ebenezer until our skin crawled. You can imagine my disappointment when he showed no interest. That's why, when he zoomed home to build a Quija board with his BFF, I got a little excited. The day I could huddle over a bowl of popcorn with my tiny man and watch Haley Joel Osment tell Bruce Willis he sees dead people was drawing ever nearer. Soon, we would both be cocking our pointer fingers and croaking, "redrum! redrum!".
Things haven't quite worked out that way, though. It would appear this skeptic's low threshold for nonsense has gotten in her own way. The following day, my little dude played with his freshly built Ouija board at school. He and his little gang of buddies claim to have contacted a little girl who fell out of a window. My itty bitty mister came home and told me all about it.
"She died when she fell out of a window, mom."
"How do you know?"
"She said on the board. She spelled it out."
"How do you know she did that, and it wasn't your friends?"
"They weren't moving the marker, mom! They told me!"
"What if they were? Do you think your friends could stretch the truth?"
I couldn't help but challenge his claims. Years of debating with theists about what's true and how we know were being recalled. Like muscle memory, I couldn't help myself.
Later, after we tucked him into his cozy Star Wars sheets and kissed him goodnight, my little boy called downstairs with Alexa,
"Mom, I'm scared."
Right, I thought. There's a downside to the ghost story phase.
Up the stairs I trudged, taking the entire 15-second journey to mull over how I was going to deal with this. When I got to his room, I sat down on his bed and asked him what he was scared of.
"The little girl who fell out of a window."
"That's what I thought." I put my arms around him. "Hon, I'm gonna tell you why you don't need to be afraid of that little girl. You have to trust Mommy, okay? Mommy's been around a lot longer than you have and I've learned a lot of things, okay?"
"'Kay."
"Baby, there is no such thing as ghosts."
"I know." He always says this when I tell him something new.
"Ouija boards rely on the power of your brain and the brains of your friends. When you ask it questions, your brain subconsciously moves the pointer. When combined with the power of your friends' brains, it can seem like there is another force at work, but honey, there isn't. It's simply not real."
"'Kay."
That was it. As my husband likes to say, I didn't have my eff-around pants on.
More often than not, I prefer to let him figure these things out on his own by exploring his own doubts. Every once in a while, though, I see no harm in giving him the answer, especially when the alternative is letting him stew in his own fear and lose sleep. Sure, telling him that none of it is real could reduce the possibilities of us bonding over scary movies and spooky stories, but it's more important to me to be honest with him. There's no need for him to believe he can speak with the dead. There's no reason for me to let him sort that out on his own when I'm already fairly certain of the answer.
Not too long after our little chat, he fell into a sound sleep. It's true that our date with the Mothman Prophecies may be further off than I thought, but that doesn't matter near as much as my little guy's ability to feel safe enough to rest his little blue eyes.
How would you have dealt with this situation? Let me know in the comments!
Image: Jonas Forth/Some rights reserved