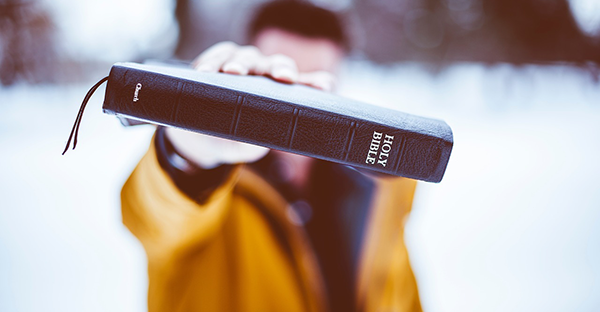 I used to do magic mushrooms a lot. I know, I know what you're thinking,
but you seem so squeaky clean, GM!
and it's true; I revel in my own moral perfection these days, but as Miss Spears might say, I haven't always been this innocent. I really loved magic mushrooms. I mean, how can you not? When they start to hit you, you're awash with a warm delight – everything around you is simply enchanting. Colours become more vibrant; smells are more intense; sounds grow clearer, and the stars seem closer. If you're under a night sky, you can feel it talking to you. Wonder and awe take up a stage in your mind and perform an interpretive dance directly connected to all of the outward stimuli around you. It's staggeringly marvellous; there is no other way to describe it.
There was only one occasion on which I'd done magic mushrooms where the effects were not sheer joy. On that occasion, everything was going just fine until I picked up my friend's Bible.
I don't know why I did it, but I did. I saw it lying there in its navy jacket with gold embossed letters: Holy Bible. I was still a relatively empty-headed teenager back then and had never read a word of the Bible previously. I barely had any understanding of what god or Christianity was. I just knew it was a book that meant a great deal to a whole lot of people. So, I picked it up and poured myself into it while my mind was alit with the effects of psilocybin.
It wasn't too long before the world around me darkened. The tingling delight that had taken up residence in my hair follicles turned to a dull ache. Terror began to swirl around me like a tattered old flag in the wind. As I turned each page and read each new passage, I began to experience a horror I'd never experienced before. I began to feel claustrophobic; caught in the tight squeeze of fear. I thought maybe if I put the book down, I could get back to the warm, joyful place I usually went to on mushrooms. Instead, the walls around me came alive as a writhing mass of snakes and as I felt them slither toward me, I had no choice but to bury my face in the book again.
I read. I read it for hours. I read until I began to feel the mushrooms wear off and I became sleepy. I ignored my friends and turned page after page of this horror story. I read until I fell asleep.
Of course, I didn't finish the Holy Bible that night but that night was why I did finish it. I sought it out again, on my own. I could only imagine the questioning that would ensue if I asked my heathen parents for a Bible, so I asked a friend. I read it, cover to cover, and I didn't find it any less horrifying with sobriety on my side. The only thing I'd read up until that point that came even remotely close to being as offputting as the Holy Bible, was Stephen King's Misery. The Bible made Misery look like a Judy Blume novel, though. I gave it back to my friend and I told her it was awful.
Cut to last week. I received an email from an anonymous reader who said,
You're afraid to read the Bible because you're afraid it might make you believe in your Saviour, the Lord Jesus Christ.
This is, of course, not the first time I've been accused of not reading this holiest book of all books; it's not the first time I'd been told I was ignoring this volume of violence or dismissing their treatise of terror. I often have theists come to me and tell me that if I would just read the Bible, I would understand. This idea that I must be an atheist because I have not read the Bible is not only completely bizarre to me; it's also profoundly dismissive of the lived experiences of many atheists.
When a Christian asserts that atheists are atheists because they've not given the Bible a good chance, they are dismissing this dire dread I sank to the bottom of that night when I would have otherwise been flying. They've simply waived my Fear And Loathing In Richmond, BC and in a question, one of the most unpleasantly memorable moments of my life is erased. It's always floored me that theists are so willing to do this; to assume that my experience with the Bible is a big, giant, nought.
For me, it was one night, and a bit of time afterwards, though. It really wasn't much more than a blip on the timeline that is my life. Unlike many other atheists, I could easily forget it. For some ex-religious atheists, it is, instead, a lifetime struggle being dismissed. It is years upon decades of poring over the New Testament, begging God for answers or begging God for help. For so many heathens, it was hours, days, months, years of agony and anxiety and stress and self-loathing. For some, an entire childhood had been lost to it. For others, it went well into their adulthood. Abuse, lies, shame and extreme guilt are all being glossed over with one simple question: why don't you just read the Bible?
The answer is that most of us have. We've read it. I only read it once, and that was enough for me, but for some of the atheists being accosted with this question, they studied it, devoted their lives to it, anguished over it. They've struggled with it, lost loved ones over it, been cast out because of it. I lost a perfectly good evening on perfectly good 'shrooms over it, but a great many atheists have lost everything over it.
So, next time you feel like telling an atheist to read the Bible, take a pause. Reflect on this post and rephrase. Instead of demanding we read your Holy Book, why don't you just ask if we already have, instead?
Image: Creative Commons/Pixabay