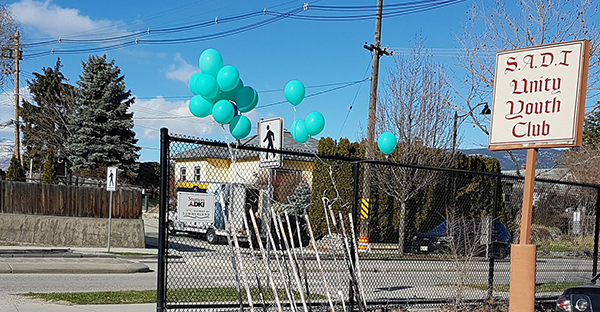 A year ago, my daughter couldn't set foot in a real school without having a panic attack. A year ago, she couldn't muster the courage to speak to other kids her age. A year ago, she was struggling to finish her online school, could barely tell a server what she wanted at a restaurant and rarely even got out of bed. Her father and I felt alone and helpless in our efforts to make things better for her.
Before she ended up with us, she had a rough life. Technically my stepdaughter, she lived with her mom in Vancouver. Their lives just seemed to consist of struggle after struggle and when she finally came to live with us, it was like she was just exhausted with it all. She was done. She'd given up. She literally fell into bed and refused to get up.
I can't really express to you in words the sadness that overwhelms you when you look at a child you love more than anything and see nothing but complete and relentless despair. When you've tried everything to drag her from her prison of crippling anxiety and nothing seems to work. The realization that my husband and I were pretty much alone in our efforts to help her made us feel completely lost. We got her to doctors and counsellors, we attended a course on parenting anxious kids, we absorbed all the information on the internet we could find, printed it out and had weekly meetings with her to impart what we had learned. Nothing seemed to work, my husband and I were in knots and our sweet, beautiful girl was suffering. We didn't know what to do.
As you know, I've never been religious. I don't know what it's like to have some of the religious experiences believers talk about. However, I can try to imagine. I imagine it's like the feeling of being rescued from a deep abyss you thought would never end; like there is suddenly light where only dark existed before. I don't believe these experiences to be anything but a creation of the mind, but I imagine it feels like a hand reaching out when you most need it.
That's how I felt when Alyson came along.
Let's back up just a touch for a moment. When I first moved to Summerland, BC in 2014, I immediately took notice of the stone church at the end of our street. It was breathtaking, nestled into the base of Giant's Head Mountain, its perfect masonry stood out against all the other buildings in town. Right next to it was a small clubhouse for a youth group. SADI, it was called. I immediately assumed the two were connected in some way and that the youth group was tied to the Anglican church next door. Naturally, this heathen paid no more attention to SADI.
Then, a couple of years later, I met a woman who sat on the board at SADI. In one of our many conversations, it slipped out that SADI was actually a secular organization that stood for the Summerland Asset Development Initiative and it had no ties to the church whatsoever. I was impressed and stowed the information away in my mind.
Fast forward again to the point where my husband and I were completely lost and desperate to help our girl. We were at the bottom of a dark hole and a tiny glimmer of light was flickering, threatening to go out on us. We needed something… we needed anything to help us drag this special girl into the light. In a fit of desperation, I recalled that SADI was secular and suggested we take Abbey there to get used to being around kids her age.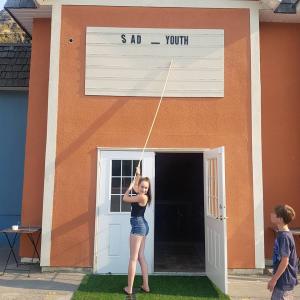 On our first visit, it was Abbey, me and my husband. We dropped in and met Alyson, the woman who runs the youth group. She assured us the group was secular and explained that it was really a place for teenagers to hang out after school and during lunch break. They would plan outings like hikes and swims and explorations of the amazing wilderness we have in our backyard here in Summerland. They would go to movies and restaurants and bowling. When we told Alyson that Abbey did online school, I think she might have thought we were the typical sort of homeschooling parents with strict rules and Jesus in our hearts, because she asked if we were okay with Abbey going to R-rated movies. She obviously didn't know she was talking to GM 😉
Abbey didn't say a word that first visit. Not so long after, we got our pup, Lucy at 9 weeks old and thought she'd be the perfect "in". It only took a few visits with Lucy before Alyson seemed to take Abbey under her wing, enabling our girl to attend SADI without us. She still wasn't saying anything, but she was going out with friends her age and this was absolutely progress. That light stopped flickering and began to grow.
As the weeks and then months went by, Abbey began to change. She became more talkative. She went out with some of the SADI kids outside of SADI. She went camping with them and attended parties. She was still quiet but speaking more and more. Alyson would always be there to encourage her; to drive her home; to talk to.
Not too long after she'd been attending SADI regularly, Abbey got a job at the local grocery store. Shortly after that, she decided she wanted to try taking one class at the high school in town while she continued to do the rest online. A few months after that, she decided she wanted to go to the high school full time.
Cut to present day. Abbey has had her job for almost a year. She's at the high school full-time and getting mostly As and Bs. She didn't even want to miss a day of school when she got strep throat. She's friendly. She's bubbly. She not only talks to people, she has oodles of friends and appears to know everyone in town. She hugs people. She looks people in the eye.
Abbey has done a complete 180 – a year ago she would be at home all the time, alone in her room. Now, we never see her because she's always out somewhere.
There should be no misunderstanding here: this was made possible by Alyson and SADI. They turned on the floodlights for Abbey, destroying the dark hole of anxiety she was in. They did it without god and without Jesus and without magical rituals. While Abbey gets all the credit for the hard work, bravery and commitment, it was Alyson and SADI that truly enabled that. She doesn't go to SADI much anymore, but it matters to her and it matters to me. They were that hand reaching out when our family needed it most. I honestly don't have the words to effectively describe my gratitude.
In line with what I wrote yesterday, about wanting to give more, I can't think of an organization I want to give to more right now than SADI and the best thing I can give is my platform. In recent months, SADI has struggled to make ends meet, threatening their ability to offer other teens the same lifeline they offered Abbey. Without SADI in town, the only option Summerland's teens will have are tied to religious belief.
A few months ago, you helped me raised money for Critteraid – a charity in Summerland that rescues animals. Together, we raised $2000 for the worthy organization in just two days.
Now, I want to use that same atheist generosity to raise money for SADI. Abbey, my husband and I would be devastated if this organization ever had to close its doors. I want them to be there when my son is a teenager because the alternatives are Christian groups or boredom which often leads to drugs and other sorts of trouble. So, let's prove that as godless heathens, our secular youth groups matter as much to us as the faith-based youth groups do to believers. If you can spare a buck or two, head on over to the GoFundMe campaign:
If you can't afford to spare anything, you can still help by sharing this post or sharing the GoFundMe campaign.
Thank you, Alyson and SADI, from the bottom of my heart. I don't know where we would be right now without you.
I want to know if you've ever found a group like this that helped you or someone you loved. Let me know in the comments!
Image: Lovingly borrowed from Summerland Asset Development Initiative