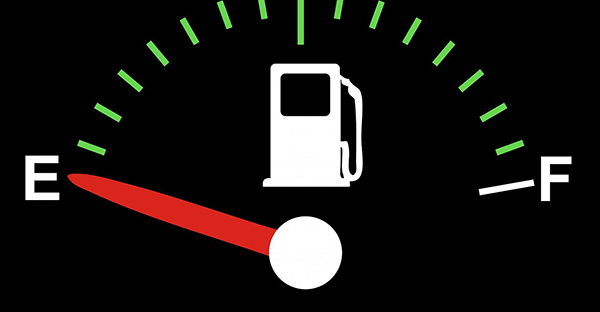 The fuel gauge on my truck doesn't work. Even if you've just filled up, it still reads empty. "Low Fuel" is constantly lit up on the status screen. When we get gas, we reset the trip odometer to zero and when it gets to around 300 km, we refill again.
I can't say I enjoy it. I mean, I really don't like it. In fact, it's terrifically annoying. Every day, I get in my truck and hit the button to display the trip odometer on the status screen. If I drive long enough, the high-pitched low-fuel chime will assault my ears, as the bright green "Low Fuel" status replaces the trip odometer. I have to hit the button again to sort out when I should get gas.
I suppose I could fix it, but that would cost money and it's obviously something we can deal with for now, so why? I'd rather buy a block of gruyere.
But it's grating (see what I did there?). It gets on my nerves. Every day I get in my truck and I hope that the fuel gauge fairy has visited in the night, but alas, I'm beginning to think she's but a myth. Every day, it's the same thing,
Low Fuel. Low Fuel. LOW FLIPPIN FUEL.
You might wonder why I'm telling you this. You might be rolling your eyes and thinking, we get it, your truck's fuel gauge is broken. You might wonder what any of this has to do with general heathenry and being blindingly awesome without god. Just hold on to your shorts, bucko, we're getting to it.
Yesterday, someone left me this note on my Facebook page:
Why are you attacking something if there is not anything to attack? You would be simply ridiculing people for being people.
Hopefully, now, you see why my broken fuel gauge is relevant. Like the constant blare of the little green lights screaming "low fuel!", theists insisting I spend an awful lot of time talking about something that doesn't exist get under my skin daily. If a day goes by and I haven't heard this from at least one person, I find myself wondering if the entire internet broke. It's repetitive nonsense fashioned into a crumbling straw man who may or may not have taken communion one too many times.
The reality is that I'm not criticizing god. That's not what I do here. Sure, there have been times where I've pointed out how unpleasant the god character in the Bible is but that's no different from me saying I loathe the Morgan character in the Walking Dead. That doesn't mean I think he's a real dude shanking brain-eaters as he waddles his way across America avoiding people. I know it's not the zombie apocalypse and I know Morgan's not a real dude.
Instead, what I'm criticizing is religion. Religion, my friends, demonstrably exists. I've seen people pray. I've been to religious events. I speak to religious apologists on the daily.
There's even a church just down the street from me. It's real. I can totes touch it. There's another just down from that one, too.
Of course, the theists who say that I am criticizing something that isn't real are being deliberately obtuse. They know as well as I do that I am criticizing religion, not God, the Jeebs or the Holy Goblin. They know I'm down on dogma and I'm not grumbling about god.
The irony of their comments is entirely lost on them, though. After all, they're the ones arguing with a position that doesn't exist.
And now, I'm off to get gas.
Hod do you respond to these accusations? Let me know in the comments!
If you like what I do here and want to support my work, you can donate here or become a patron here.
Image: Creative Commons/Pixabay