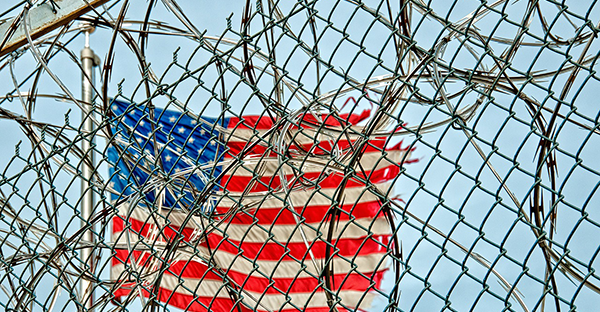 Colin had a consensual relationship with a teenager. He went to prison for sexual assault because she was under the age of consent. I don't know the details: how old was he? How old was she? The point of this post, of course, is not to pore over his crime and determine whether he ought to be in prison or not. Rather, it's part of a series that sets out to inform us about what prison is like for godless folks in America. You can read other installations in this series, here: Atheist Inmates In Their Own Words.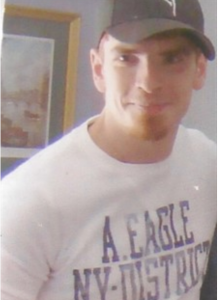 Colin is doing time in Brooklyn Correctional Institution, a medium-security corrections facility in Connecticut. He is set to be released next year but will likely remain on the sex offender registry in Connecticut.
I wrote to Colin asking him a few questions to get the conversation going. Here is his response:
Howdy Courtney,

To begin with, let me apologize in advance. My handwriting will be terrible at some point (or throughout) during this letter as I'm putting down a story I'm writing in order to be able to respond. I've written twenty-four pages of said story since yesterday and my arm is about ready to flop lifelessly to the floor. Secondly, you just completely broke my brain. You have nearly identical handwriting to my stepmother and I had no clue why she was writing from British Columbia. Now that I have some clue as to what the hell is going on, on to your letter.

Please bear in mind it's difficult to convey tone in a letter but if it sounds dry or moderately (or extremely) tongue-in-cheek, it's meant to be humorous. If I fail to that end, well, that's on me. C'est la vie. Anywho…  your questions and my answers:

1. Have you always been an Atheist?

Yes and more so with every passing year. Combine my lapsed Catholic father, my "agnostic" mother and a lifetime of incessant death, suffering and trauma and it becomes difficult to believe in a benevolent God and his plan. Who's plan involves giving a ten-year-old fatal leukaemia?

2. Have you ever been treated poorly in prison because you are an atheist?

Not so much, no. Prison is a lot like a bar filled to the brim with conservatives. If you don't talk about politics, religion or sexual orientation you may well make it out fairly unscathed. That's not a guarantee, but it's a good place to start.

3. Do you feel free to tell your fellow inmates that you are an atheist?

By nature, I'm a very blunt human being. I'm the guy in the room who will tell a perfect stranger that their fly is down or there's something hanging out of their nose. When it comes time to bring up theism, or lack thereof, I'm the last person to bite their tongue.

4. What is your overall opinion of religion?

That's an involved question which demands a fairly long, involved reply. On one hand, I understand the need to have some kind of explanation for our own futility and powerlessness. I don't begrudge others their search for a way to cope with the fact that we're all eventually going to die. It's a miserable, painful part of life, but it's inevitable. If you need religion to help you cope with your mortality, go for it. I won't stop you. Being caged in a sub-hundred square foot bathroom with another man, and a total stranger to boot, for 20-plus hours a day and simultaneously being forced to watch your life and the world at large leave you behind is a painful experience. If religion is what you need to cope with that? Again, that I won't begrudge you.

On the other hand, however, I have to paraphrase Neitzche. He said, "hope is the greatest of evils for it prolongs the suffering of man". Religion… religion is the greatest of all evils for it turns an otherwise logical, loving human being into a hateful, judgemental shrew. How is a thousands-year-old metaphysical pissing contest the single most divisive human construct since money? If a man came up to me, said my imaginary fairy godmother is better than yours and was promptly summarily executed how is that A) acceptable or B) any different from religious strife from the Crusades to modern-day Islamic extremism? Children don't murder one another over their invisible friends. Why do logical adults do it over religion?

I don't believe anyone or anyone single topic is capable or worthy of deciding life over death. I do believe, at their cores, many religions provide excellent guidelines as to how one can be or become a decent human being. Don't lie, don't steal, don't murder, don't act like an asshole if you don't want to be treated like one. All great words to live by. Where, though, did I just say murder if anyone disagrees with you? Huh. I feel like I missed that one when I read the Bible, the Quran, the Talmud and the Torah. Then again, I'm a blunt guy, like I said. I don't look for hidden meaning. "Love thy neighbor" doesn't translate to "Love thy neighbor unless they're gay, black, poor, Puerto Rican, Mexican, female or differ from you in any way up to and including their tax bracket". In that case, bomb the eff out of them and welcome to Trump's America. I'm a simple guy. Be nice and I'll return the favor. Religious or otherwise.

5. What is your day-to-day life like in prison?

Equal parts boring, tense, stressful, depressing, traumatic, infuriating, sad and upsetting.

6. What is the hardest thing about being in prison?

Some will find this surprising but the hardest part of all this is seeing my family and friends struggle and suffer and not being there to help. My parents are in their 60s living in a house built in the early half of the Eighteenth Century on over 70 acres of land. With a bad back and neck my father can't take care of the house as he once did, never mind the three-story barn that's nearly 200 years old. How is he supposed to shovel a 75-yard long driveway in the winter? What about my brother who lives paycheck-to-paycheck and isn't a mechanic and can't afford one? I can't fix his car from prison. Or my little brother who owns and operates a horse farm? I'm only one man but one man committing 24 hours a day to a farm can do a lot of good. Long story short, I'm okay with me suffering. Being forced to watch impotently as my family does blows.

7. do you know any other atheists in prison?

I'm sure I do. We don't exactly have a club, though.

8. Do you like to read atheist books?

I'm not certain what qualifies as an atheist book, but I avoid books involving any side of the religion conversation for the most part.

9. Do you think being an atheist gets in the way of being granted parole?

I do but as with a good deal of deism vs. atheism argument, there doesn't seem to be any method to the madness.

10. Do you perceive the religious inmates around you as happier than you?

Pardon my choice of words but God no. Being on a list to go anywhere, up to and including church, is setting yourself up for more frustration and anger. The Department of Corrections cancels at least as many programs as they don't (and this is only a mild exaggeration) so when they fail to call, or outright cancel, religious services, as often happens, that's just one more opportunity for the DOC to get in your head and quite possibly land you in seg. (solitary, the hole, etc.) or on the wrong end of an outside charge (criminal charge outside of your current sentence). Sadly, the less you expect, the less they can use against you. Including constitutionally protected rights.

11. Does the idea of accepting God and Jesus into your life get pushed on you in prison?

Not where I am, but I've seen it in a lot more conservative climates. The Northeast is fairly willing to leave the matter lie for the most part. At least, the inmate population is, not as much where a life outside the wire is concerned.

12. What are your coping methods that get you through the day?

I've been catching up on a lifetime of writing I hadn't realized I'd missed. I read a book a day, give or take. I play basketball and whatever intramural sport is on offer. I take what college courses I'm able. I spend as much time as possible outside of my cell and outside the prison, if metaphorically. Reading and writing are the two fastest ways to burn a day.

Alrighty Courtney, I think that should about cover it. More questions are always welcome if you feel these worthy of pasting. Pen pals are likewise, letters are a great way to pass the time. hope you enjoy the reading and stay well.

Sincerely, Colin
If you want to write to Colin, you can send a letter to the following address:
Colin Murkette #384928
Brooklyn C.I.
39 Hartford Rd.
Brooklyn, CT 06234 USA
Before you do, however, it's important to note that your letter can be read by corrections staff and is not private.
To read other letters from atheist inmates, go here: Atheist Inmates In Their Own Words.
If you like what I do here and want to support my work, you can donate here or become a patron here. To be notified of the next letter from an atheist inmate, please subscribe using the form in the sidebar or follow me on Twitter: @godless_mom
Image: Creative Commons/Pixabay