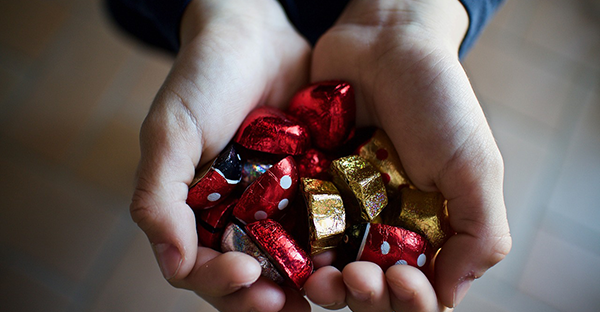 There's this man in town here. He goes everywhere with a fanny pack crammed full of dog treats and those Werther's hard caramels. I've never managed to catch his name but I've met him maybe a dozen times. The first time, I was walking past the bank with my pup, Lucy, when she was about 4 or 5 months old. He stopped me with a big smile and began fishing around in his belt bag. I have to admit, I was uncomfortable. I've seen just enough CSI episodes to get me thinking, this could be it. This is where I die. Instead, he pulled out a Milkbone for Lucy and handed a Werther's to me.
"I hear these are just awful," He said, his eyes sparkling and he dropped the gold-wrapped candy in my hand.
I didn't eat that one. Just to be sure.
The next time I ran into him, a friend and I were at the Sunday market. She happily took the hard, buttery candy from him and told me he'd been doing this for years. He turned to give me one. I smiled and extended my hand.
"I bet these aren't any good," he says and winks.
I popped the candy in my mouth and thanked him.
Since then, I've seen him several times and each time, it's the same warm smile, the same delicious candy and the same goofy joke. It's become quite clear to me that he's just doing this to brighten everyone's day. That's it. That's his entire motivation. It works. It always works.
Recently, I ran into him again when he showed up at one of my son's baseball games. Everyone knew him, everyone was happy to see him and he put a smile on everyone's face. The thing that struck me, though, is that, even in a crowd of people, no one suggested he was doing this because he was a Christian. He's never let out the slightest hint that he's a believer; never a 'God bless' or an 'Amen'.
Of course, that doesn't mean he's not. The Fanny Pack Candy Man may very well be a devoted Christian. But he's also a Canadian and that means he keeps it to himself, more or less. He understands that religion is a private thing and has no place popping up in the day-to-day interactions he has with strangers. In fact, that crowd of people at the baseball game had spent an entire baseball season watching games together, and I didn't know who was religious and who wasn't, outside of a couple of friends I spent time with beyond baseball.
This is life in Canada. For the most part, unless you're a Jehovah's Witness going door-to-door, religion is simply a non-thing. It's personal; it's something you discuss at church and that's about it. The only real way you find out if someone is religious here is if you see them heading into church on a Sunday. Even then, they might just be doing it to satisfy traditions or the desires of family members or friends. We just don't talk about it much here. Honestly, this state of affairs makes me the weird one. I'm the one who talks about religion the most.
We live in a small town. We have one bar. Two of the four restaurants in town open for dinner are closing by the end of summer. If you want to shop, we have two hardware stores, two clothing stores, a quilting shop and a half-dozen thrift stores that take cash only. We had a bowling alley not so long ago, but the Dollarama swept in one day and bought it up, replacing it with aisles filled with cheap crap.
We do, however, have about ten churches. By all outward appearances, we don't have a whole helluva lot to do here aside from buffing pews, listening to the godman talk about Jeeby. If you're an outsider looking in, you might imagine we'd be a god-obsessed town full of Bible-huggers.
But we're not, because even in a small town with no nightlife, there is much to life outside of church. We have hundreds of kilometres of hiking and biking trails, pristine beaches on the crystal clear Okanagan lake. We've got paddleboards and kayaks, canoes and sailboats. We have ATVs and dirt bike tracks, fishing spots and campsites. Dozens of wineries are open for tastings every day and we even have our own craft brewery. Our lives are overflowing, so much so that most of us don't give church, god or Jeeby a second thought on any given day. The popularity of our Sunday market on Main St. is a bustling, crowded testament to the empty pews across town. We just don't need religion and those of us who want it pretty much keep it to themselves.
I often get asked by readers who have recently left their religion,
"What now?"
For someone who has never been religious and still managed to have a full life, it's hard for me to accept this question. What the asker is saying, in not so many words, is that their religion was so massively a part of their life before they lost their faith, that they literally cannot think of what to do without it.
This is incredibly sad to me, because the answer is, of course, whatever you want. Literally anything. The world is yours for the taking, and you can't think of one singular thing to do without worship. This is a perfect illustration of how religion amputates your thinking mind.
To get it back, you've got to live life. You've just got to get out there and do things. Keep doing things until you find the things you love and fill your life with them. Maybe you're a traveller and you'll spend your life globetrotting. Perhaps you're a budding chef and you're going to work your way up to culinary notoriety. Maybe you're an artist, a writer, a scholar. Perhaps you want to spend your life volunteering or maybe you want to pour yourself into raising kids or your fulfilling career.
There is so much to do in this world, so much to experience and enjoy and conquer. There is so much to see and learn and smell and taste and hear. There is so much that you'll never be able to do it all, no one will.
Put religion behind you. Pack it up in a neat little box, lug it down to the Sally Ann, drop it off and drive away. Don't look back. When you ask yourself, "What now?", tell yourself:
Everything now. Anything now. Do it all. See the Taj Mahal. Play a rock show. Write a book. You are now free to do anything, even if all you really want is to stuff a fanny pack full of candy and hand deliver smiles to everyone you meet.
Honestly, there is so little time to do everything this life has to offer, I can't think of one good reason for you to still be sitting here reading this. What now? Go now! Get started now. Do it all… now. What the hell are you waiting for, now?
If you like what I do here and want to support my work, you can donate here or become a patron here.
Image: Creative Commons/Pixabay