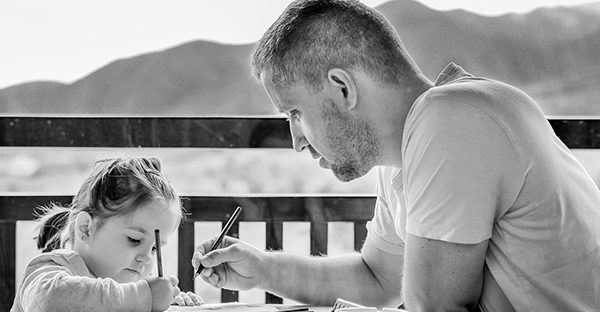 I get this panicked question from godless parents at least once per week,
"I just found out my child is being exposed to religious stories at school. What should I do?"
There are many variations. Often it's an aunt or a grandparent. Sometimes it's the school, other times it's the weekly Scouts meeting or their friends, their other parent or camp counsellors. Whatever the specifics are, the panic and fear often come through loud and clear.
I get it. I mean, I really try to understand. I wasn't raised with any religion, so it's difficult for me to truly grasp what you must have gone through when you left your faith behind but I have a pretty good handle on the fact that it wasn't easy for most of you. I know that some of you look back with anger. You're angry that you weren't given a choice. You're angry that you were indoctrinated, even brainwashed and more or less duped by those you were supposed to trust the most. I know that many of you carry a very justified chip on your shoulder and you're terrified of your child experiencing the same thing.
So, when you hear that someone is exposing your child to these ideas that caused so much strife in your own life, it's difficult not to completely freak out. Having lived your life, I might, too. In that light, the first thing I need to tell you is this:
Chill out. Sit down, take a deep breath and exhale. It's just not as bad as you think. Not even close.
Why?
Because your kid has something you never had growing up. Your kid has you.
When you were a child being heavily indoctrinated by all this nonsense, your parents were either guiding it or reinforcing it. Imagine, instead, what it might have been like for you if one of them had been telling you they didn't believe any of it. Would your indoctrination have been so powerful had your mother or father encouraged you to ask questions and think critically? Would any of it have stuck if mom or dad had poked holes in the stories and pointed out when it didn't make any sense? If you had just one adult role model in your life exposing you to the very simple idea that not only can you question the stories being crammed down your throat, but you should, you'd likely never have believed any of it beyond six or seven years old.
The reason for that is simple: None of it holds up to any scrutiny, whatsoever. The moment you feel free to question it in any way is the moment it all crumbles.
So, if your son or daughter is being exposed to these ideas, and then coming home to skeptic mom or dad and being encouraged to think about them critically, religious ideas simply stand no chance of taking root in their mind.
Psychologists suggest that mom and dad are the most powerful influences in a young child's life. So, set an example. Be openly proud of your skepticism. Praise others who display skeptical behaviour. Make sure, especially, to praise your children when they act skeptically about claims they hear. Make it something to be proud of in your house, that none of you are easily led to believe any old claim.
Recently, I was watching Big Brother with my son – he and I love watching Survivor and Big Brother and discussing strategy. This season, there's a girl in the cast named Kaitlyn who is the Queen of Woo on television. I mean, she'll give Oprah a run for her money. She talks about chakras and auras and being an "intuitive". She insists that a white bird who sits on the backyard wall is her grandfather and talks about getting "hits". One such "hit" was when she lay down to nap one day, she had some kind of vision. She saw, in her mind, that two of the other houseguests had approached the head of household to pitch the idea of evicting her. She immediately jumped up, confronted the head of household and found out that what she'd seen in her vision was true.
My son immediately turned to me and said,
"All the believers watching this are going to use that as evidence ESP exists, mom." The look on his face was sheer disappointment. He's nine. He's nine years old and he can see how this one instance on television is evidence of nothing but a coincidence in a game where players often go behind each other's backs to pitch the idea of voting others out.
"They won't see the misses. Like how she trusts Tyler and he's lying to her! If she's so intuitive, how come she doesn't know he's lying to her?" My little guy continued to make me proud.
He's right. The people watching Big Brother who want to believe in all this crunchy chakra intuitive nonsense are only going to take note of Kaitlyn's single "hit" and ignore her countless "misses". But not my kiddo. My little boy saw right through it immediately. That's because, in our house, we question everything. We make a point of it and he's clearly learning.
Something you have to consider is the fact that your kids are going to be exposed to religious and superstitious ideas no matter how hard you try to shelter them from it. You can't stop it. They'll see it on television, on the internet, read it in books and magazines. They'll befriend religious people and study and work with them. They'll be invited to religious events and might even come across a Jehovah's Witness or a preacher spreading their ideas in the streets. If you find out your daughter's school is teaching her about Jesus, you might be able to shut that down with a fight, but then a month later, you find out her best friend is telling her all about the "goodness of god" or maybe that her grandmother took her to church. In my mind, it's a waste of energy to fight the rest of the world. Instead, Jesus-proof your kid at home. Promote critical thought, set the example of skepticism and keep communication open with your children and it just won't matter how many people try to shove the Bible down their throats. It just won't take, because your kid is immune.
So, don't panic. Rest assured that your kid hearing about prayer in school is so vastly different from being indoctrinated with religious ideas for your entire childhood. These two scenarios are not even in the same league. One is absolutely child abuse, forcing ideas on growing minds while discouraging questions. The other is the perfect opportunity to practice critical thought and ensure you're raising skeptics who are always looking for more information before forming their opinions. If anything, these brief windows of exposure to silly ideas are a reason to celebrate because it gives you the chance to talk about rational thought and logic and evidence and all those juicy topics us heathens love the most. It might be a great reason to laugh with your babies, but it's just not a reason to worry.
How do you feel about your kids being exposed to religious ideas? Let me know in the comments!
If you like what I do here and want to support my work, you can donate here or become a patron here.
Image: Creative Commons/Pixabay