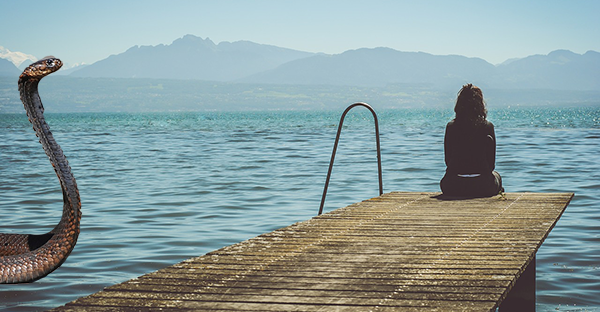 I don't recall how old I was when I spent a week in the Okanagan looking for the Ogopogo. Maybe eight or nine. We'd rented a cabin on the lake just outside of Summerland with my aunt and uncle and cousins. It had its own private dock, and there, right on the end of it, sat my cousin and me, day in and day out, totally committed to spotting the Ogopogo. Our conversation, as we dangled our feet in the cool Okanagan water, consisted mainly of what we would do if we spotted the lake monster.
"We'd have to call the news first."
"Yeah, I saw a lady on the news once who said she saw it. They will definitely want to interview us"
"Which news?"
"CBC for sure."
"Would we call the police?"
"I don't know. Does the RCMP deal with monsters?"
"Not sure…"
"Well, we could call them just in case."
"Good idea."
And on and on and on like that. When our parents called us in to eat dinner or hike up to the fruit stand or head into town for lunch, we would groan in unison,
"But what if the Ogopogo comes while we're gone? What if we miss him?"
The two of us were fairly certain it was our fate to gain international fame for being the latest in a long line of people who claimed to have seen the monster. There was much discussion about co-writing a book detailing our inevitable encounter. We figured they'd want to make a movie out of it eventually. Obviously, Spielberg would pick it up. I thought Drew Barrymore could play me. My cousin agreed.
When it got too hot to just sit there, cooking in the sun on the end of the dock, we'd jump in the water.
"What do we do if we see him while we're swimming?" I asked, treading water.
"I dunno. Do we try to touch him?"
"It might be dangerous."
"You think he's mean?"
"No, I just think he could crush us with his size."
"How do we know it's a he?"
"I guess we don't."
At night, we'd sleep by the huge living room window and try to stay awake, struggling to keep our eyes open while we stared out at the water.
"Do you think he sleeps?"
"The Ogopogo? Yes, of course. All animals do, don't they?"
"Is he an animal, though? I always thought he was like a magical creature like dragons and unicorns."
"Dragons and unicorns aren't real."
"Right."
In the morning, we'd wake up disappointed that we'd fallen asleep.
"I bet he came while we slept."
"Do you think he's nocturnal?"
"Probably. Maybe tonight we should take shifts on watch."
"We should."
But it still wouldn't work. We would both eventually fall asleep, most certainly missing the giant lake monster's visit during the night.
To our complete heartbreak, the week ended and neither of us had seen the Ogopogo. Not even so much as a shadow out of the corner of our eyes that could have maybe been him in the right light. Not the slightest glint of a glistening scale. Nothing. Not one shred of evidence that the Ogopogo was even a thing. Buckled into the car, ready to head back to Vancouver, we both grumbled and scowled and frowned. When my aunt offered to buy us plush versions of the lake monster, it almost made the disappointment worse.
"A toy? Really? You think a toy is comparable to seeing the real thing?"
"Seriously! A Toy?"
We looked at each other, scoffed and went back to grumbling.
It must have been somewhere outside of Hope as we'd been driving for a couple of hours already when I blurted out:
"Do you think the Ogopogo is real?"
"Probably not."
Now, it's thirty years later and I live in Summerland. I frequently drive by the fruit stand we hiked up to every day from our cabin on the lake during that trip. Before moving here, I hadn't really thought about the Ogopogo after that vacation. Maybe briefly during the X-Files episode, Quagmire, and a moment or two during a jaunt to Kelowna when we came across his monstery likeness in statue form on the lake shore. The Ogopogo was a myth I'd long stopped believing in, shelved in the back of my mind next to Santa Claus, the Tooth Fairy and tofu that tastes good.
Though I don't think I'd ever really consciously thought about it since I was a kid, I didn't think there were any adults who still believed in the Ogopogo.
That is, until this morning.
As most of you know, GM likes to get her swim on. I swim about a kilometre every morning, sometimes a kilometre and a half, and then I slip into the hot tub for "dessert" as one of the aquasize ladies likes to call it. I don't like to chat with people while I'm doing my laps because that slows my heart rate and makes a kilometre take a lot longer, but once I'm in the bubbly tub with the breakfast club, I'll yap your ear off.
This morning, the topic turned to the Ogopogo. Apparently, there had recently been a sighting and the woman was so frightened, she actually dropped her baby in the lake. According to my fellow soakers, said baby was fine after its sudden sacrilegious baptism but, "wasn't that something?", the elderly lady to my right asked us all.
"I mean, she was scared enough to drop her baby. She must have seen something, right?"
"Do you think it really was the Ogopogo?"
"Well, why would she drop her baby if it wasn't?"
The conversation went on and on like this. I didn't add much to it. Just smiles and nods as at 7 am, I felt like it was too early for me to be the party pooper skeptic ruining everyone's day with my questions. Sweat beads formed on my forehead and I dragged myself out of the hot tub before I became overheated. As I made my way to the changeroom, the people in the tub wished me a good day.
Naturally, as the party pooper skeptic, I fired up the old internet machine as soon as I got home and searched for this latest Ogopogo sighting. I couldn't find it reported anywhere. Not in national news, trashy news sites, local news. Not in my local Facebook groups and pages, not on Twitter. Nowhere was anyone else talking about the baby who was dropped in the lake and narrowly escaped the jaws of a mythical creature.
I've whittled it down to two options:
1. Telephone – someone, at some point in the past, relayed a story about dropping her baby in the lake after being startled. The story makes its way through seven diners, four small towns, two public pools and a jacuzzi and now we've got a story about a sword-wielding baby being forced to take on the ferocious lake creature in order to save the valley.
2. Lies – The woman in the story who is supposed to have seen the Ogopogo made it all up and never contacted the press because she wasn't super duper confident in her fabrication skills.
I guess what it all comes down to -what this entire post is really about- is just my complete and utter disbelief that there are adults, some who are even much older than I am, who believe this codswallop. There are fully-functioning, grown-up minds that buy this hokum, hooey and malarkey, hook, line and sinker. They'll stumble across this poorly-sourced pish-posh and piffle and not see it for the epizootics of the blowhole it is.
I am flabbergasted at the existence of mature, intelligent humans who have so little skepticism that not only do they not doubt these farm town fables, they lap it up faster than they can say Ogopogo. I was eight or nine when I realized, without anyone telling me, that the Okanagan lake monster was just a myth. To find out there are people who live well into adulthood not only still believing in it but claiming to have seen it, is like stumbling across Jenny McCarthy in a library: just flippin' weird. It's not supposed to happen.
A quick critical thought refresher for those of you prepping your binoculars to go Nessie-watching:
Ask yourself if you know the original source of the claim you're about to swallow like Guy Fieri hovering over a bowl of cheese fries.
Ask yourself how reliable your source is.
Assess the evidence the source has for the claim. Is it anecdotal? Can it be demonstrated?
Consider whether or not the source of the information has something to gain from having you believe the claim.
Try to think of a similarly evidenced claim that you do not believe and try to pinpoint a difference between the claim you're assessing and the one you don't. ie. Maybe you didn't dismiss this claim because you want to believe it.
And one final piece of advice: let your kids indulge while they're kids, 'cause I'm pretty sure that if you let them sit on the end of the dock long enough, eventually they're going to realize there is no such thing as a lake monster.
I still think Drew Barrymore would have been a great choice to play me, though.
If you like what I do here and want to support my work, you can donate here or become a patron here.
Image: Creative Commons/Pixabay