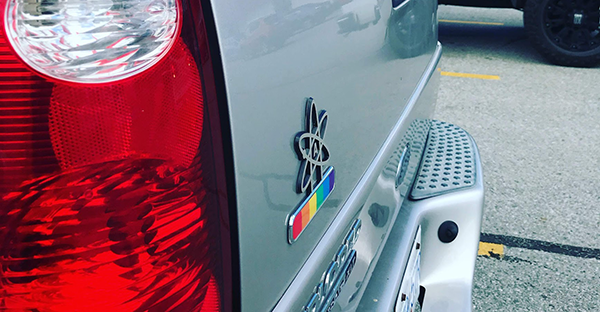 What if I told you my truck runs on wishes? When I hopped in the cab this morning, I closed my eyes really tight and muttered, "I wish this truck could get my kids to school" and when I turned the key, sure enough, it started. I successfully drove my kids to their respective schools and made it back home on one wish. Later, I have to take my little boy to the orthodontist in town, which is 20 minutes away, and again, I'll sit behind the steering wheel, hope out loud, and we'll get there and back no problem all on a single, solitary wish.
What if I told you that so far, this year, I've saved close to five grand running my truck on wishes instead of gas?
With any luck, I have religious people reading this. People who put their faith in the existence of a god or even a self-sacrificing prophet. I would like to know, specifically of believers like this, what would it take for you to believe my truck runs on wishes? Is it enough for you that I have insisted this is my personal experience? What if I told you I could feel it, deep within me, that my truck does not require petrol? What if I said you've just got to have faith, would you believe me?
Giving you the benefit of the doubt, knowing you're probably a decently clever person, especially if you're here reading the thought-provoking content on Patheos, your answer is probably no. You wouldn't believe me at all. You'd think that either there was something wrong in my mind and I might need psychiatric attention, or I'm just pulling your leg.
What would it take, though, for you to believe that my little 2005 Ford Explorer Sport Trac actually did run on wishes? What would you require in order for you to finally accept that I was telling the truth?
You'd probably need some sort of demonstration. An inspection, perhaps, by a trusted mechanic or maybe even a team of trusted mechanics from totally different, unaffiliated auto shops just to make sure they weren't in on the joke. Maybe they could take out the gas tank and confirm there is no other fuel source on board my vehicle before I make my wish and set it in motion. Maybe then you would believe.
In other words, you'd need some form of evidence, right? Demonstrable, repeatable evidence that can be confirmed by totally unaffiliated parties who know a thing or two about how vehicles work. Right? And until such evidence surfaces, you're just going to go on thinking I'm either a total nutbar or a practical joker and you're not going to take my wish-wagon claims seriously.
This, my believing friends, is how atheists feel about your god claims. No amount of you asserting your own personal experience is going to get us to believe in god. It doesn't matter how deeply you believe. It holds no weight when it comes to how much I believe.
People have had delusions.
People have lied.
People have stretched the truth.
People have been mistaken.
So, when you assert that something wildly out of this world is true, we need something beyond your simple say-so to believe it, just like you need something beyond my say-so to believe my Sport Trac runs on hopes and dreams.
Now, if you tell me you don't believe me when I insist my truck is magical, would you be saying that to hurt me? Would you refuse to believe me because you want me to feel stupid? Is your lack of belief in my mystical motorcar meant as a slight against me?
No. Likely not. In fact, you might even find yourself genuinely concerned for my well-being. Likewise, when you assert there is a god and I say I don't believe you, it's not because I'm trying to hurt you. It's not because I believe you are lying to me or trying to trick me. It's certainly not because I think you're stupid. It's simply that I require evidence to believe in a claim that is that extraordinary, in just the same way you'd want evidence before you conclude that my buggy is indeed bewitched.
With that said, yesterday I got to reading this post by James Bishop. The post is called How To Defeat Modern Day Atheism With Three Easy Questions and without picking apart this post line by line, I thought I would simply answer these three questions for James.
Question 1: What would you count as "actual, credible, real-world evidence for God?"
For me, this evidence would have to be verifiable when repeated for anyone, believers or non. It should be demonstrable. For instance, if I claim that pizza is hot, I can demonstrate the validity of that claim by having you touch the pizza and experience the same heat that I did. We can rule out bias by having a multitude of people take the pizza's temperature with a thermometer to determine that indeed, the pie is piping.
Of course, this situation is silly. No one out there is having to prove that their pizza is hot. If someone tells me their slice is steamy, I just believe them because it's just not the sort of claim that changes anything beyond how soon I might take a bite. A god claim is different, though, because a belief in god requires me to change my worldview. Depending on which god, it can require me to tithe to an organization. It could also result in my drumming the fear of hell into my children. A belief in god could change who I vote for, what I do for a living, where I live, who I love and how I speak to my loved ones. It could change so, so much to accept that a god exists, and so in order for me to accept that such a thing is, in fact, real, I would need more evidence than I would for the claim that a pizza pie is sizzling.
The author of this question, of course, has his own ideas about what an atheist might say. He says,
"If the atheist finally answers, there is a very, very high likelihood he/she will cite some dramatic, miraculous, sensational demonstration of God's power. And that leads to the second question."
The problem here is that the question asker has erected a straw man in place of how an atheist might answer. I don't need a dramatic, miraculous, sensational demonstration of God's power. I just need demonstrable and verifiable evidence of his existence.
I don't think it's dramatic to ask that a god who demands worship shows himself to us in a way that we can verify it. This is not miraculous. It's not sensational. He is omnipotent. This should be child's play for him.
Question 2: Why would that dramatic, miraculous, sensational event count as evidence for God?
It wouldn't. If a dramatic, miraculous, sensational event occurred before my very eyes, and it was being attributed to god, I would still require demonstrable evidence that a) god was indeed the source b) all other explanations have been ruled out c) evidence that what appeared to be miraculous actually was.
Question 3: Is the God of the Gaps reasoning a valid way of determining the existence of God?
Mr. Bishop follows this question up with,
"For if he/she answers NO, then it will become clear that nothing can count as evidence for the existence of God. Why? Because if the only "evidence" the atheist "Judge/Jury" will allow in his/her kangaroo court is a Gap (something that cannot be explained by science/natural law), and God-of-the-Gaps reasoning is also not allowed by the atheist, then it is clear the atheist demand for evidence is a sneaky, dishonest game of "heads I win, tails you lose."
The problem is, asking for demonstrable, verifiable evidence of a god's existence is not a "gap". In fact, it's the precise opposite. It's a very scientific way of determining the truth behind a claim. It's a way of discovering what actually fills that gap.
If you accept a gap as evidence of god, you must accept it as evidence of any wild claim I feel like coming up with.
Let's go back to my wild wagon of wizardry. Let's say you hop into my truck and you see the fuel gauge is firmly pointing at empty. Then I tell you to wish that the truck starts, and you do and sure enough when you turn the key my truck starts and the fuel gauge still reads empty.
You do not know why my truck starts on empty. If you keep investigating, you might discover more and be able to explain it, but for now, you don't know. There is a gap in your knowledge. This does not mean what I claim (that my truck runs on wishes) is true. It just means you don't know something. A gap is not evidence for anything except that we don't know.
The truth is, my truck's fuel gauge is broken. It always reads empty even with a fresh tank of gas. I use my odometer to determine when to refuel. That's what further investigation would have uncovered. That's why we don't just accept whatever unproven explanation comes our way and we, instead, continue to search for the answers that fill those gaps in our knowledge. Who knows, maybe one day, while trying to fill those gaps in our knowledge, we'll discover evidence that demonstrably proves god's existence. But for now, we haven't.
Until we do, though, I cannot bring myself to believe in the claims that a god exists. Just like you couldn't bring yourself to believe my truck runs on wishes based solely on my claim that it does and a gap in your knowledge. You'd need more than that to believe in the enchantment of my teeny weeny pickup and I need more than that to believe in the existence of god.
GM is 24,000 words into writing her book. Donate whatever you can to keep this project going. Click here. 
How would you answer Mr. Bishop's questions? Let me know in the comments!