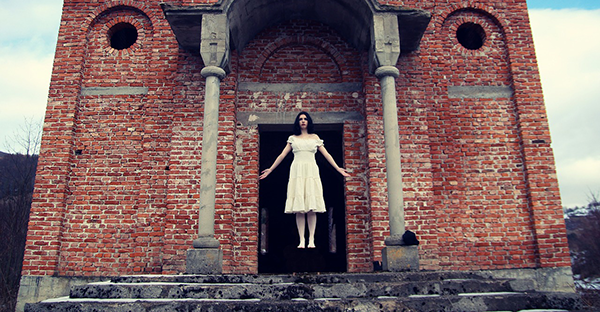 I was convinced our house was haunted when I was fourteen & fifteen. We lived in a century-old bungalow near what used to be called Subiaco Oval in Perth, Western Australia. We'd moved from Canada at the beginning of 1992 on a teacher's exchange. An Aussie teacher was to take my mom's job and house back in Canada, while my mom took her job and house in Australia.
On our way to Perth, we travelled through South East Asia for about a month. In the pre-cell phone and pre-email era, there was no foolproof way for anyone to contact us while we bounced from one city to the next and so when there'd been bad news, we had no idea until we landed in Perth. As we waited at the luggage carousel to collect our bags, we were approached by people from the exchange organization. They told us that the woman who was to go live in our house in Canada could no longer go because her fiance had been thrown from a bus on New Year's Eve – the only one standing, having given up his seat for someone else – and killed. We wouldn't be moving into her house.
It struck me as a little odd, because a year prior, we'd been planning the same sort of exchange with a family in Sydney, Australia. It fell through just weeks before we were to leave when the mother was diagnosed with cancer.
It almost felt like the universe just didn't want this exchange to happen.
However, in the time we'd been snorkelling in Thailand, shopping in Indonesia, and wandering the narrow streets of Hong Kong, the exchange organization managed to find us another suitable exchange partner. And so, we collected our bags and headed to Wembley, a suburb of Perth.
As soon as I entered the creaky, old house, I felt a chill. The door had a stained-glass window that cast an eerie glow on the century-old hardwood floor inside. There was the main house, built in 1904-ish, which had ornate crown moulding and elaborate ceiling medallions around each light fixture. Off the dining room, there was an addition with two extra rooms. This addition was built sometime in the 70s.
The master bedroom and my brother's bedroom were in the main part of the house. I was to sleep in the addition, separated from the main house with a large wooden door, another haunting stained glass window and a deadbolt lock. Of course, my parents would never have locked it on me, but it made me feel uneasy, nonetheless.
As we toured the house that first day, I felt afraid and I didn't know why.
The first night was no different. It was the middle of summer in Perth which could reach 40° C some days. Sat there right on the balmy Indian Ocean, it was almost always hot and humid. There was no air conditioning in the old house and so there was no reason why, in January, that house should have been cold at all, but that first night I slept out in the addition, it was freezing. I felt as though I was not alone. I swore I felt eyes on me. I shivered under my covers all night, without getting a wink of sleep and when I woke up the next morning, I told my parents I couldn't sleep out there anymore.
I was a fourteen-year-old girl and I voluntarily chose to share a bedroom with my 9-year-old brother for an entire year. This is how truly afraid I was.
As the year unfolded, I would experience increasingly unsettling things. There was the wailing in the pipes. There was the window that smashed spontaneously next door. There was the image of a woman holding a baby that I was convinced I saw in my full-length mirror. There was the one morning when the door that separated the main house from the addition began swinging back and forth rapidly and unnaturally as my brother and I ate breakfast before school. We ran to my dad in the living room for comfort, both of us terrified.
By the time I left to move back home to Canada, I'd had enough. I was done. I needed out. To this day, twenty-six years later, I still cannot explain to you what I'd seen, heard and felt in my time at that house in Australia. I shared these stories with my friends as I grew into adulthood, scaring them with the idea of ghosts and poltergeist and other unexplained phenomena. In greater detail, these stories are extremely unsettling.
Of course, I always left out the bit about me not wanting to go to Australia at all. I left out the fact that I was angry at my parents and felt as though I was being done horribly wrong by being dragged to Australia just as I started high school. When I told these ghost stories, I didn't think to tell people how totally certain I was that the entire year was going to be a disaster, even before we left Canada.
I also neglected to tell people that I was miserable at school in Perth. That I was bullied and depressed and got so down that I contemplated ending my own life. I had a dog back home I missed more than I could express in words, and friends who would write to me from Canada but just not often enough. When I told people the stories of our haunted house in Australia, I didn't think I needed to tell them how totally committed I'd been to being miserable that year. I didn't think these things were related.
As I got older, though, and my skepticism began to blossom, I started to question my own memories. Had they been real memories? The lady in the mirror, for example. I recall waking up and looking across at the full-length mirror in the room I shared with my brother and seeing a woman holding a baby. How awake was I, though? Could I still have been sleeping? Could I have seen a shadow that merely resembled the figure of a woman holding a baby? How accurate was my perception of this event when it happened and how accurate is my memory of it, now?
Thanks to science, we know that our memories rewrite themselves. They shift and morph and change. That's why the same stories you've heard your mom or dad or best friend say over and over again, seem to change slightly with each retelling. They're not trying to deceive anyone with their minor edits, rather, their memory of it is just changing.
It wasn't until I was in my 30s, though, that I began to suspect my state of mind played a huge part in the haunting of our house in Wembley. My misery was desperate for company. I had huge voids left by my friends and my dog and my extended family back home and I needed to fill them with something. Perhaps I was seeing these events the way I wanted to see them, rather than in an objective way.
The fact is, there were strange things that happened in that house but they probably weren't as strange as my memory would have me believe. In the time since moving back to Canada, I've also realized that by saying "I cannot explain these events, therefore they must be paranormal", is the equivalent of saying that I expect to be able to explain everything myself. This is utterly ridiculous. I don't have the education nor skill to investigate these events scientifically. It's true that I cannot explain them, but it doesn't mean they are inexplicable. It doesn't mean that we can't investigate and discover the answers.
Yesterday, I got a question from a reader who has been experiencing phenomena in his home that some might describe as a poltergeist. Just general trolling of the living, breathing humans who occupy the home. Cupboards flying open, lamps hovering in mid-air. The person who wrote to me also explained that he is an atheist and then described a few traumatic events he's experienced in his lifetime. He wanted to know my opinion on the activity that has been going on in his house.
My opinion is that there is a natural explanation and it's right there for you if you choose to investigate it with an open mind. Can you capture this activity on camera? What happens if you bring in a skeptic to investigate, preferably one with a science degree of some kind? Have you considered that your own perception could be flawed, perhaps based on your state of mind, as I am sure mine was?
If you go through all of this, honestly and objectively, and you find that there is still no explanation, then the answer is simply "I don't know". It's the single greatest phrase in all language because it is the springboard from which all human knowledge begins.
When I asked my Twitter followers what their reaction is to strange phenomena they cannot explain, @alanpdx gave me the absolute best answer. He said:
It means I don't have enough information.

— alanpdx ‽

That's the only answer there is, really.

I want to know what you think. What's your reaction to strange goings-on you can't explain? Let me know in the comments below!

If you like what I do here and want to support my work, you can donate here or become a patron here.

Image: Creative Commons/Pixabay