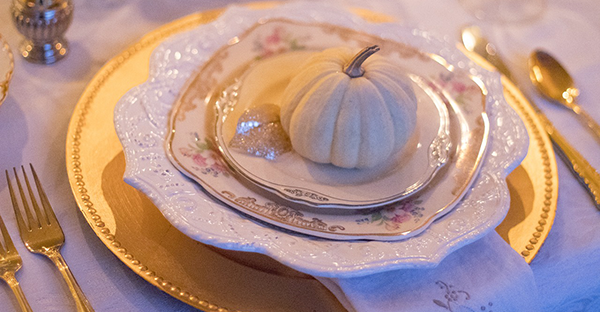 The worst thing I ever had to worry about at Thanksgiving was Grandpa sitting me on his lap, opening his mouth with a wide grin and revealing he'd taken out his dentures. I never had to worry about being shamed for not attending church, or not praying before the meal or for using the "Lord's" name in vain. I was free to be me with both sides of my family and I am forever grateful for that.
There are, of course, so many of you out there who aren't as lucky. Here's a note I received over the weekend:
Hey GM,

I'm headed to Kentucky for Thanksgiving this week and I am staying with my parents and my sister. Over the course of the week, there will be between 17 and 20 extended family members around. Every one of these relatives is a devout Baptist. The last time I saw them all, I was pretending to be a Baptist, too. Recently I came out on Facebook as an atheist. I admitted I have not believed in God for several years. This created so much turmoil in my family, I had to deactivate my Facebook account for a while. My parents, of course, would FaceTime me and berate me for my "choice". I've never once criticized their belief. I've made sure to focus on what I believe and not bring up what they do. I have no interest in changing their mind about God. I have tried to be understanding and kind and patient, but they keep threatening me with Hell, telling me they are disappointed in me, telling me they hope I never have children and that I am possessed by Satan. They even threatened once to disown me so they can stay "in God's good graces". Since I moved to New York for school, I have always come back for Thanksgiving. It's always just expected, so I am going again this year. I'm terrified of what my family might say and do. How would you deal with this? How would you get through Thanksgiving with a family like this? Any advice is helpful. Thank you,

Anonymous.
First of all, I want to just say that I am so sorry that any of you have to experience this sort of treatment from family just because you don't share their beliefs. I can't imagine how it feels but I know it must be awful. I'm glad you've found other atheists online to connect with, at the very least.
Here's the thing, though, family doesn't always mean blood. As an atheist, you're aware the only life we know we get for sure is this one. It's yours and yours alone. You owe none of it to anyone else. No matter how much you may care for someone, if they insist the only way they can care for you back is if you share their beliefs, then you are in an abusive and toxic relationship. Don't waste the one life you know you have trying to please someone you will never be able to.
Of course, when it comes to the people who gave you life and who raised you and cared for you and loved you as you grew, it's not as easy as just cutting them out. So here's how I would handle it, broken down into steps:
1. Explain to your parents that you no longer share their religious beliefs but that nothing else about you has changed. Tell them that you respect the fact that they have differing views from you, and that you hope they can reciprocate that. If you've got a reasonable family, this should be it, providing you actually hold up your end of the bargain. This should be enough. Of course, sometimes it's just not enough to ask for and give respect. In the event this is the case, move on to step 2.
2. If your family proves that they are unwilling to treat you with respect despite the fact that you are giving it to them, you need to set a boundary. You need to tell them that they have to stop attacking you personally for your lack of belief or you will cease all contact with them. Make sure they understand the consequences clearly.
3. Follow through. Don't make empty threats. If your family continues to beat you down for not believing in God, they are proving to you that their beliefs are more important to them than their love for you is. This is a hard pill to swallow and it's not going to be an easy thing to do, but you've got to do it. The alternative is spending your life trying to win the respect of people who are never going to give it. Move on. Find a group of friends who can be your new family. One that loves and supports you for who you are.
Of course, if you're the one who's bringing up the topic of religion at family gatherings, or even amongst family on Facebook, you're really provoking them and they have every right to fire back. Your best plan of action here is to simply stop. We don't need each other to believe the precise same things to care for each other and enjoy a gut-busting feast together. If you want them to put the topic to rest and love you as you are, you absolutely must do the same. If they are willing to stop pushing their religion on you, go for Thanksgiving and just enjoy yourself. Don't bring it up.
That's not to say that if they want to ask questions about what you believe politely, you can't answer them. Just be careful of where the conversation is headed and always take the high road. Be the better person. In every single one of our interactions with believers, atheists have the opportunity to prove that morality can exist without a belief in god. These are our chances to prove we can be great people. Be kind. Be respectful. Be understanding and accepting of who they are as individuals. If you feel the conversation is headed somewhere heated, just change the subject. I find the most effective way to do this is to ask a question about the other person, particularly on a topic you know they love talking about. For instance, if you have a cousin who plays hockey, ask how the season is going. Did he win his last game? In no time, you're discussing something that he loves talking about and the warm fuzzies are back.
Under no circumstances should you get down in the mud with them. If they descend to threats and name-calling and hostility, you need to tell them that you love them but that you no longer feel safe and you have to go. Leave. Leave on the high road. Leave as the better person. Eventually, that believer is going to look back at the incident and remember he lost his cool and you, a heathen, kept yours. What does that say for religious morality over secular morality?
No matter how much you love your family, do not stay somewhere unsafe. if you are being threatened with violence or physically intimidated, it is unsafe. If you are being verbally torn down in front of your extended family, it is unsafe. If you are being forced to defend your basic humanity, if you're being threatened with the horrific imagery of Hell and God's wrath, it is unsafe. If you are being made out as less of a human being because you are an atheist, it is unsafe and you must get yourself out. Do not convince yourself that they mean well while they completely disregard your feelings. Tell them you love them. Tell them you'll consider coming back when they can treat you like an equal. Then tell them you're leaving and go. Don't waste another minute of the only life you know you get trying to draw acceptance from someone who will never give it.
Besides, it could take something like you walking out at Thanksgiving with your head held high for them to finally hear you. Some people are just that stubborn.
I asked you on Twitter what you thought. Here are some of the best answers:
Grab the turkey and run.

— Dave NerdyGeek (@DT_NerdyGeek) November 19, 2018
I would discuss it with them ahead of time. Dispassionately describe whatever behavior you found difficult or aggressive, then say you want to make the effort because family's important but there need to be ground rules for polite conversation…

— Prophet of Zod (@Prophet_of_Zod) November 19, 2018
Don't be the one to bring it up. Try to keep things pleasant, but if they start being offensive, don't give in. Remind them why you're all there, and ask it this is how they want to spend the time together.

— Noah Pass Le Gravy

I would tell them to stay calm, be true to themselves, and to stand their ground if their atheism comes up. Don't be hostile about it, but don't give in, either.

— Boston the Detroit sports fan.✌

Do not allow yourself to be baited into a discussion of your personal religious views. You may respectfully yet firmly decline.

— George McWhinnie (@geo6493) November 19, 2018

Don't go. Have Thanksgiving with supportive friends instead.

— Stephen Wood (@stevewoodYYC) November 19, 2018

What advice would you give anonymous? Let me know in the comments!

If you like what I do here and want to support my work, you can donate here or become a patron here.