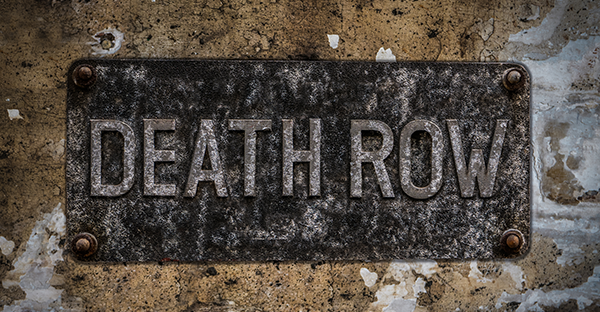 Just a few days ago, the state of Texas executed death row inmate Joseph Garcia. Each time this happens, I can't help but think how much closer Pablo must be to another execution date. I can't help but wonder how much time he has left to prove his innocence.
That is not to say, of course, that I am certain of Pablo's innocence. However, at the very least there is reasonable doubt when it comes to his guilt and in the American criminal justice system, reasonable doubt means he should not be on death row.
We covered the gaping questions in Pablo's case last week. Click here to read that. If you've already read it, you know, there is very little tying Pablo to the crime and what little there is comes from questionable sources who benefit in spectacular ways by pinning this crime on Pablo. If you take away the seriously questionable evidence, all we have left excludes Pablo. In short, there is no reason that this man should be in prison on a murder charge.
But he is. Pablo has been locked up in the Polunsky Unit in Texas since 1996. He's spent twenty-two years on death row, narrowly avoiding his own execution in 2005.
Pablo has been writing to us for some time now, and the last time we read his words, he made mention of a hat found at the crime scene. I'm currently waiting to hear back from Pablo's defense attorney, John W. Stickels, on the details of this hat and whether it might be exculpatory, should the DNA profiles on it fail to match Pablo. I'm also going to try to reach out to one of the original prosecutors in Pablo's case, who has since come forward admitting she found his case problematic. When I hear back from them, I will fill you in on what's going on with the hat, and what problems his attorneys and the prior prosecutor have with the case.
In the meantime, I have received a very small note from Pablo in which he mentions that the hat is stuck in a bureaucratic queue awaiting DNA testing. Here's Pablo,
Courtney! Saludos,

Hoping this finds you well in life and strong in health! How is it going up there? Down here it's the same old thing and the only thing different is the time and day but I'm doing alright mentally and that's what matters the most to me! Haven't heard nothing on my case. There's a backlog on DNA testing and I don't know when they will test the hat so let's just cross our fingers and say that it will happen soon because the sooner the better and my case will start moving in a way different direction than from the past! Yet there will be other obstacles, I'm sure. One step at a time is all I can try to jump! Well, I'll let this be it but you take care of yourself and drink a lot of water when you go on your walks,

Love,
Paz
Twenty-two years on death row for a crime he may not have committed, already having faced one execution date, and his letters are still bubbly, cheerful and upbeat. I can honestly say I don't know that I would be able to be this positive in the same situation.
In any case, Pablo is in near solitary confinement. As such, a letter is the highlight of his day. You can write to Pablo and make his day as he awaits potentially exculpatory DNA test results on the most bloodthirsty death row in the USA:
Pablo Melendez, Jr., #99192
Polunsky Unit
3872 F.M. 350 South
Livingston, TX
USA 77351
Get in touch with me if you would like to send him books: mommy@godlessmom.com
Read the previous posts about Pablo and his case:
If you like what I do here and want to support my work, you can donate here or become a patron here.
Image: Licensed to Courtney Heard/Adobe Stock