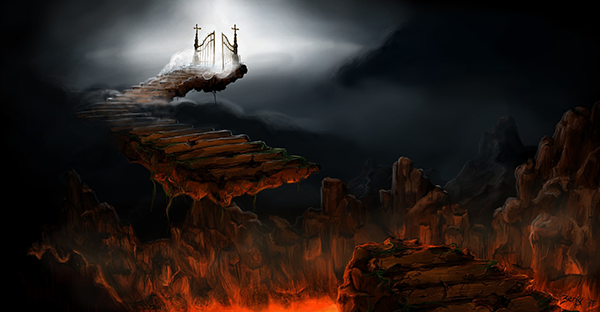 Of all the ideas that come from religion, Heaven has got to be the least logical to me. It makes less sense than a "secret to success" seminar hosted by Johnny Manziel. If Swiss cheese had as many holes as the story of Heaven, it'd be more like the essence of cheese or the spectre of a cheese that once was. Heaven, to me, leaves me with a ton of burning questions. Ten of the most perplexing are:
1. Are Good Place residents aware of the Bad Place?
It's Heaven, right, so you're supposed to be more blissed out than Richard Simmons at a short-shorts convention, correct? We're talking levels of bliss that'd make the best orgasm you ever had feel more like the last season of the Office. You know, it was enjoyable, but you could take it or leave it. Heaven is bliss beyond anything we've ever felt or imagined. It's bliss beyond bliss, and totally worth denying yourself earthly pleasures for your entire life to achieve.
So, do we just lose all knowledge of Hell while we're there? Because I can tell you one thing about me that I know for sure: this anti-death-penalty activist and human rights advocate ain't enjoying bupkus with the knowledge that people are being tortured for eternity.
How could you cope with that? I feel like anyone who could cope with that isn't really all that good of a person and doesn't deserve to really be in Heaven in the first place. So, the only real option here is that we go through some sort of Men-In-Black style memory wipe upon death, where all knowledge of Hell and those who've gone to Hell is ripped from our minds.
This then begs the question, are we really ourselves? My life revolves around the people I love here on Earth. If they all head to the Bad Place, and I head to the Good Place and have my memories of them wiped from my mind in order to truly experience eternal bliss, am I really me? Or am I some lobotomized shell of what once was GM? It's not really me being sent to Heaven. It's an empty old soul with my name on it.
So, why do I want that? What's the selling point here? Is it merely that I've avoided eternal torture? Because I don't see how bliss is possible without completely removing who I am at my core from the equation.
2. Will my dog be in Heaven with me?
Of all of the forty-two years I've been alive, I've lived maybe a year, total, without a dog. Life without a dog is what I imagine Hell to be. I don't even know how to go about lowering my stress levels without being able to run my fingers through the soft fur of a creature who can literally hug you with their eyes. How do you wake up in the morning and get going without those little paws padding by your side? How do you arrive home and feel complete without being greeted by a wagging bum so forceful it could tip a cow? I can only conclude that our pups are there in Heaven with us, right? I mean to me, a Heaven without my Lucy goose is really Hell.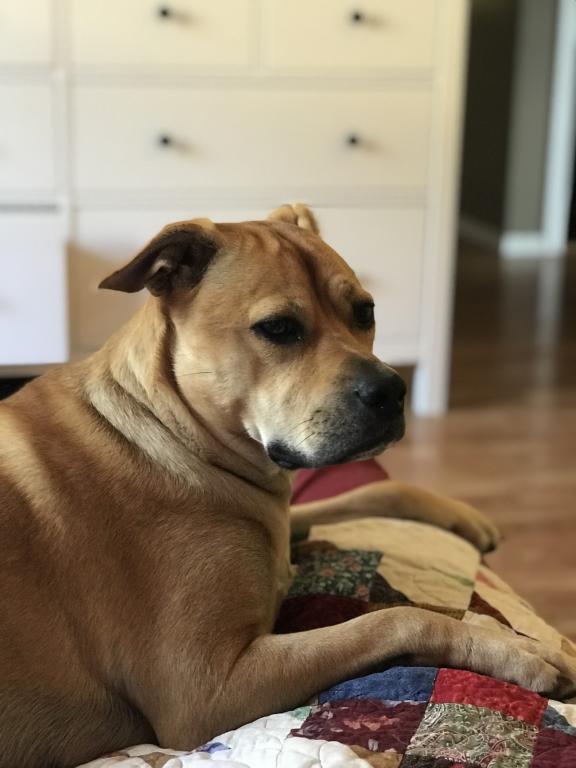 If we accept that Heaven can only really be Heaven if there are dogs, we then have to ask, are all dogs there or just the ones that were loved by a human? If some dogs don't get a ticket to Heaven because no human ever loved them, where do they go? Hell? Is that fair and can we be happy in Heaven knowing this? On the flip side, if all dogs actually do go to Heaven, regardless of having a human or not, which seems more fitting for someplace referred to as the "Good place", well, that's a lot of animals running around. I mean think about it… every dog that ever lived, ever!
That would also then mean all cats ever go to Heaven, right? Also, perhaps hamsters and snakes and chinchillas and mice, rats, goats, pigs, tarantulas and birds. So, does that mean that all animals go to Heaven? Or is it just limited to the species we've had as pets? How many people must have loved one as a pet for the entire species to be welcome in Heaven? I ask because I once knew someone who had giant Madagascar hissing cockroaches as pets and was quite attached to them emotionally. I imagine if we had to let in all the hissing cockroaches that ever lived, life in Heaven might be… well, chaotic.
What about the people who are afraid of dogs? Is fear just not a thing in Heaven, then? 'Cause as it stands right now, I am only slightly more afraid of losing a loved one than I am of tarantulas and if Heaven is full of them because some donkey down here on earth decided they'd make great pets, then count me the bleep out. I'd rather burn with Hunter S. and Billy Burroughs in the underworld.
3. If there are cats in Heaven, do they still knock things over?
So, we just have to accept that Heaven is going to be filled to the brim with animals of all shapes and sizes. Does that mean my cat still knocks my beer over? I mean, I'm going to go ahead and imagine that in Heaven there is free-flowing beer on every corner because it wouldn't really be Heaven if we couldn't have a cold one when we felt like it, right? So, we have beer ponds and beer fountains and ornate, golden steins all over the place but we also have every cat that ever lived. Do we ever even get to drink the beer? Or do we just have to make sure we never set it down?
4. Is there free will in Heaven?
Are we free to make our own choices in Heaven? Because I've been told countless times by believers that the reason for suffering down here on the blue planet, despite an omnipotent, benevolent god, is free will. He allows us to make our own choices, and sometimes we make poor choices and it leads to our own suffering. So, if there is free will in Heaven, is there then also suffering? And if there isn't free will in Heaven, then is it really the "Good Place"? I don't know about you, but for me, I feel like bliss wouldn't come from being an automaton.
5. Can we play Zelda games in Heaven?
Listen, right now I've got on a t-shirt with the tri-force symbol, a hoodie over that with the Legend of Zelda logo and I'm drinking lemon water out of a metallic green Legend of Zelda tumbler. It's been less than 10 hours since the last time I played Breath of The Wild, and hun, if there ain't no Zelda beyond the pearly gates, I am not going in.
If there is, however, does that mean that all games are available in Heaven? Like Grand Theft Auto and Resident Evil? Are we conceding that video games are not evil because evil clearly would never exist in Heaven? Or does Heaven limit its title selection to those that passed the tough scrutiny of the holy ghost?
6. How can we know what's good in Heaven if there is nothing to compare it to?
If Heaven is all good, all the time, how do we know with nothing to compare it to? Wouldn't existence get boring if there were no hurdles to overcome? No problems to solve? Does good without bad just feel mediocre? I feel like it might. Some of us live to help people, others live to help animals, others still live to help the environment we live in. Would these people be bored in a place where no help is ever needed, with anything?
7. Can we fornicate in Heaven?
Is Heaven the place where god finally lets us lay pipe without judgment? Is it just a wick-dipping free-for-all with muffin stuffing going on behind most closed doors? If so, does rejection exist? I mean, it's Heaven, right, so it's all happy, all the time, so I imagine rejection isn't a thing. I'm left to wonder then, does that mean we're expected to play hide the cannoli with anyone who asks? Our options are either a) sex is not a thing in Heaven b) rejection exists or c) everyone is obliged to do the horizontal hula with anyone who feels the desire.
Any one of those options is kind of a bliss-destroyer, don't you think? So, perhaps there's a fourth option, d) Heaven is not all good all the time. Of course, my favourite option and the one that coincides best with what we actually know is e) Heaven is not real.
8. Is Heaven where masturbation is suddenly okay in the eyes of the lord?
We all know that the Abrahamic god is enraged by the old taco tickle. He does not like it when we do our own handiwork if you get what I'm saying. He watches from his celestial throne, peering down at us lowly humans going about our mundane day-to-day business in hopes of catching one of us in the midst of basting the ol' ham. And if he does? That's one strike against us, loosening that grip on our ticket to Heaven. So, if we refrain from honking our own horns until we die we're that much closer to getting admitted to the Good Place. Once we're beyond the pearly gates, are we free to then entertain Rosie Palm and her five sisters to our heart's content? I mean, it's not baby batter anymore, right? I can't see how or why there would be procreation in Heaven, so can we finally put our thumb in the proverbial porridge without limit? Or is there still some arbitrarily nonsensical reason why we musn't beat the bishop in Heaven, too? Would that truly be… Heaven?
9. What if we see someone in Heaven who we didn't like in life?
There's this lady who lived down the street from us when we lived closer to Vancity. She used to peer out her window and complain to anyone who would listen about our kids. Any noise that was out of the ordinary was reported to police and I recall having numerous visits from them, even once when three of us were playing Trivial Pursuit quietly in my living room, totally stone-cold sober with no music playing. She was the neighbourhood busybody; was always up in everyone else's business. She was also very snooty about her faith in Jesus and went to church every Sunday like clockwork. I gotta say, if she's in Heaven, it's not going to really be all that Heaven-like for me. So I guess that leads us to the question, what happens when people who don't like each other both go to Heaven? Do you just keep them separate to keep the bliss flowing without interruption? What if it's a family member or someone with whom you share a mutual friend? Doesn't it get complicated to keep them apart? I imagine that, like in life, you can't avoid everyone you don't like forever. Eventually, you're going to come across their bitter mug and if that happens in Heaven, wouldn't that get in the way of eternal happiness?
10. Is there bacon in Heaven and if so, how does Heaven really feel all that great to a vegan?
I eat meat but I totally get the vegan argument. I support my family members who are vegan and look forward to learning to cook and taste new things that they introduce me to. There are people in this world who I love dearly who are vegans and there are people in this world who I love dearly who adore bacon.
Is there bacon in Heaven for the bacon-lovers who would deny that bliss can exist without the smokey cured snack? Would that not make it anything but Heaven for the vegans? Or is there no meat at all in Heaven, rendering the Good Place the sort-of mediocre place to meat-lovers? Or is there synthetic meat that doesn't require an animal to sacrifice his or her life for us to consume? I guess what this question comes down to is, how do we please people with opposing viewpoints at the same time? How can there exist complete bliss for both parties when those viewpoints play a significant part in how they believe one ought to behave or conduct oneself?
The longer you ponder these questions, amusing as some of them may be, the more you realize that the concept of Heaven cannot exist. At least, not as a place that is all good, all the time, for everyone. I'd like to know what some of your problems are with the concept of Heaven. Let me know in the comments below!
If you like what I do here and want to support my work, you can donate here or become a patron here.
Image: Creative Commons/Pixabay