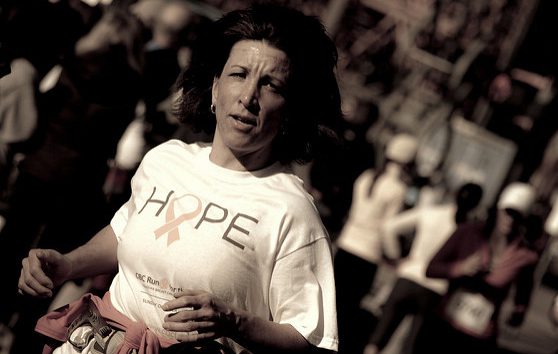 A story June 6 in the Mitchell (South Dakota) Daily Republic newspaper, portrayed area farmer's wife Tara Bainbridge as an altogether lovely, loving, estimable person.
Genuinely so.
Which offers yet another reason that religious faith — which, in America, largely means Christian faith — perpetuates not only year after year in this nation but century after century.
The article recounts how nearly a year ago Bainbridge, just after undergoing a cesarean with third daughter Greta, got the bad news from her doctor: she had stage 4 non-hodgkins ovarian lymphoma.
Cancer.
"… my mind went to very dark places," she recalls.
The diagnosis was not only devastating for Bainbridge personally but perhaps even more so for her family.
"My husband and daughters cried more about it than I did," she told the Daily Republic. "I had to literally look each of them in the face and tell them to be strong."
She then began a grueling régime of lymphatic-cancer treatments, including three rounds of chemotherapy and a stem-cell bone marrow transplant.
They were successful, and Bainbridge's cancer happily went into remission.
Of particular relevance to this blog post, though, is that in the middle of her treatments she also joined Mitchell's Northridge Baptist Church. She said the decision was transformational:
"People were reaching out to me that I had never even met … I felt like I was part of the family when I walked in the door for the first time."
Bainbridge clearly believes her new connection with the church had a contributing curative effect on his disease. Also clearly, she is for the moment cured. So, as kindly Pope Francis beautifully said when asked to denounce homosexuality, "Who am I to judge?"
Still, whether a divine breath cured her or the combined love, affection and communal care of her all-embracing family, friends and the welcoming congregants of her new church, is a known unknown. Certainly the latter, if you're a nonbeliever, as I am, if not the former.
In these instances where people evoke a godly touch in their good fortune, I look for things closer to earth. Studies show, for example, that prayer is manifestly effective only when the prayee knows he/she is being prayed for. If subjects are unaware people are praying for him/her, nothing particularly healing happens one way or the other.
So, in my admitted jaded, skeptical view of religious faith, I see warm human love and attention — and personal inner strength — as the healing factors in this lovely young woman's glorious return to health. Not religion.
In fact, I would view myself as an unkind, even despicable person — as would most people, I strongly suspect — for even doubting for a second the veracity of her faith in the face of such a wonderful outcome.
Yet, this is all anecdotal. The linkage between Bainbridge's cure and God is thin to nonexistent in testable, material ways. As with all things spiritual, an ephemeral cause is arbitrarily attached to a down-to-earth effect.
That said, I'm over the moon with joy for this South Dakota farm mother and wife, who is now co-chairman of the Heart and Sole Cancer walk this week in Mitchell, while juggling her job as a surgical tech, raising her three daughters with her husband, and helping him run their family farm. The human race is supremely lucky to have her back.
This is, without a doubt, a woman of enormous substance.
She has miraculously reclaimed her life, one of poignant success, a model of the "good life" great philosophers have been espousing for millennia. Who is anyone to judge such transcendent value?
But still, we should continue to ask, "Whither God?" That's a separate question but no less essential.
Bainbridge clearly believes her religious belief helped drive the demons of cancer away. And, I'm absolutely sure she's right. Belief is among the most powerful of human emotions, whether what is believed is valid or not. It can literally move mountains. Everybody knows it's a kind of sin to deny that power or weaken its effect for achieving good.
Which is why we generally don't, and why our silence endlessly perpetuates the unverified idea that such magical thinking is inherently true.
Please sign-up for new-post notifications (top right). Sharing, comments much appreciated!