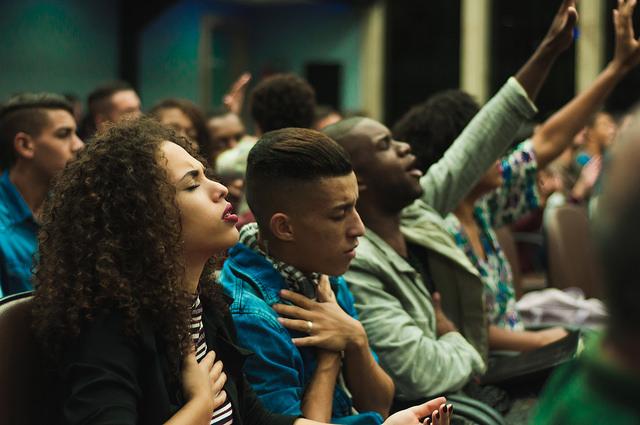 A lovely post by a woman named Makeesha Fisher reminded me of the dark side of growing up in a religiously devout family in a faith-saturated environment.
In Makeesha Fisher's Blog in the Atheist Republic internet hub, she wrote:
'The dark side'
"The dark side of being a religious child is the fear that is an almost constant companion for many. Most conservative evangelical and fundamentalist Christian kids are taught implicitly and explicitly that 'The World' is a threat. 'The World' is everything that isn't 'of God,' and when Christians engage in worldly things, they run the risk of being led astray, down a path away from Jesus."
To underscore this theme that guided her and other children in her circle, she quotes scripture (1 John 2:15):
"Do not love the world or anything in the world. If anyone loves the world, love for the Father is not in them."
Fisher notes that whereas people in the conservative, evangelical, Pentecostal world in which she was raised weren't "as extreme as snake handlers," they were extremely God-focused. She remembers spending a goodly amount of her time doing churchly things: attending Sunday morning (and sometimes evening) services and a mid-week worship, youth group gatherings and revival meetings, summer camp and church conferences, to name a few. Invariably at these events:
"… there was speaking in tongues, laying on of hands, anointing with oil, prophecies, and more."
'Very active demons'
Because children were taught that Satan and "very active" assorted demons existed in the world, and that these chimera inhabited your mind as elsewhere, she said kids were also taught to "use our 'spirit' [cleansed by the Holy Spirit] … to control our thoughts" against the onslaught of this resident evil.
Pentecostal children in Fisher's youth were also taught to fear science and anything that purported to contradict or question Christian scripture.
The upshot, Fisher warned, is that children thus religiously indoctrinated "often grow up to be young adults who have deep-rooted fears in things that aren't familiar. … even when they apply common sense."
"There's still a little nagging fear that [following an unfamiliar path] might make them lose their faith or make God unhappy."
It stunts a child's personal growth and development in the real world, even into and beyond adulthood.
Still, she wrote, her childhood wasn't all fearsomely surreal.
"All things equal, my childhood was good. My parents loved me and I knew it, no one beat me, I had a broad and supportive community, and a deep and sincere faith. I talked to God and I believed God talked to me. I had convictions and behavior guides that kept me grounded and helped me make decisions. I am still friends with members of my youth group and I had great ethics and morals."
Good doesn't cancel bad
Yet, my view is that the good does not cancel out the life-long damage and constriction such fear-based programming can inflict on innocent children.
I have written previously in this blog about the often extreme difficulty people raised in emphatic religious environments have breaking free when they lose their faith. One post, titled "Breaking Up: Why Is Religion so Hard to Leave?" discusses the wrenching experiences of two Christian and Jewish apostates in abandoning their religious communities.
Makeesha Fisher is now an avowed atheist and graphic artist with two daughters and an actor husband. She left 31 years of devout membership in a Pentecostal community, 12 as a minister, and is currently trying to raise her children not to "toe the atheist line" but to be "critical thinkers, to help them engage with the world around them." Education is critical to everyone's future, she now says:
"It's not hyperbole to say that the future of humanity depends on how we educate the next generation."
Kids should be "empowered" with broad knowledge, she believes, not "sheltered."
My sentiments exactly.
Please sign up for new-post notifications (top right). Shares, comments appreciated!