This is just a quick post to direct your attention to today's truly alarming opinion piece by columnist Frank Bruni in the New York Times.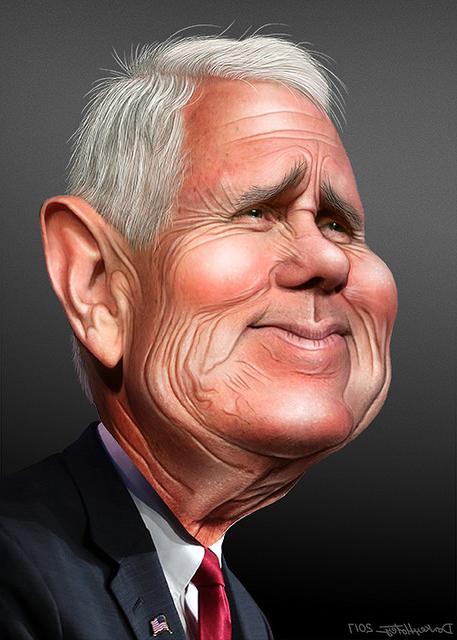 Titled "Mike Pence, Holy Terror: Are you sure you want to get rid of Donald Trump?" you can read it here.
The op-ed announces publication of a new book by Michael D'Antonio, who previously wrote The Truth About Trump, and Peter Eisner, titled The Shadow President: The Truth About Mike Pence. The book is scheduled to be published Aug. 28, and Bruni, who read an advance copy, said it contains "the most thorough examination of the vice president's background to date."
And that background is cause for pause.
A theocracy democracy?
As we've long known, current U.S. Vice President Pence is a zealous evangelical Christian who deeply believes the U.S. should be a theocracy structured by the moral and doctrinal principles of his faith. Famously, he won't eat dinner alone with a woman other than his wife due to some gauzy Christian principles of fidelity, and his apparent belief that God gave Donald Trump to America for a good reason has made him more-than-willing to slavishly and publicly and ickily extoll the supposed virtues of a commander in chief who defecates on virtue every chance he gets. And, of course, like his dear leader, Pence repeatedly and publicly lies to the American people. Likewise, provably.
If all this weren't so existentially disturbing, it might seem just strange.
Pence apparently shares Trump's fascination with the limelight. Bruni wrote that when he started his single term as governor of Indiana, he "ordered up a collection of custom-embroidered clothes — dress shirts, polo shirts, and vests and jackets — decorated with his name and the words Governor of Indiana."
But his most worrisome trait is his fervent religiosity. Wrote Bruni:
"People don't understand what Pence is," D'Antonio told me. Which is? "A religious zealot."
If Trump doesn't run
Bruni speculates that Trump may not even seek a second term as he grows sick of the constant drumbeat of criticism from everyone but his base, when the main thing he loves about being president is going to rallies "where people adore him." D'Antonio agrees that his sense of duty won't be enough to "sustain him through the investigations and accusations":
 "If the pain is great enough, I think he'd be disposed not to run again."
That would open the political door to Pence and, simultaneously, a Pandora's Box of unknown Christianity-fueled consequences for America.
Keep in mind that Pence is a guy, according to Bruni, who once unfriended a close friend in college when the friend came out as gay, and Pence also "seemed to back federal funds for anti-gay conversion therapy," a highly controversial "treatment" to make gays straight that various states already outlaw.
So brace yourselves for a potential new normal that in some ways may be far worse than what we have now.
Bruni warns that Trump is "more obvious in his intent," while Pence tends to "disguise his agenda."
In any event, being forewarned is being forearmed.
Please sign up for new-post notifications (top right). Shares, comments appreciated!