Here's a brief secular post possibly of interest to Christians on this sabbath but not a distraction from the focus on morality and goodness the day requires.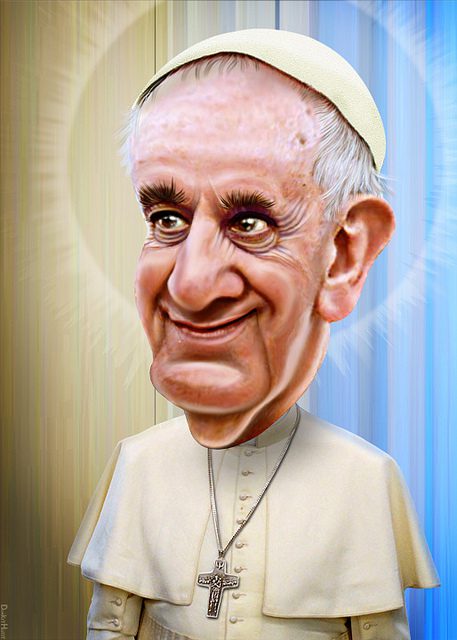 It's about Pope Francis I, who, even though I am not only a fallen Catholic but a zealously apostate one, is still my guy. I've been down with him since he ascended to the right hand of St. Peter but insisted on wearing sensible shoes and dressing down, and proclaiming in support of gays, "Who am I to judge?" I've sung his hosannas often, including here.
He most recently reaffirmed my faith in his humanity when he announced a radical change in the Catholic Church's policy on capital punishment, declaring it an "inadmissible" assault on human dignity in all cases, and he committed the church to working to abolish capital punishment worldwide.
Previously, the church cautiously condoned the death penalty but only in very rare cases in "defending human lives against the unjust aggressor."
Modernizing Catholicism
Writing in The Washington Post, reporter Chico Harlan wrote:
"Francis's latest move places the issue toward the forefront of his own efforts to overhaul and modernize the Roman Catholic Church's approach to social justice."
As he reasonably should.
Currently a large majority of countries have either abolished or declared a moratorium on the practice. As of 2017, among the 195 independent states associated with the United Nations: 105 had abolished capital punishment for all crimes; 54 retained it in statute and practice; 29 had not executed anyone in a decade or more and were purposefully leaning away from it; and seven had practically abolished it except under "exceptional circumstances." Find corroborative statistics here.
The United States is the world's most advanced country to still employ capital punishment.
Pope Francis is a thoroughly modern pontiff, and although, of course, I disagree with him on supernatural dogma, I am foursquare behind him on humanist issues.
Death penalty indefensible
There seems no ethically defensible way to endorse the death penalty in either a humanist
or
Christian context. Throughout human history, the highest good has always been love of your fellow man and relief of suffering.
How can a state authorize the judicial murder of a person and maintain fidelity to the core Christian virtues of compassion and kindness? If the practice is viewed honestly, it is always employed for vengeance; an eye for an eye. Even though it's proclaimed in the Old Testament, modern man — even the Hatfields and the McCoys finally figured it out — understands how short-sighted vengeance is and how inevitably destructive to human peace and happiness.
In my view, it's time has passed in the evolution of humankind. Pope Francis is just stating the obvious.
Here's a number of news articles about this week's welcome papal announcement, including in The New York Times, USA Today, Fox News, The Atlantic and Deathpenaltyinfo.org.
This is a nonpartisan, nonsectarian, omni-religious issue. Everyone, religious faithful and heathens alike who value the kindly precepts of basic humanism, should effortlessly agree at least that official killing is inherently wrong. And with modern, maximum-security prisons and growing psychiatric understanding, it can't be reasonably argued that it protects societies from violent criminals or deters uncontrollable violence.
Ending it everywhere once and for all makes common sense.
Please sign up for new-post notifications (top right). Shares, likes, comments appreciated!