Until now, the 1,300 Starwood hotels, whose brands include Sheraton and Westwin, dispensed with placing Bibles and other doctrinaire religious literature in their hundreds of thousands of rooms worldwide.
No more.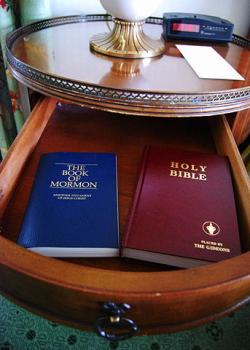 Required reading
The monolithic Marriott International hotelier company, whose founding family remains active in the Mormon church (Church of Jesus Christ of Latter-day Saints), purchased the Starwood chain two years ago and began systematically requiring copies of the Bible and Book of Mormon be placed in its 300,000 hotel rooms. Marriott expects the task will be completed by year's end.
Marriott has been placing such so-called "holy books" in its own namesake rooms since the 1950s. Bibles are free through evangelical Gideons International, a group that for more than a century has placed billions of Bibles in hotels, hospitals, prisons and other public venues worldwide. The Marriott Foundation and the Mormon church share the cost of distributing the Books of Mormon to Marriott-affiliated hotel rooms.
Mandated policy
It is not a voluntary program but an iron-clad Marriott corporate policy, an Associated Press article reported this week:
"Like most major chains, Marriott doesn't own the majority of its hotels. However, it stands out from the other companies by requiring — in franchise or licensing agreements — its 6,500 properties to have the books in each room."
AP reported that Marriott is unique among the major hotel chains to require religious materials in its rooms. Most other chains allow local managers to decide whether or not to place them; the Hyatt has no official policy but lets managers provide religious texts if guests request them.
Attracting millennials
In a 2016 article, Fox News quoted Linchi Kwok, an assistant professor of hospitality management at Cal Poly Pomona, referring to a Los Angeles Times report:
"Many major hotel chains justify [not putting religious literature in rooms] in hopes of attracting millennials and avoiding offending guests of various faiths. A lot of international hotels are trying to reach a very diverse group of travelers, and religion now has become a really sensitive topic."
Push-back
As I've posted about before, the tradition of placing spiritual reading material in hotels is relentlessly sliding as Western industrialized societies continue to grow less religious, especially in Western Europe and to a lesser extent in the U.S. In my previous post, I noted that a Christian minister in Scotland, the Rev. David Robertson, cried discrimination when the biggest public hospital in his area, the Dumfries and Galloway Royal Infirmary, declined 344 free bibles from Gideons.
The hospital, which serves an area population of 150,000 and employs 4,500, declined the books after receiving numerous complaints from citizens who protested that they improperly promoted Christianity over other faiths. However, Dumfries and Galloway is not banning the books outright, just removing them from public places. Hospital patients and visitors can still receive Bibles but must specifically request them.
How to embed religion
In my earlier post, I explained why I'm personally opposed to profusely and visibly placing bibles in public spaces:
"In the United States, for instance, a significant perpetuating factor of Christianity is not only that its symbols and ideologies are scattered everywhere in society, from crosses on churches and necklaces to divine evocations on our money ("In God We Trust"), but how over centuries its assumptions have embedded in our cultural fabric. They have come to seem normal. So, having bibles laying around in hospital waiting rooms and unavoidable in patient room drawers is as much a political as spiritual act. It's part of a purposeful strategy of constant reminding to prime the pump of memory. It's disingenuous to claim the act is neutral and that any attempt to mitigate its effects reflects intolerance."
In my view, this is how religion, despite its superstitious nature, is perpetuated throughout societies without substantiation of its dogmas.
In Britain, some major hotel companies, such as Travelodge, have removed bibles from their rooms to avoid antagonizing a clientele that is increasing ethnically diverse, but others are retaining theirs, including the InterContinental and Holiday Inn chains.
Hospitality increasingly irreligious
The downward trend is even sharp in majority-Christian America, where a 2016 survey by the hospitality analytics firm STR found that while 95 percent of U.S. hotel rooms carried bibles in 2006, fewer than half carried religious materials of any kind in 2016.
Even ever-faithful Marriott responded to irresistible demographic realities when it chose to not put Bibles and Books of Mormons in rooms of its trendy new Moxy and Edition chains when they opened in 2016. The target customers were millennials, who are far less religious and atheistic than the general population.
"The religious books don't fit the personality of the brands," a Marriott spokesperson told the Times.
Increasingly, religious books in public venues appear less and less fitting for America's secular brand of democracy, as well.
Please sign up for new post notifications (top right). Shares, likes, comments appreciated!