A Catholic archbishop this week accused the pope of covering up sexual debaucheries of a high-ranking Vatican prelate!
An archbishop, for goodness sakes!! Accusing God's chosen representative on earth!!!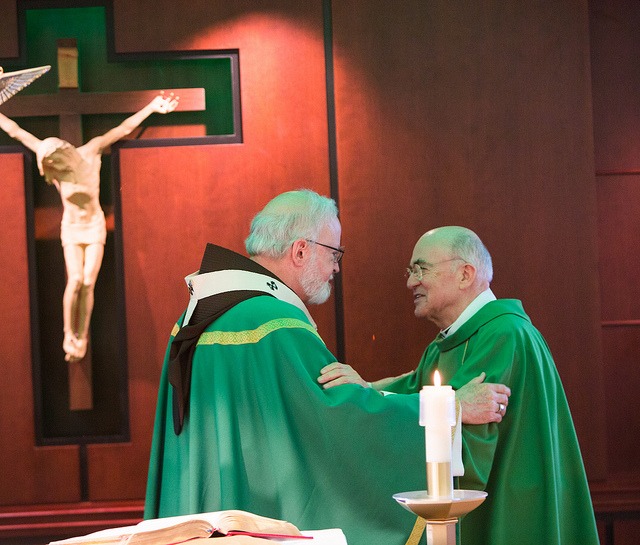 How could that be fake news? After all, elite men of god, despite their manifold carnal issues growing more evident by the nano-second, don't lie, right?!
Uh, well, actually they do. All the time and historically, according to relentless news coverage of church pedophilia scandals since the first big one, in Boston, was unearthed in 2002 by a team of Boston Globe investigative reporters. The team later received a Pulitzer Prize for its solid reporting on the story of priests' shockingly extensive, long-running, low-level sexual depravity, and the high-level fiduciary disgrace and deceit employed to cover it up churchwide.
Horrors in Pennsylvania
The latest church outrage, which recently detonated in Pennsylvania, was particularly appalling, as reported August 15 by Fox News online:
"An estimated 300 Roman Catholic priests in Pennsylvania molested more than 1,000 children — and possibly many more — since the 1940s, according to a scathing Pennsylvania grand jury report released Tuesday that accused senior church officials, including the man who is now archbishop of Washington, D.C., of systematically covering up complaints."
In one particularly disturbing charge, one priest, Father Thomas Smith, during 1967-1990 had been directed by ecclesiastic authorities to take three "health leaves" at church-run treatment facilities after he was accused of raping little boys as young as 7 and telling them God would be angry if they told anyone. Although he was eventually welcomed back to church duty each time, he resolutely continued to sexually assault children — 15 victims in all — according to the grand jury report.
Church leaders accused of concealing sex crimes of the Pennsylvania priests include Cardinal Donald Wuerl, now head of the Washington, D.C., archdiocese, who was Pittsburgh's top bishop from 1988 to 2006.
Human in the worst ways
But, no matter how sordid and depressing, this is a far more complex story than it seems, proving that "men of the cloth" are not only human in the worst possible ways, but also vain, overly sensitive, devious, criminally deluded, viciously vindictive and corrupt. It's got to be tough for blameless, honorable priests in such an outrageous environment.
When his bishop agreed to let Fr. Smith return to the church fold for the third time, Smith wrote a letter of appreciation to his superior, according to an August 16 story by Mark Argento in the York (Pennsylvania) Daily Record.
"So why did I worry [that you might not let me return]," Fr. Smith wrote.
Why, indeed.
"The church had his back," Argento wrote.
Who is without sin?
So who is guilty? The hundreds of indicted priests in Pennsylvania? The senior church officials who allegedly covered up the priests' wickedness? Even purportedly dissolute cardinals? Pope Francis himself?
Clearly, something appalling has been happening in the church under cover of concealment for long decades. Some of the perpetrators of such unforgivably destructive violations of children have been charged, tried and sentenced; others remain targets of prosecution, and endless reports of new church-related sexual improprieties, gay and straight, keep arriving by the day.
But the purposeful silence, broad concealments, dust from the circling of wagons, and a blizzard of lies have obscured the realities and presumably kept many culpable players hidden.
In short, try as it may, the church is having a wrenchingly hard time fully fessing up.
'The pope did it'
The latest distraction is a very serious accusation against Pope Francis by Archbishop Carlo Maria Viganò, the Vatican's former papal nuncio (i.e., "ambassador") to the United States from 2009-2011.
In the letter by Archbishop Viganò published this weekend, he said he told the pope five years ago about alleged sexual improprieties committed by then-Cardinal Theodore McCarrick but that nothing was done about it at the time. He also castigates more than a dozen cardinals for purportedly covering up McCarrick's abuses, including three successive Vatican secretaries of state.
Viganò called for Pope Francis to resign.
In an August 28
column
in the
Washington
Post, conservative writer Marc A. Thiessen contended:
"It is virtually without precedent for a Vatican insider to make such serious charges against a sitting pontiff and members of the Curia — much less to call for the pope's resignation. Viganò's allegations need to be investigated, the documents he cites need to be released, and the pope needs to answer these charges."
The pope accepted McCarrick's resignation as cardinal last month, after an investigation by U.S. church authorities decided that an accusation he had sexually abused a minor was credible.
"If Viganò is right," Thiessen wrote, "it means the corruption in the Catholic Church has reached not just the highest levels of Roman Curia but the papacy itself."
What's true?
Breathless prose, but is it true? The operative clause here is, "If Viganò is right,"
The pope said he had read Viganò's letter, and when asked to respond to it this week by reporters aboard his airplane, he said he trusted journalists to judge the missive's veracity for themselves, according to an Associated Press report.
"It's an act of trust," the pope said. "I won't say a word about it."
It turns out that Viganò, who has allied himself with arch-conservative traditionalists in the church against the liberalizing pope, has a bit of a checkered history. The archibishop, known for his contrarian personality, heavy-handed management style and political pugnacity, has for years unsuccessfully sought to be promoted to cardinal — and has reportedly long been bitter that the brass ring has been denied him. According to a New York Times report this week, Viganò himself had once been accused of obstructing a church sexual misconduct investigation in Minnesota as papal ambassador.
The Times added:
"Then in 2015, [Viganò] personally ran afoul of Francis. His decision to invite a staunch critic of gay rights to greet the pope in Washington during a visit to the United States directly challenged Francis' inclusive message and prompted a controversy that nearly overshadowed the trip."
The report explained:
"Juan Carlos Cruz, an abuse survivor with whom Francis has spoken at length, said the pope recently told him Archbishop Viganò nearly sabotaged the visit by inviting the critic, Kim Davis, a Kentucky county clerk who became a conservative cause célèbre when she refused to grant marriage licenses to same-sex couples."
Incensed, the pope reportedly tried to fire Viganò as papal nuncio.
Settling scores?
Times reporter Jason Horowitz said in the article that Viganò's letter, besides its more manifest intent, also "seems to be settling old scores." Publicly preferring a far more conservative pope to replace the retiring Benedict XVI, Viganò was "iced out" of executive promotion after Francis' election, Horowitz wrote.
The archbishop's supporters "bristle at the notion that his letter calling on the pope to resign represents the "fury of a disgruntled excellency," portraying him instead as a principled cleric "shocked by what he sees as the destruction of the church he loves."
So, which is it? Did Pope Francis cover-up an archbishop's sexual peccadillos? Is the prelate accusing him of concealment just motivated by sour grapes? Does the stench from the ongoing church pedophilia scandals really seep from the top?
Beyond the confirmed criminalities of the sex scandal itself, who knows?
What we do know about the peripheral mysteries in this sad, often horrifying serial religious atrocity is that because very mortal human beings run the Catholic Church, it's complicated.
Please sign up for new post notifications (top right). Shares, likes, comments appreciated!