In a gentlemanly but nonetheless eviscerating op-ed in today's Washington Post, retired U.S. Navy Admiral William McRaven chastised the president for degrading the country and asked our nation's chief executive to revoke McRaven's security clearances — as he had former CIA Director John Brennan's earlier this week.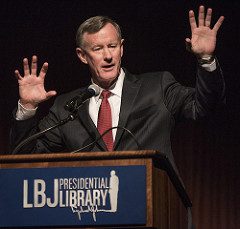 In today's New York Times "Opinion Today" newsletter, Quinta Jurecic of the national-security website Lawfare, fairly noted that Mr. Trump, in revoking the CIA ex-director's security boni fides, accused Brennan of supposed infractions that the president is far more known for than the ex-CIA chief: "erratic conduct and behavior," "frenzied commentary" and "wild outbursts on the internet and television." Jurecic asked rhetorically: "Sound familiar?"
Brennan had earlier accused the president of "traitorous" and "treasonous" behavior in kowtowing to Russian president Vladimir Putin, and in a Times op-ed today he said continuing Russian denials of interference in the U.S. 2016 presidential election, and President Trump's continuing denials of his campaign's and administration's suspected "collusion" with Russian agents are both "in a word, hogwash."
Calling Brennan "a man of unparalleled integrity" and charging that Trump had "embarrassed" the nation by discrediting the former director and other represensible behavior, McRaven in his
Post
piece today implored the president:
"Therefore, I would consider it an honor if you would revoke my security clearance as well, so I can add my name to the list of men and women who have spoken up against your presidency."
We need more people of patriotic and moral stature, integrity and a commitment to national honor to speak up as former Adm. McRaven has to denounce the embarrassment now holding court in the Oval Office. Yo, Republicans?
Kudos to McRaven and former CIA Director Brennan. By the way, McRaven directed the raid that ultimately killed Osama bin Laden.
Please sign up for new post notifications (top right). Shares, likes, comments appreciated!