Back in May, I posted a blog article titled, "Silent Street: Technology Suffocating Traditional American Life."
Things have just gotten worse since.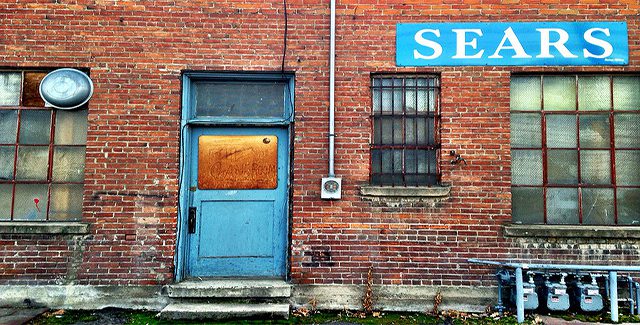 Crushing debt
On October 15, the once monolithic American retail giant Sears filed for bankruptcy protection and announced the closure of 142 stores. It was the day a $134 million debt payment was due that the cash-strapped company couldn't meet.
The collapse was long expected as Sears tottered under overwhelming competition from online rivals, the largest being Amazon (the technology-studded juggernaut), and from a pile of relentlessly increasing debt. As of today, that debt amounted to $5.6 billion. In the last five years, the company's stable of stores, including those of its Kmart subsidiary, eroded from 2,000 to about 820, and Sears has been unrelievedly unprofitable since 2010.
Death of a tradition
Besides the basic unfairness of it all — hugely profitable online retailers have long legally avoided paying taxes their brick-and-mortar brethren had to pay — it is a deeply personal tragedy for many Americans who for many generations depended on Sears. They depended on it for the things that made the American dream the American dream, among them cookstoves, washing machines, tools, clothes, quality and reliability.
It's very personal for my wife's kin here living amid the sprawling, very-lightly-populated expanses of prairie and cropland, where the little farming towns are generally six miles apart because these hamlets were founded before the internal combustion engine, and widely scattered farmers needed to be able to get their crops and cattle to town markets for shipping and get home again within a day.
Lifeline to the world
For many decades in Midwestern prairie towns, the only stores accessible to remote farm families were in distant towns, and even they didn't stock much beyond the basics. So Sears, with its ubiquitous catalogs (whose pages did double-duty as outhouse toilet paper), was the lifeline to the outer world for rural folks not just in South Dakota, but nationwide. The company and its main competitor, Montgomery Ward, home-delivered virtually anything, including farm tractors and even a complete package of building materials for a new home.
When a large item from Sears arrived in a small town, it was news. A noteworthy event everyone talked about. Entertainment. And it generally made life markedly better, easier, more interesting, for whoever received it. Eventually, Sears stores sprang up in towns and cities coast to coast.
Although it seems quaint now in this technologically sophisticated age of computerized online shopping, Sears back in the day represented the zenith of convenience for people who lived isolated lives. You mailed in an order sheet and — voila! — it arrived on your doorstep one day. What could be simpler?
So, now Sears is fading away, likely all the way "to black" eventually, and Amazon and its online purveyors continue to make shopping easier and cheaper (so we're told) and better than in-store shopping for everyone.
What now?
But is it the unreservedly good thing we have been primed to believe?
Frankly, it worries me.
My town — Mitchell, population about 15,000 — is a good-sized burg for the region (the largest city in the state, Sioux Falls, has about 250,000 residents) and seems to be modestly thriving economically. But the local Sears store followed a circuitous path. It first moved out of our tiny mall to a new local location a couple of years ago, was relocated a year or so later into a brand-new building, then soon sold — and then sold again. And then, recently, closed. Not long before, the local Kmart closed, leaving only Shopko for major discount shopping here, plus, of course, the ever-popular local "dollar" stores.
A number of other smaller Mitchell stores and shops, also reeling from inequitable online competition, have closed as well. The large former Sears space at the mall remains empty as does and the cavernous Kmart at the southern end of town, as do spaces for some other closed commercial establishments there. These days, the former Sears mall's broad interior hallways are generally empty of patrons and quiet. But my wife and I still occasionally go there to patronize the remaining dollar store and to eat at China Buffet, where the food is all-you-can-eat and tasty.
Silent Main Streets
But, as stores close in similar towns all over America because they can't compete with online "stores" with no retail-site overhead costs and other advantages, the nation's once-vibrant public shopping life grows more silent and irrelevant by the day. It's especially painful here in the heartland, where not only have long-familiar commercial establishments closed but farms have exploded in size. When my wife was a child here, normal was one family on each "quarter" of "ground" in a mile-square section; today it's one per section or fewer as smaller farms consolidate into larger corporate entities.
That means fewer farmers, fewer aggregate farm-family members and fewer general shops, restaurants and hardware stores needed to cater to fewer people. The upshot is that little farm towns are dying all over the Midwest, as area residents and commercial enterprises continue to relentlessly disappear, even as communities try desperately to reinvent themselves, to keep the "young people" from emigrating elsewhere.
Ghost towns?
The apprehension I wrote about in my earlier post appears to still be valid:
"What I fear might happen is that small, rural communities, even now slowly fading away as precious few businesses hang on by their fingertips along decaying Main Streets, will become quasi ghost towns."
And that the gregarious, community-minded ethos long so definitive to American life soon won't be what it once was. That a trip to the grocery story where you might likely bump into acquaintances and relatives and have a quick chat about the state of the world will become but a fondly remembered thing of the past. It's like how TV had the unintended result of front porches being traded for backyard patios, and evening strolls through neighborhoods punctuated by serial front-porch chats necessarily faded into memory.
An irony to all this is that South Dakota's Legislature just passed a law requiring online retailers to start paying taxes on any sales in the state, as off-line retailers have had to do for decades.
Too late. For many commercial proprietors, like Sears, the fatal damage is already done.
Image/Licence
Please sign up for new post notifications (top right). Shares, likes, comments appreciated!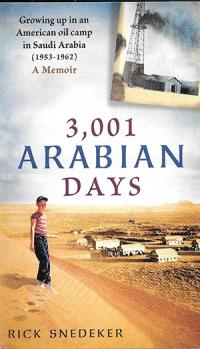 Now on Amazon!
FYI, my newly published memoir — 3,001 Arabian Days — is now available in paperback on Amazon, here (and soon in digital format). It's the story of growing up in an American oil camp in the Saudi Arabian desert from 1953-1962. Hope you enjoy my memories of a fascinating and foundational experience.