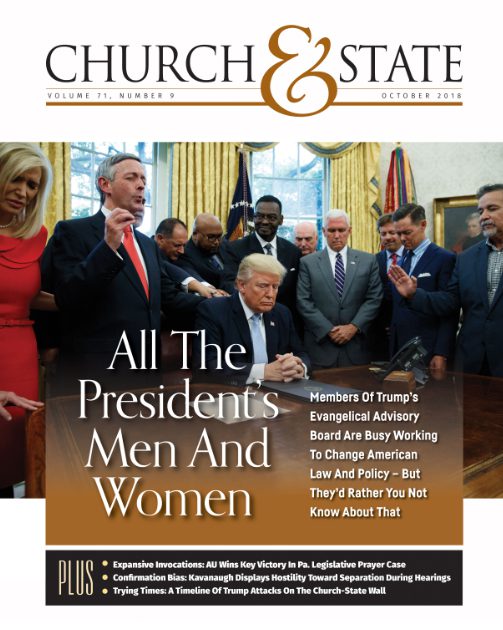 The cover of the October issue of Church & State magazine displays an Oval Office photo of President Donald Trump, Vice President Mike Pence and ten top-tier American Christian evangelicals, all eyes worshipfully downcast and closed, brows furrowed, praying.
If you're a nonbeliever (in religion or Trump), the scene is at once terrifying and dispiriting. It's also un-American.
If we were looking for an incident that most egregiously displays an American government's fulsome embrace of not just religious faith, but an extreme version of it, this White House prayer gathering would certainly qualify.
I'm dead certain that Thomas Jefferson and John Adams, at least, plus no doubt most of the rest of the United States' Founding Fathers, would agree that such religiously worshipful displays at the locus of American power and authority would never be appropriate or constitutional.
True Believer in Chief?
The Church & State cover pic is doubly nauseating because the president himself is about as far from being a true Christian believer as one can get. It's all show, flim-flam, to pander to conservative Christians for their votes. His attitude toward poor people and foreigners ("rapists, murderers" and immigrants from "shit-hold countries") is like his attitude toward piety and pious behavior: it's a cynical deception for political gain. Every literate American who has followed The Donald's crass, hedonistic and callous career, and has read some of his mountain of media coverage over the years, surely knows this, or should.
But, still, throughout this administration and the evangelical community, everybody is busy disingenuously washing each other's feet for personal and political gain. Morality? Honesty? Integrity? What are those in the nation's appalling new normal?
It's not just for show, though. Each side is actually getting tangible benefits.
Church-state collaboration
For example, the Church & State cover story notes that the president's unilaterally announced ban on transgender troops in the military (he didn't consult the military beforehand) stemmed from a meeting several weeks before with his Evangelical Advisory Board. Board members, cleaving to a biblical view that anything not distinctly male and female was "an abomination in the eyes of God," advised Mr. Trump to block transgendered folks from serving their country in the armed services.
Counting the huge number of ballots they might deliver, he apparently listened to this subjective "advice" very closely.
"The incident is a telling example of the reach and power of the Evangelical Advisory Board. And it's far from the only one. It has also come to light that two board members, Moore and Paula White, helped shape a Trump executive order establishing the White House Faith and Opportunity Initiative," Rob Boston wrote in the Church & State piece.
The advisory board is comprised of a who's who of leaders of Religious Right organizations, television preachers and conservative evangelical clergy.
A 'pretty significant' role
Board members boast of their political influence with the president and throughout the GOP ecosystem in the nation's capital. Board spokesman Rev. Ronnie Moore has said the board has had a "pretty significant" role in "directing or affecting" administration policy. He once told Religion News Service:
"There is a long list of progress we have made with this administration because we took our seat at the table. We've provided consequential feedback on policy and personnel decisions particularly affecting religious liberty, judges, the right to life and foreign policy. We are also actively at work on issues like criminal justice reform, and when we've disagreed, we've had every opportunity to express our point of view."
We should keep in mind that "religious freedom" in the evangelical context means denying the human and civil rights of all others to accommodate conservative believers' private and minority religious views.
Board in noncompliance with law
The presidential board is "not merely ceremonial," wrote Boston, and Americans United for Separation of Church and State (publisher of Church & State) filed a complaint with government officials this summer charging that the panel is not operating in compliance with the law.
The complaint states that the board violates the 1972 Federal Advisory Committee Act (FACA) in that it does not adhere to the act's intent, to "ensure that advice by the various advisory committees formed over the years is objective and accessible to the public."
Among FACA rules that the board has failed to comply with are publishing timely notices of its meetings in the Federal Register, meetings must be open to "interested parties" who will be allowed to address the board, and detailed minutes must be kept and partially made public.
Rachel Laser, president and CEO of Americans United, said it's a question of transparency:
"President Trump's Evangelical Advisory Board has significant influence over public policy, yet it is operating in the shadows," she stressed. "It's time to throw open the curtains and shine some light on this subject."
AU Associate Legal Director Alex J. Luchenitser charged roughly the same thing in a letter to presidential attorney Don McGann II:
"It is clear that the President's Evangelical Advisory Board is doing substantive work with the Trump Administration behind closed doors without any sunlight for the public to understand how and why decisions are being made," reads the letter. "We respectfully request that the Board cease meeting and providing advice to the President unless and until it fully complies with FACA, and that you produce to us certain documents relating to the Board."
Who else is board influencing in government?
AU also sent Freedom of Information queries to 10 federal agencies to determine how much collaboration they've had with the board.
When the Washington Post questioned the board after the AU filing, Rev. Moore dissembled, unconvincingly claiming that "there actually isn't a board," and that its rather an informal, loose-knit advisory group.
In a timeline study of board meetings, AU investigators found that many of the president's assaults on church-state separation appear to "spring from Trump's collaboration with the advisory board," Boston wrote.
In the meantime, the president continues to brown-nose evangelical leaders. During an August 27 White House dinner for about 100 of America's religious movers and shakers, President Trump said in prepared remarks:
"America is a nation of believers. And tonight we're joined by faith leaders from across the country who believe in the dignity of life, the glory of God and the power of prayer. Everybody agree with that?"
His political aims were clearer in informal remarks later, when he said:
"This Nov. 6 election is very much a referendum on not only me, it's a referendum on your religion."
But, fortunately, the evangelical advisory board isn't a real board, right?
Please sign up for new post notifications (top right). Shares, likes, comments appreciated!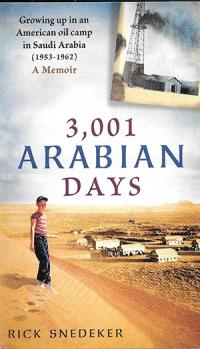 Now on Amazon!
FYI, my newly published memoir — 3,001 Arabian Days — is now available in paperback on Amazon, here, and digital here. It's the story of growing up in an American oil camp in the Saudi Arabian desert from 1953-1962. Hope you enjoy my memories of a fascinating and foundational experience.