Here's another video spoof — "Prophets for Profits" — from The Kloons, the always entertaining and thought-provoking American atheist comedy group.
The video introduces "Prophets for Profits" as a "for-profit call center that helps you decide which belief system best suits your insecurities."
"Feeling anxious?" the video's host asks. "Try Judaism."

"Need to unload your guilt? Give Jesus a call."

"Auditions not going well? Scientology is the one for you."

"Prophets for Profits," intones the host. "How may we direct your money?"
The pseudo-company also offers blended solutions, where you can, say, choose to be part Buddhist, part Jewish, with your donations going in varying percentages to each faith as you wish.
"Ta-dah," the host proclaims, "just like that you're a Buddhist Jew!"
The host (one of the three-member comedy troupe) consoles anyone who might feel existentially insecure enough to actually contact Prophets for Profits:
"One of life's biggest misconceptions is thinking you have to know what's going on. But the fact is all you really need is to think you know."
Unfortunately, that's what most of us think.
Please sign up for new post notifications (top right). Shares, likes, comments appreciated!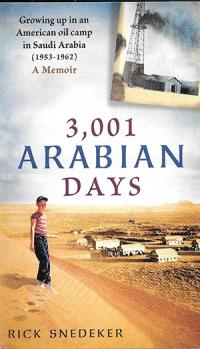 Now on Amazon!
FYI, my newly published memoir — 3,001 Arabian Days — is now available in paperback and digital formats on Amazon, here. It's the story of growing up in an American oil camp in the Saudi Arabian desert from 1953-1962. Hope you enjoy my memories of a fascinating and foundational experience.