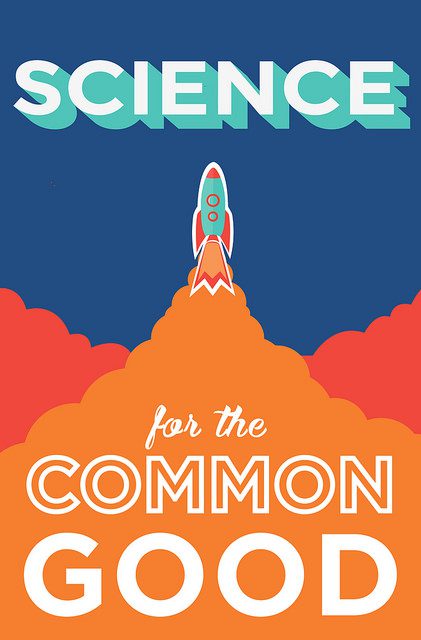 If you're a religious skeptic, demographic data shows you're also very likely a Democrat, but you have much more to celebrate after the Nov. 6 midterm election than just Democrats retaking control of the U.S. House of Representatives.
Also worth cheering is that nine candidates with science backgrounds — eight Democrats, five of them women, and one Republican —were also just elected to the House, presumably giving more credence in policy discussion to empirical facts, which the Trump administration seems deathly allergic to.
Such as whether climate change is real and human-caused, whether immigration is an invasion that poses an existential threat to America or a normal, neutral phenomenon, whether Russian President Vladimir Putin is demonstrably friend or foe. Whether women who accuse men of sexual assault are always lying skanks.
House members with science "in their blood," so to speak, may thus be viewed as a positive addition to this august, deliberative body, because they logically can be expected to consider the evidence of issues over their politics. The opposite of the Trump administration, and the tens of millions of Americans who, despite mountains of evidence to the contrary, accept as infallible whatever "reality" their dear leader happens to invent.
So, for nonreligious people, it's good news.
A microbiologist, engineers, an ocean expert …
The online e-zine Business Insider announced this welcome fact in a recent article titled, "The US just elected 9 new scientists to Congress, including an ocean expert, a nurse, and a biochemist." The article notes that the newcomers add to a list of existing representatives with science backgrounds to bolster the 115th Congress' empirical credentials:
"The members of the current 115th Congress include one physicist, one microbiologist, and one chemist, as well as eight engineers and one mathematician. The medical professions are slightly better represented, with three nurses and 15 doctors, as well as at least three veterinarians."
Hopefully, that will make the Congress more focused on the natural rather than supernatural world, more amenable to practicality than religion in American public policy.
Science-oriented Democratic candidates who won in the midterms all received support of a nonprofit political action committee named 314 Action, which recruits, trains and helped finance scientists and health-care professionals who seek public office. The number 314 relates to 3.14, the ratio of the circumference of a circle to its diameter.
"Scientists are essentially problem-solvers," Shaughnessy Naughton, the president of 314 Action, told Business Insider before the final election tally.
Naughton said the nation needed more scientific politicians in Congress to grapple with complex real-world issues like climate change, cybersecurity, and taming raging health-care costs.
"Who better to be tackling these issues than scientists?" she said.
Here's a brief bio of each newcomer:
Jackie Rosen (D-Nevada), computer programmer: She beat Republican Rep. Dean Heller by, in part, touting her involvement in promoting construction of a large solar array outside Las Vegas.
Chrissy Houlahan (D-Pennsylvania), industrial engineer: A U.S. Air Force veteran who ran on a promise to focus on making health care more affordable. Beat Republican Greg McCauley, a tax lawyer.
Joe Cunningham (D-South Carolina), ocean scientist (and lawyer): Defeated Katie Arrington. He battled with Arrington throughout the campaign over the environmental risks of offshore drilling, which he opposes but his challenger does not.
Sean Casten (D-Illinois), biochemical engineer: In a district that's been a GOP stronghold since 1970, Casten defeated incumbent Rep. Peter Roskam, who once called the consensus on climate change "junk science." Casten founded a waste-energy recovery company with his father.
Elaine Luria (D-Virginia), nuclear engineer: First Democrat to win Virginia's 2nd District since 2008. A former U.S. Navy commander operating nuclear reactors, Luria defeated Rep. Scott Taylor, a former Navy Seal. She focused her campaign on broadening the Affordable Care Act, promoting stricter gun laws and increasing the minimum wage.
Kim Schrier (D-Washington), pediatrician: Defeated former state Sen. Dino Rossi. Schrier becomes the first female physician in Congress.
Lauren Underwood (D-Illinois), registered nurse: The first black woman to represent her district, which is 86 percent white, unseated four-term GOP Rep. Randy Hultgren. Under the Obama administration, she was a senior advisor at the Department of Health and Human Services, focusing on bioterrorism threats, public-health crises and other potential catastrophes.
Jeff Van Drew (D-New Jersey), dentist: Replaces retiring GOP Rep. Frank LoBiondo. Drew has sponsored legislation in his state to help dyslexic children, preserve farmland and stop offshore drilling. He will focus on increasing employment opportunities in his state.
Joining the new science-oriented freshmen Democrats in the House is one Republican scientist — Kevin Hern (R-Oklahoma), a former aerospace engineer and businessman. He shelved his dream to become an astronaut when the shuttle Challenger exploded in 1986 and pivoted to business. A Trump supporter, he now owns 10 McDonald's restaurants in the Tulsa area. He replaces Rep. Jim Bridenstine, who is currently a NASA administrator.
Please sign up for new post notifications (top right). Shares, likes, comments appreciated!