Keep in mind that President Trump once bragged he raised more money than anyone for Iowa Republican Rep. Steve King.
There's a reason for that. Rep. King and the president are joined at the hip ideologically in their affinity for unabashed racist views and white nationalism.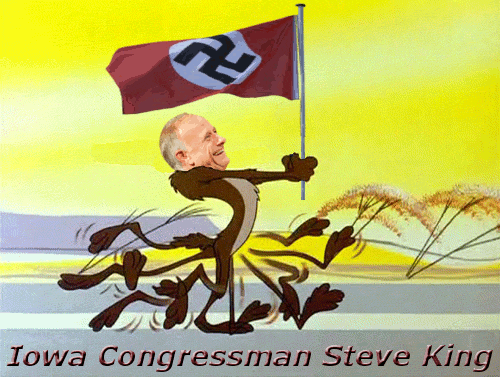 King once characterized immigrants as "livestock," and the president, after neo-Nazis clashed with protesters at Charlottesville, Virginia, in 2017, said there were "very fine people on both sides." Which means Trump believes some "very fine" neo-Nazis exist, one of which drove his car into a crowd of protesters at Charlottesville, killing a young woman and badly injuring others.
So when the U.S. House of Representatives passed a formal resolution Jan. 14 — House Resolution 41 — sternly reprimanding Rep. King for racist, un-American remarks in a recent New York Times article, it was also an indirect rebuke of Donald Trump.
Here we are in America. We have a demonstrably racist president enthroned in the White House and it took 16 years for Congress to be offended enough by longtime Rep. King's chronic and appalling racism to institutionally condemn it.
House Resolution 41
I urge you to read H. Res. 41 in full, here, to wrap your head around what is going on with the Rep. King denunciation and the gravity of it.
The lengthy resolution, which passed 424-1, in short, fulsomely rejected Rep. King's contention in the Times interview that the terms "White nationalism" and "White supremacy" are not vile. The resolution states that those terms are "hateful expressions of intolerance that are contradictory to the values that define the people of the United States."
Before the resolution was voted on, Rep. King in a speech on the House floor doubled down on his belief that he had done nothing wrong. Claiming that his family tree was branched with abolitionists, he argued that the idea of white supremacy "never shows up in my head.
"I do not know how it could possibly come out of my mouth," he said.
Except that it did.
Among other statements in the Times piece, Rep. King asked the interviewer rhetorically:
"White nationalist, white supremacist, Western civilization — how did that language become offensive?"
In the article, reporter Trip Gabriel wrote that, "Mr. King, a 69-year-old former bulldozer operator with a combative manner, who has been elected nine times, helped write the book on white identity politics that are ascendant in Mr. Trump's Republican Party. That provides both a template for Mr. Trump and a warning."
'Find another line of work'
Even often inscrutable Senate Majority Leader Mitch McConnell was having none of King's bigotry.
"If [Rep. King] doesn't understand why 'white supremacy' is offensive, he should find another line of work," McConnell said.
A number of other lawmakers said roughly the same thing, some specifically calling for him to voluntarily resign.
"I'd like to see him find another line of work," Rep. Liz Cheney, the third-ranked Republican in the House, told reporters.
However, even though as part of its denigration of Rep. King's racist remarks the House also stripped him of all committee assignments (essential to a representative's effectiveness as a policy-making legislator), he defiantly said he wasn't going anywhere.
Arguing that he is not a racist, he told the Federal Times that he would "continue to point out the truth and work with all the vigor that I have to represent the 4th District Iowans for at least the next two years."
It's not welcome at the moment politically.
The Times article reminds us:
"With the federal government in a third week of paralysis over a border wall, Mr. Trump's positions are a reminder of how Mr. King's ideology and his language maligning undocumented residents helped shape the Republican message in 2016 and 2018 and define Mr. Trump's agenda and prospects for re-election. Mr. King may have been ostracized by some Republicans over his racist remarks and extremist ties, but as much of the nation debates immigration, his views now carry substantial influence on the right."
In other words, we can think of Rep. King as a forerunner of far-right and alt-right ideologies in the Republican Party, and one of the architects of Donald Trump's dream "Wall."
A startling suddenness
Although the abruptness of the Republican response to Rep. King's statements was startling, seemingly out of nowhere, as was the swift passage of the House denunciation, the more telling detail was the sole representative who voted "no" — Black Democratic Rep. Bobby Rush of Illinois. Even Rep. King voted for it.
Rep. Rush argued that the House should take the far more serious and consequential step of formally censuring King for his "repugnant and racist behavior." He added,
"Any measure short of censure is 'shallow.' Steve King has made a career of making racist statements. That is the only thing he is known for, and this pattern of rabid racism must be confronted head-on by the House of Representatives."
See a recap of Rep. King's racially questionable statements over his career, here. He has also supported anti-multiculturalist, far-right and neo-Nazi groups and their ideologies domestically and worldwide.
In introducing a censure resolution after Monday's vote, Rep. Rush said,
"As with any animal that is rabid, Steve King should be set aside and isolated."
Democratic Rep. Tim Ryan of Ohio introduced a separate censure resolution.
Non-whites are 'subhuman'
The second paragraph of H. Res. 41 repeats the FBI's formal definition of "White supremacist" as people who "believe that the white race is superior to all other races and was created to rule them. They view non-whites as subhuman and usually refer to them in derogatory terms."
Arguably the foundational principle of America is that "all men are created equal," and that it goes without saying that means all women, too. Everyone, in other words. Cultural Neandertals like Rep. King, who believe Caucasian people are inherently superior to all others are not only un-American but ignorant. We all share the same DNA, in fact.
The problem is these supremacists too often tend to be aggressively intolerant. The House resolution points out that hate crimes targeted at racial and cultural minorities, increased during each of the last three years for which records exist, 2015-2017.
If the House won't formally expel Rep. King, at least they could censure him, which is a far more targeted denunciation of a member than H. Res. 41, which only mentions him in its first paragraph but does not specifically denounce him, only denouncing his racist language.
Censure is a formal, institutional condemnation of a person, not just his ideas, which sounds appropriate for the unrepentant and ignoble Steve King.
Our equally ignoble president lied when asked his opinion about Monday's House resolution. He claimed he hadn't heard anything about it, although watching TV news shows seems to devour most of his days.
These two guys deserve each other.
Please sign up (top right) for new Godzooks posts via email, Facebook or Twitter.
---
Available on Amazon!
FYI, Godzook blogger Rick Snedeker's new memoir — 3,001 Arabian Days — is now available in paperback and ebook formats on Amazon, here. It's the story of growing up in an American oil camp in the Saudi Arabian desert from 1953-1962.
If you've already read it, please feel free to post a brief reader review on Amazon!
Reader review:
"Author Snedeker's wit and insights illuminate the book's easy narrative. His journalistic style faithfully recreates the people, places and events, and keeps the story crisp and moving from one chapter to the next. More than a coming of age story, 3,001 Arabian Days is a moving tribute to the intricacies of family, a celebration of Saudi Arabian culture, and a glimpse into a time gone by, but whose shadowy specter you can still almost reach out and touch." — Mark Kennedy