The worry spotlighted in this anti-indoctrination polemic below perfectly summarizes what I've been warning about for years to anyone who would listen.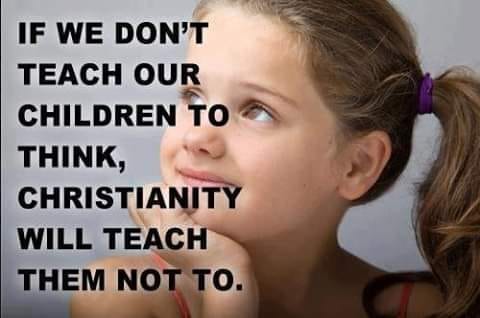 To my mind, the danger of ever-present Christianity in America is that it's more ever-present than teaching about the primacy of fact over fiction, of the necessity of questioning every hypothesis — especially supernatural ones — for actual truth content. So, if kids are far more freqently taught religious ideas over rational ones in their childhoods, they'll likely carry deeply embedded supernatural assumptions into adulthood by default.
That's why tens of millions of adult Americans today are convinced that biological evolution, the time-tested, bedrock concept of modern biological science, isn't true, while simultaneously being convinced that the idea of an invisible, supernatural deity controlling our lives is true.
They believe this because the unsubstantiated doctrine was insinuated into their minds at church services, in catechism classes and Sunday School lessons during their growing-up years. And the sciences of childhood development and psychology tell us what we learn to believe first is what we tend to believe forever more.
Psychology also teaches us that we instinctively and robustly reject any ideas that contradict what we've already chosen to believe.
So, you can easily see the life-long problem for truth when religion is embedded in young minds from the get-go.
The partial solution? Far more robust teaching of school kids to automatically think critically, to compulsively sift fact from fancy. At present, it's taught half-heartedly at best.
Please sign up (top right) to receive new Godzooks posts via email, Facebook or Twitter.
(Thanks to Pauline Lovevegan of the Proud Atheist Facebook group for this image)