If you don't go too deep into the weeds of climate-change science, this image below might be convincing to some. Indeed, women's underwear does seem to have shrunk a lot in the past couple of centuries. There has to be a reason, right?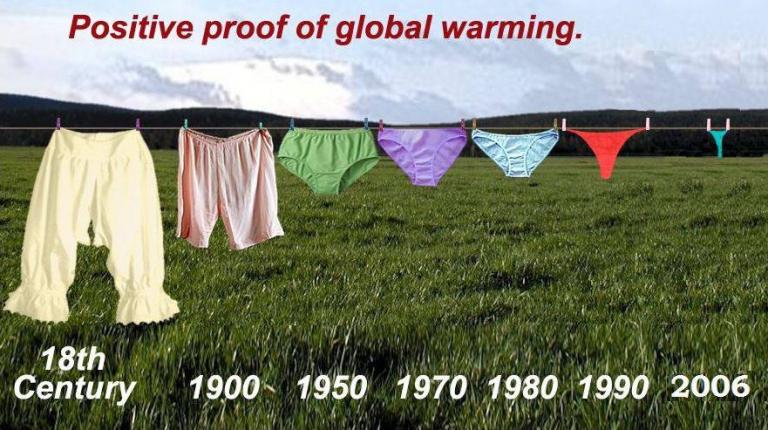 However, truth is rarely that simple, especially when trying to understand the complex material realties of our planet and the wider cosmos. That takes evidence beyond cosmetic appearances.
Take, for example, President Trump's attempted take-down of Minnesota Democratic Sen. Amy Klobuchar's outdoor announcement this past Sunday as she announced her campaign for the presidency — while she was being thoroughly dusted with snow in a driving blizzard. Attempting to be ironic absent any irony, the president tweeted after Klobuchar's speech:
"Well, it happened again. Amy Klobuchar announced that she is running for President, talking proudly of fighting global warming while standing in a virtual blizzard of snow, ice and freezing temperatures. Bad timing. By the end of her speech she looked like a Snowman(woman)!"
Except, a single snowstorm doesn't climate change make.
People like the president who reveal they don't quite get climate change, vastly misunderstand the basics. A warming planet does not make everything warmer everywhere all the time, as the uninformed like to think (and often try to as an "argument" against global warming). It only makes average temperatures warmer worldwide, which can unleash lots of nasty consequences, like colder winters, hotter summers, grander deluges, flooding and shrinking ice caps, among other negative results.
As profit-oriented Republicans should also note, global warming will also cost people and nations exhorbitant sums of money, particularly dealing with the enormous anticipated costs of suffering and recovering from warming-fueled natural disasters.
Climate change is suddenly trendy again, as Democrats having been touting their Green New Deal idea, trying to get some political traction. But it's going to take much more than a public relations campaign to solve a problem that climate scientists worldwide warn  will likely turn very, very ominous in little more than a decade.
Considering the problem with the same superficiality of the image above — and that of our president — is simply irresponsible.
Please sign up (top right) for new Godzooks posts via email, Facebook or Twitter.
Thanks to the Archaeololgy/History Jokes & Puns website for the image above