When will American evangelical groups stop trying to sneak Christianity into government and other public entities, such as schools?
Not soon, apparently.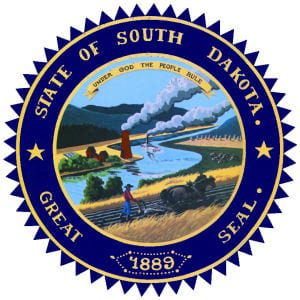 The latest disingenuous insinuation of faith into government bodies comes in the form of Bibles — inscribed with the official state seal — that were recently delivered to South Dakota state lawmakers. The seal already contains the unconstitutional phrase, "Under God The People Rule," so it's a bit of a double whammy.
This latest blatant violation of constitutionally mandated church-state separation came to light at a public legislative "coffee" Feb. 10 sponsored by the League of Women Voters at Pierre (pronounced "peer"), the state capital.
"Several citizens expressed concern over the Bibles and how their incorporation of the state seal could violate the principle of separation of church and state," the Pierre Capital Journal reported.
The Journal quoted one of the attendees as saying: "That's the official state seal. Putting it on a Bible sends a very clear message about what type of religion the government wants people to follow."
The three legislators who attended the event each said they had previously received a seal-stamped Bible from the national religious nonprofit Capital Commission (CC), based in Raleigh, North Carolina, including both District 24 Representatives Tim Rounds and Mary Duvall, and Senator Jeff Monroe. With a agents in 23 states, CC ministers to state lawmakers and staff.
Rep. Rounds said he never took his copy out of its box, and Rep. Duvall expressed some hesitation because the seal was affixed with a religious text. Sen. Monroe said, "Mine's all marked up. I love it," but his meaning was unclear.
Jarvis Wipf, the South Dakota CC "state minister" (CC staffs such representatives in 23 states) stressed that no state funds were used to produce the books, and that,
"They were intended to be a unique gift for the legislators."
It would be more fathomable if some low-level flunkie in South Dakota government made an ignorant decision to allow inappropriate use of the state seal, but Wipf said formal approval was granted CC in December by former Secretary of State Shantel Krebs. Official use of the seal is controlled by the secretary of state.
Sen. Monroe did not view his using one of the seal-stamped Bibles as giving the practice his stamp of approval, nor did he say whether he thought it was appropriate or not.
"I have no problem with [the Bible] … People get to distribute what they want, basically to our desks."
What if The Flying Spaghetti Monsters satirical atheist group decided to emboss Bibles with the South Dakota seal and then distribute them to legislators? Would that be OK? Or, better yet, a Muslim group stamping the state seal on copies of the holy Quran to give to lawmakers?
The Capital Commission knows exactly what it's doing, and that's not to promote God's word. It's to sneakily make state governments seem like they're sanctioning the primacy of Christianity in the United States.
This is shameless dishonesty. I thought Christianity frowned on that sort of thing?
Just as I thought it demanded at least minimum morality in our presidents.
Please sign up (top right) to receive new Godzooks posts via email, Facebook or Twitter.