The fact that even the U.S. Supreme Court seems to be wrestling with the constitutionality of a Maryland war monument known as the Peace Cross shows how hard it is — I'd say impossible — to arbitrarily take religion out of what is inherently religious.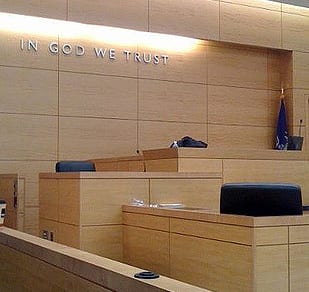 Justices are currently mulling a constitutionality lawsuit filed by a secular humanist group against the Peace Cross, which was erected with private funds in 1925 to honor 49 Bladensburg, Maryland, area soldiers — all Christian — who died in World War I.
40 feet tall
The constitutional issue is that by the middle of the 20th century the monument, its towering, 40-foot-tall Christian cross, and the land upon which it sits, were all formally transferred to state government to maintain with public tax funds.
Complicating the issue is that whereas the Constitution's First Amendment forbids government "establishment" of religion, meaning doing anything to overly accommodate religion or raise one faith above another, many conservatives note that for much of its early  history the U.S. was tantamount to a "semi-established Protestant country," according to a Washington Post article on the cross case. The article explained,
"Up through the 1950s, when the local government took over maintaining the Peace Cross, American culture was dominated by Christian — generally Protestant — symbols and expression, including in public schools."
In this way, Christian crosses have come to seem religiously neutral to many Americans, although they remain, in fact and inherently, religious symbols.
Christians disappearing
But since the halcyon days of the last century American religiosity has begun to shift dramatically. In the 1950s, more than 95 percent of the populace identified as Christian, whereas today that figure has plummeted to about 70 percent, according Gallup survey data. And the number of Americans not affiliated with any religion, including atheists, agnostics and the religiously uninterested, is pushing 25 percent today.
So, the high court justices, by their public statements so far in the case, seem to be looking for a middle ground that honors American traditions as well as changing religious mores, while still complying with the Constitution.
The essential catch in all of this is that whereas the framers of the Constitution emphatically envisioned a secular republic ruled by law, not God, the broad Christian religiosity of its citizens over the centuries as intentionally and unintentionally embedded Christianity-inflected laws and customs throughout American culture — from Bibles in hotel nightstands, to a national holiday honoring the birth of a Christian prophet.
To many Americans, Christian or not, it all by now seems normal and virtually secular. But it's not.
Getting to this place has been fraught with contentious religious history in America. As the Post article notes,
"Protestant hegemony led to conflicts and division, especially after immigration of Roman Catholics and Jews surged in the late 19th century. Protestants supported separation of church and state, but only if the 'separation' left them in charge of the culture."
The 'common faith'
Indeed, Americans argued up to the late 1800s over which version of the Bible would be included in public school curricula, with Protestants insisting that only their scripture (which represented the "common faith") was appropriate in American classrooms. New Testament scripture, unofficially considered the fount of moral truth essential for upstanding citizenship in the U.S., was long included in public school textbooks.
Eventually Jewish parents protested in New York and, even then, a special committee formed to look into the conflict, "appeared genuinely puzzled by the objection."
Such is now Christian privilege operates — the faith's assumptions become so stealthily and deeply embedded in the culture that after awhile most Christians become unaware they're there.
But non-Christians are aware and of its insidious effect on secular culture, thus the lawsuit against the Bradenburg cross.
The Supreme Court has been all over the map on the issue, ruling against state-sponsored prayer and devotional readings, but allowing Christian Bible clubs in school buildings before and after classes (the clubs have deputized students to proselytize during class hours). The court rejected posting the Ten Commandments in Kentucky courthouses but upheld them on the Texas state Capitol grounds. Both decisions were 5-4.
Regarding the Bladenburg monument, a lawyer for the Maryland-National Capital Park and Planning Commission argued before justices that crosses have long traditionally been used to memorialize war dead.
A different meaning
But, the Los Angeles Times noted in an editorial that Justice Elena Kagan pointed out that although a cross might seem an appropriate way to honor fallen heroes, "for members of other faiths, that symbol is not a way to memorialize the dead and does not have that meaning."
Justice Stephen Bryer asked a lawyer for the American Humanist Association, the main plaintiff in the Bradenburg case, how she viewed the idea that "history counts" and that "We're not going to have people trying to tear down historical monuments even here."
The Times editorial noted,
"'What about saying past is past?' [Breyer] said at another point during arguments conducted in a courtroom whose friezes include depictions of Moses and Muhammed and that began, as always, with the marshal's cry, 'God save the United States and this honorable court.'"
As this conundrum shows, the past isn't dead regarding the Bladenburg cross — "it's not even past," as American novelist William Faulkner once said.
Please sign up (top right) for new Godzooks posts via email, Facebook or Twitter.
---

See full Kirkus review, HERE.  Find "3,001 Arabian Days" on Amazon, HERE.