Appropriately, online news media sort of blew up when reports surfaced that U.S. Secretary of State Mike Pompeo only allowed "faith-based media" to participate in his special conference call Monday to discuss "international religious freedom" ahead of his planned Mideast trip this week.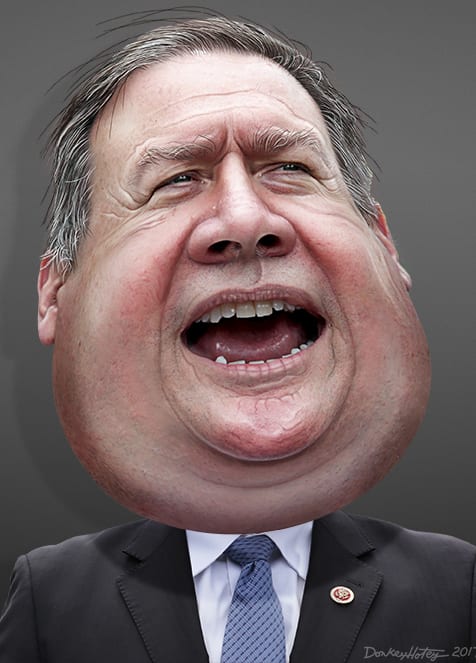 Why would he make such a constitutionally inappropriate, religion-favoring decision?
All possible motivations for the decision are alarming, including that the administration just doesn't want nonreligious Americans — now comprising a fourth of the U.S. population — to know precisely what Pompeo is planning to talk about with foreign leaders on this trip.
It's encouraging that reputable news media are vigorously pushing back. Nonreputable, partisan "news" outlets, such Fox News, Breitbart and other alt-right sites, will probably endorse the exclusion from the event of mainstream media, which President Trump and is minions continue to insist is "the enemy of the people."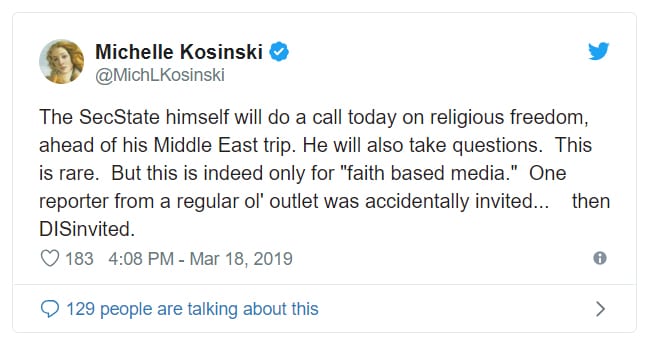 CNN State Department senior reporter Michelle Kosinski first reported on the cloistered call yesterday:
Responding to a Huffpost question after the scheduled call as to why it was restricted to religious media, a State Department representative, describing the constraint as "commonplace," issued this disingenuous statement, without confirming that it actually occurred, listing who was there or describing what was discussed, according to Politic Talks:
"The Department regularly engages in a broad array of media activities. Some of those engagements … are open to any interested domestic or international press. Other engagements are more targeted or designed for topic, region, or audience-specific media. This has always been the case."
'A different situation'
The Politics Talks article noted that, while administration briefings are often targeted to journalists who report on specific subjects, insisting that reporters represent "faith-based" media "is a different situation." The news site quoted NBC's veteran journalist Andrea Mitchell, who was not given access to the call, as saying she couldn't remember any other instance in her long, venerable career of "religion being a test for journalists."
This is problematic because the Constitution disallows the federal government from favoring any particular faith, or — relevant here — religious organizations in general over secular ones (i.e., objective mainstream news entities).
Pompeo has declined to release a full transcript of Monday's "faith-based" call, prompting the Freedom From Religion Foundation (FFRF) to file a formal Freedom of Information Act request to obtain public records pertaining to the event. FFRF staff attorney Ryan Jayne released a
statement
from his organization after news of the call became public.
"Holding an informational media call that is open only to members of the media with your preferred religious viewpoint is anathema to your constitutional obligation to treat all Americans equally regardless of their religious affiliation. In addition, media that are not 'faith-based' have a right to be included in media calls or events that are open to their religious counterparts. FFRF has requested written assurances from the State Department that future media calls and events will not exclude nonreligious media or otherwise favor religion over nonreligion."
FFRF: it 'should be appalling to all Americans'
FFRF Co-President Annie Laurie Gaylor added:
"The State Department's favoritism towards 'religiously-based' media should be appalling to all Americans regardless of their religious beliefs. Not only does it trample the core founding value of American democracy that is the freedom of the press, but it sends the message to the fast-growing number of nonreligious Americans that they are of secondary concern to their own government."
Keep in mind that Pompeo is a serious evangelical Christian in a time when American evangelicals are feverishly at work trying to insert the symbols and ideology of their faith deep into the U.S. government and public institutions throughout the nation, including in schools,.
Waiting for the 'Rapture'
Politic Talks points out that the secretary of state believes in the "Rapture — a time when righteous Christians will supposedly be taken into heaven in the apocalyptic end of times. He sees American battles in the Mideast as part of a greater war of good against evil."
"It is a never-ending struggle … until the Rapture," Pompeo said in a 2015 speech at a megachurch in Kansas, Politic Talks reports. "Be part of it. Be in the fight."
Considering the pre-medieval mindset of the administration's point-man for America's international relations, all Americans need to know what he's publicly thinking and saying — and, especially, what religion-related government activities he may be trying to hide from the public.
Image/License
Please sign up (top right) to receive new Godzooks posts via email, Facebook or Twitter