This graphic (below) from the Freedom from Religion Foundation (FFRF) illustrates how American church-state separation is under assault from within — from current and former top government officials of the Trump administration who believe that God, not empirical reason, is what the nation needs more of to survive and prosper.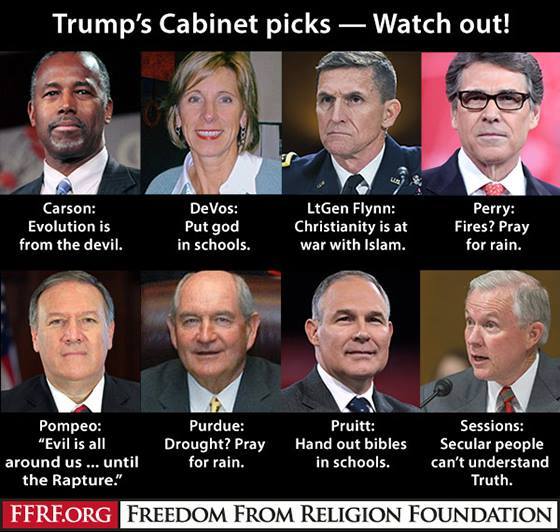 Here are some quotes underscoring the graphic above:
Ben Carson, Secretary of Housing and Urban Development
In a 2012 speech, Carson, a right-wing evangelical Christian and prominent neurosurgeon, described the "Big Bang Theory" that underlies modern astronomy as among the "fairy tales" propogated by "high-faluting scientists" as the story of creation. He also said,
"I personally believe that this theory that Darwin came up with was something that was encouraged by the adversary."
In this context, "adversary" means Satan.
Betsy DeVos, Secretary of Education
In a 2001 meeting, long before she became Education secretary, DeVos said her Christian faith was the fuel behind her promotion of education reform. She said,
"Our desire is … to confront the culture in which we all live today in ways that will continue to help advance God's Kingdom."
People who are close to DeVos "are adamant that she is not sinister," but her emphatic support of vouchers is troubling, considering her fervent evangelical background and the fact that vast number of vouchers go to religious schools, mainly Christian, according to a report in Bustle, an e-zine targeting millennial women.
Lt. Gen. Mike Flynn, former National Security Advisor
Flynn, convicted of lying to the FBI and others about his contacts with Russians and other foreign officials, wrote about how to win the war against radical Islam in his book, The Field of Fight,
"We're in a world war against a messianic mass movement of evil people, most of them inspired by a totalitarian ideology: Radical Islam."
Rick Perry, Secretary of Energy
Perry, a former governor of Texas and unsuccessful presidential candidate, formally declared during a worrisome drought a three-day period in April 2011 as,
"Days of Prayer for Rain in the State of Texas. I urge Texans of all faiths and traditions to offer prayers on those days for the healing of our land, the rebuilding of our communities and the restoration of our normal way of life."
As further explanation, the proclamation continued,
"Throughout our history, both as a state and as individuals, Texans have been strengthened, assured and lifted up through prayer."
Sonny Perdue, Secretary of Agriculture
Perdue, a former governor of Georgia and a vigorous climate-change denier, also promotes prayer as a drought ender. A 2017 article in Think Progress, reported that when his state was suffering from a drought during his second gubernatorial term he responded "with a less-than-scientific strategy,"
"Perdue held an 'interfaith' vigil, featuring only Protestant ministers, outside of the state capitol at which he urged Georgians to pray for rain. 'We've come together here simply for one reason and one reason only: To very reverently and respectfully pray up a storm.'"
Mike Pompeo, Secretary of State
Pompeo, a conservative Midwesterner from Kansas, is a devout Christian evangelical. In a speech at the American University in Cairo during a recent Mideast trip on behalf of the Trump administration, he said,
"I keep a Bible open on my desk to remind me of God and his word, and the truth."
In a similar evangelical vein, he promised congregants at a Kansas megachurch three years ago he will continue the battle of good against evil:
"We will continue to fight these battles," the then congressman said at the Summit church in Wichita. "It is a never-ending struggle … until the rapture. Be part of it. Be in the fight."
The "rapture" is defiined as "an End time event when all Christian believers who are alive will rise along with the resurrected dead believers into Heaven and join Christ."
Scott Pruitt, former Administrator of the Environmental Protection Agency
An Oklahoman and former trustee with the Southern Baptist Theological Seminary, Pruitt credits his faith as the foundation of his politics.
"A Christian worldview means that God has answers to our problems," said Pruitt, according to the seminary's website. "And part of our responsibility is to convey to those in society that the answers that he has, as represented in Scripture, are important and should be followed, because they lead to freedom and liberty."
Judith Lynn Whittington, Pruitt's first legal case as a rookie lawyer, was fighting against what she saw as her employer's religious discrimination against her. In a later political campaign ad for Pruitt, she said he was "so on fire for God's work."
As Oklahoma attorney general, Pruitt falsely told public schools that they could constitutionally distribute Bibles to students, and said the state's Supreme Court was wrong to declare unconstitutional a Ten Commandments monument at the Capitol. He unsuccessfully tried to defy the court's ruling.
Jeff Sessions, former Attorney General
A veteran senator from Alabama before accepting the cabinet post, Sessions has a long history of animus toward church-state separation.
In a speech on the Senate floor in 2016, he said,
"The Constitution says we shall not establish a religion—Congress shall not establish a religion. It doesn't say states couldn't establish a religion."
Accepting an award in 2014, he said:
"Ultimately, freedom of speech is about ascertaining the truth, and if you don't believe there's a truth, you don't believe in truth, if you're an utter secularist, then how do we operate this government? How can we form a democracy of the kind I think you and I believe in…I do believe that we are a nation that, without God, there is no truth, and it's all about power, ideology, advancement, agenda, not doing the public service."
If anyone says key people now governing the United States do not have an agenda to aggressively increase religious influence in American public and civic life, tell them to read this.
Graphic/Freedom From Religion Foundation
Please sign up (top right) to receive new Godzooks posts via email, Facebook or Twitter
---

See full Kirkus review, HERE.  Find "3,001 Arabian Days" on Amazon, HERE