There I was online longingly checking out gorgeous wooden caskets hand-crafted by Trappist Caskets of Peosta, Iowa.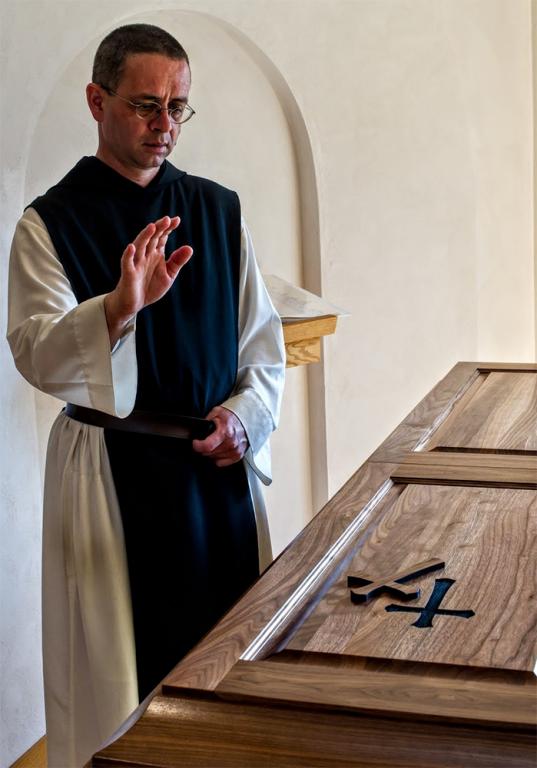 Considering I'm an atheist and plan to be cremated, not buried in a casket, it just proves I'm way too susceptible to advertising. The Trappist Caskets ad on my blog hub shamelessly seduced me.
I'm also apparently susceptible to received wisdom to some degree: I mean, by this point, I accept as common knowledge (with zero evidence) that pious Trappist monks, in addition to being fervently committed to achieving divine quality, would almost certainly never cheat you. It's, like, gospel.
Trappists are a Catholic order of monks and nuns (the women are called Trappistines) that follows the ancient rules of St. Benedict. The order is named after La Trappe Abbey, the monastery in Soligny-la-Trappe, Orne, France, in which the order began in 1664. Formally, it is known as the Order of Cistercians of the Strict Observance.
The "strict observance" part is why I believe they do primo work, in that I interpret that phrase to also, indirectly, mean "strict quality control" when it comes to their casket making. Otherwise, fear of God being what I hear it is, a monk's limp effort at the lathe might ensure a trip way south on Judgment Day. Am I right?
So, in my mind, Trappists are like Hutterites and Amish in unimpeachable piety, divine drive and unerring attention to detail, with the former wearing more interesting clothes.
I learned after several deaths in my extended family in recent weeks, that caskets can cost upwards of $15,000. So, Trappist Caskets' caskets are a relative steal, although I hesitate to use that term in this context. Prices for their caskets range from about $1,500 for a simple pine box to upwards of $3,500 for heavenly cherry in a more celestial style. They also create lovely little wooden urns with, I suspect, the same immortal devotion to quality.
For their least expensive design — the "Simple Shaped Casket" — the Trappist Caskets website explains:
"This simple, old-world style coffin is ideal for those wishing to express tradition, moderation and economy without sacrificing decorum. Dignified in its simplicity, the Simple Shaped Casket is similar in design to those that we monks have been using here at the New Melleray Abbey for the past 160 years. It is available in Variegated Walnut, Natural Oak, Stained Oak, or Pine."
Nicely put. So they clearly insist on quality in their ad copywriting as well, not to mention their marketing. Their pitch contains this enticing come-on: "Receive a free cross with your free catalog request."
I'm starting to think about being buried.
Please sign up (top right) to receive new Godzooks posts via email, Facebook or Twitter