Religiously devout governors, it seems, feel compelled to promote their faith in ways contrary to America's founding ideal of church-state separation.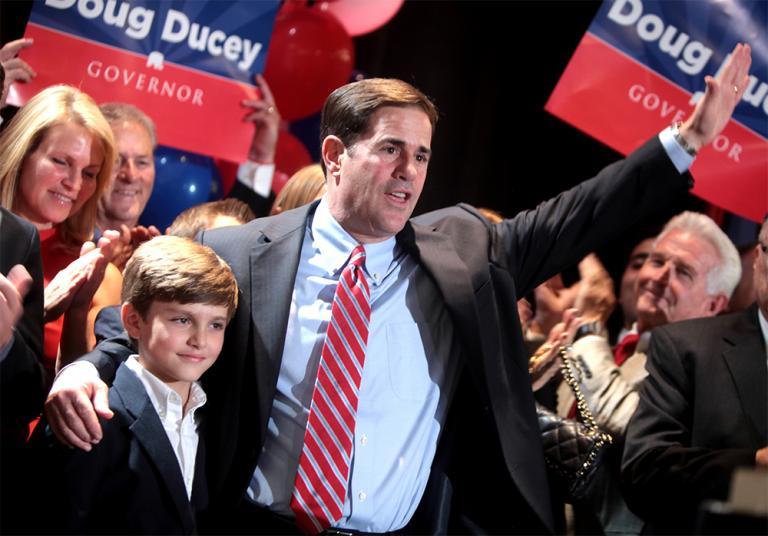 In my own state of South Dakota, Gov. Kristi Noem is fond of publicly encouraging the state's citizens to pray, most recently for divine assistance to lessen the effect of recent flooding. She signed an official proclamation making April 7 an official statewide "Day of Prayer."
When she was a U.S. representative (she is newly governor), she was an avid participant in National Bible Week, presenting a Christian proselytizing sermon on the floor the U.S. House in 2017.
On April 2 this year, Nebraska Gov. Pete Ricketts also proclaimed an official Day of Prayer for his state to mitigate recent flooding in the region.
The latest such gubernatorial assault on church-state separation was inflicted by Republican Arizona Gov. Doug Ducey, who used a government social media account to flagrantly promote his Christian faith.
Church & State, the magazine of Americans United for Separation of Church and State (AU), reported in its latest edition:
"On Easter Ducey, who is Catholic, posted the words 'He is risen' along with an image 0f a cross and a bible verse on his official Facebook page. The post drew the notice of he American Humanist Association (AHA), which wrote to Ducey to protest 'such blatantly religious statements on a government-run page, unambiguously promoting Christian beliefs."
Alex J. Luchenitser, AU's associate legal director, told The Arizona Republic, who contacted him about Ducey's action:
"This Facebook post and similar posts that the governor has placed on his official page in conjunction with Christian holidays contain expressively sectarian Christian language, usually Bible verses."
However, for holidays of other religions, such as Judaism, Luchenitser said, Ducey has posted respectful messages but "with very little religious content … there's a clear message of favoritism toward Christianity."
Church-state expert Charles Haynes, director of the Religious Freedom Center in Washington, D.C., told AU that the Constitution allows elected officials to acknowledge religious or secular holidays but not to favor one over the other. But he said the way Ducey pointedly endorses Christianity "in my opinion, violates the Establishment Clause of the First Amendment."
Ducey was unmoved by the criticism, defiantly insisting, "We won't be removing this post. Ever. … [or] for any other religious holidays."
Which, of course, misses the point. The point is he emphasizes Christianity in comparison to other faiths and to nonfaith on his official Facebook page, a government social media site.
The Washington Free Beacon reported that several visitors to the governor's official Facebook site took offense at his Easter post:
"Great sensitivity, Doug. That's the last time this Jew votes for you," one commentator wrote.

"Why do you use a government platform to bring up your personal religion? Are there no citizens in your jurisdiction that believe differently from you?" wrote another.
I suspect Ducey and South Dakota's governor are believers, as most Republicans seem to be, not only in the divinity of Jesus but in the long-debunked idea that the United States is a Christian nation.
It's not. In fact, America's broad religious diversity is what makes it exceptional among nations.
I wish Thomas Jefferson were here to comment.
Please sign up (top right) for new Godzooks posts via email, Facebook or Twitter
---

See full Kirkus review, HERE.  Find "3,001 Arabian Days" on Amazon, HERE