The term "riot boosting" is now a thing.
Kristi Noem, South Dakota's public-prayer-happy governor, on Tuesday signed into law legislation that not only criminalizes particularly passionate protest scenarios — "riot boosting" in the bill's parlance — but even indirect encouragement of "riot boosters" against such odiferous energy projects as construction of oil pipelines.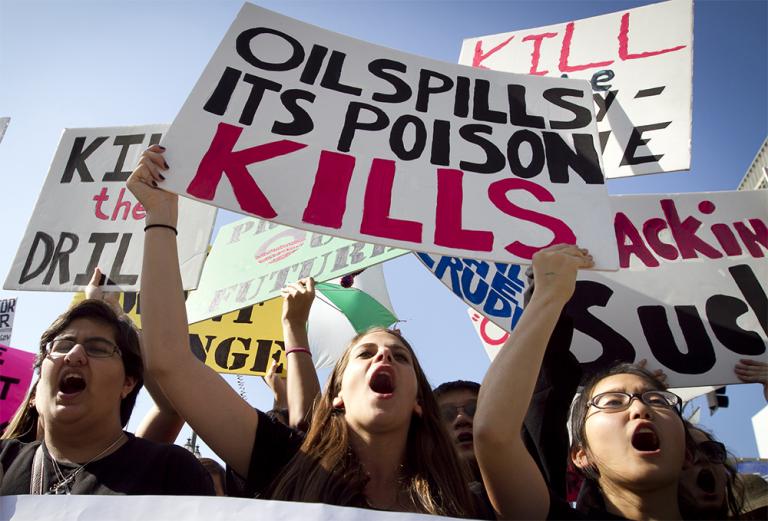 When passing Senate Bill 189, legislators had in mind the passionate, disruptive, at times violent protests in 2016-17 at North Dakota's Standing Rock Indian Reservation opposing the Dakota Access Pipeline project.
Proponents of the brand-new law point to the desire of South Dakota authorities to avoid incurring extra law-enforcement and cleanup costs stemming from protests, such as the heavy state expenses incurred in the North Dakota protests. The state is wary of what protests might be launched against another oil pipeline project — the Keystone XL Pipeline extension project, which, starting in Alberta, Canada, is planned to cross through Montana, and North and South Dakota en route to U.S. oil refineries and export terminals on the Gulf of Mexico.
Feared environmental impacts
Opponents of the Dakota Access and Keystone XL projects are concerned about the environmental degradation they will entail (e.g., carbon emissions and risks to wildlife), including potential contamination of groundwater resources, while proponents emphasize the economic and energy-production benefits of sourcing oil in North America instead of buying it from other sometimes politically questionable foreign producers.
The new South Dakota law has a lot of detractors.
It is viewed by environmental and civil liberties advocates, as well as Native American tribes, as "an attempt to stifle legitimate protest by creating harsh penalties for minor infractions and by trying to scare off advocacy groups," according to the environmentalist website Inside Climate News.
The law imposes stiff financial penalties for interfering in pipeline construction through "riot boosting," which, according to Inside Climate News "includes encouraging or directing someone to engage in a riot, defined by the state as the use of force or violence by three or more people acting together." Even out-of-state residents who indirectly encourage such actions of others can be considered "riot boosters" under the new statute.
'New and unusual'
"'Riot boosting is an unusual and new term. You might be asking yourself what it means, and I think protesters will too," American Civil Liberties Union attorney Vera Eidelman, who tracked the bill, said in March. "I think it poses a unique threat to speech and appears to be targeted at protests. I think it poses a unique threat to speech and appears to be targeted at protests. It uses words like 'encouraging' and 'advising' that are very broad and refer to a category of protected speech."
South Dakota is not alone in crafting protest defenses. Several other states are considering similar bills to deal with protests, which is worrisome, warns Maggie Elllinger-Locke, a Greenpeace staff attorney.
"Even where these bills are simply introduced, even if they do not move, even if the do not become law, they have potential to chill free speech and curtail activism," she said. "We're hearing from people on the frontlines of activism in these states that these bills frighten them."
The ACLU sued South Dakota officials in federal court several months ago on behalf of indigenous and environmental groups. The suit charges free-speech suppression and said the bill's "vague and broad language invited arbitrary enforcement, will chill protected speech, and will result in indiscriminate targeting of peaceful organizers."
Gov. Noem clearly sees the issue as simply one of economics and law.
"I fully support the freedoms of speech and assembly, but we must also have clear expectations and the rule of law," she said in a statement. "My pipeline bills make clear that we will not let rioters control our economic development."
But activists have actually done a pretty good job of that so far.
A history of challenges
The Keystone XL project has been stymied for years by protests and court challenges. Former President Barack Obama decided in 2015 that the pipeline was contrary to U.S. interests, but one of Donald Trump's first acts as president in 2017 was to sign an executive order directing the State Department to issue a construction permit for the pipeline. On June 6 this year, the Ninth Circuit Court of Appeals threw out a Montana U.S. District Court decision in November to halt construction. The Montana court chided the Trump administration, saying it wrongly "simply discarded prior factual findings related to climate change to support its course reversal."
But the project still faces a challenging legal terrain.
In the meantime, corporate denigration of environmental opponents continues. Inside Climate News writes:
"Some activists say the bills are part of a wider effort by the oil and gas industry and its allies in government—through lawsuits, public relations campaigns and legislation—to paint protesters as criminals and even terrorists."
But what about painting the environment as endangered?
Please sign up (top right) to receive new Godzooks posts via email, Facebook or Twitter
---

See full Kirkus review, HERE.  Find "3,001 Arabian Days" on Amazon, HERE