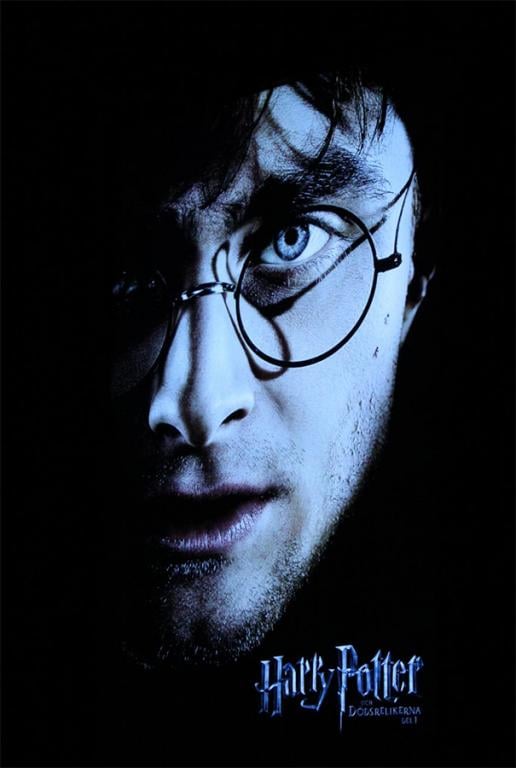 If ever there was a perfect illustration of how detached from reality supernatural religion is, this is it.
A pastor who oversees Saint Edwards Catholic School in Nashville, Tennessee has banned the popular "Harry Potter" fantasy series of books from the school's library because itcan … conjure "evil spirits into the presence of the person reading the text."
Keep in mind that the wizards and magic inherent in the "Harry Potter" books are fantastic inventions that don't actually exist in the real world, any more than "evil spirits" do.
So what in God's name is the censorious Rev. Dan Reehil worried about? Despite being fearsome bogeymen to Rev. Reehil, who oversees Saint Edwards School, the wizardry in the book series is simply a thematic element in engrossing, entertaining fiction that stimulates a love of reading in students.
But the good reverend sees existential danger to innocent young minds, CBS News reported:
"These books present magic as both good and evil, which is not true, but in fact a clever deception," Rev. Reehil said of the seven-part "Harry Potter" series in a letter to parents. "The curses and spells used in the books are actual curses and spells; which when read by a human being risk conjuring evil spirits into the presence of the person reading the text."
Forget for a moment that there are no such things as "actual curses or spells," at least supernaturally effective ones, so it's hard to see what the worry is. To my mind, the really scary part of this incident is that a guy who controls what students learn believes such hocus pocus is real.
As a defense for his decision to pull "Harry Potter" from the school's shelves, Rev. Reehil told parents that he had "consulted several exorcists in the U.S. and Rome, and they recommended that the school remove the books," according to Nashville's Tennessean newspaper.
Well, there you go. Who can argue with the infallible rationality of real, honest-to-God "exorcists."
Rebecca Hammel, superintendent of schools for the Catholic Diocese of Nashville, confirmed that Reehil did indeed send the letter to parents and faculty notifying them that the series would be pulled from the library. She said the parish pastor has "canonical authority" to make such decisions for parish schools.
A crowd waits to buy "Harry Potter and the Deathly Hallows" at a Borders bookshop in Sunnyvale, California, five 5 minutes before the book's official publication. (Jack Sheppard, Wikimedia, CC BY-SA 2.0)
Published between 1997 and 2007, the "Harry Potter" series became enormously popular with children worldwide, and it spurred additional books and feature films. The series follows the magical adventures of Harry Potter, a young wizard, and two sidekicks, Hermione and Ron, who live at Hogwarts, a school for wizards. To date, 325 million copies of the series has been sold globally and translated into 66 languages, and its films have grossed more than $3.8 billion, according to a 2007 op-ed in The New Republic by Daniel Nexon.
The series is more than just a commercial juggernaut, Nexon argues; it's a "global phenomena."
"'Harry Potter,' in fact, functions something like a Rorschach Blot: In countries around the world, it captures various national anxieties about contemporary culture and international affairs," Nexon wrote in the New Republic. "French intellectuals, for example, debate whether or not 'Harry Potter' indoctrinates youngsters into the orthodoxy of unfettered market capitalism. Some Swedish commentators decry what they perceive as 'Harry Potter's' Anglo-American vision of bourgeoisie conformity and its affirmation of class and gender inequality. In Turkey, we find a significant discussion of 'Harry Potter' that pivots around issues of Turkish civilizational identity: whether Turkey is part of the West, the East, or a bridge between the two. A few Turkish writers have even asserted that controversies over 'Harry Potter' in the United States demonstrate how Turks are more 'Western' than Americans. And in Russia, a country whose concern over international status and prestige becomes more apparent each day, the newspaper Novaya Gazeta created a minor firestorm when it claimed that the film visage of Dobby the House-Elf was a deliberate insult to President Vladimir Putin."
At bottom, though, the series seems to provoke anxieties about traditionalism and modernism, Nexon pointed out:
"To many religious conservatives, 'Harry Potter' represents yet another assault by the mass media, public institutions, and other manifestations of secular culture against their traditional values. In the United States, Russia, Thailand, and Australia, some Christian conservatives have condemned the books for, among other things, promoting occultism and Satanism. Harry Potter and his friends, after all, use magic and witchcraft, not only as part of their everyday lives, but also as part of their struggle against the forces of evil."
Still, Christian critics contend that the Bible clearly says that all magic is demonic and that teaching children that witchcraft is normal, "Harry Potter risks seducing them away from Christianity and into occult practices," Nexon writes.
"It may even, the argument goes, bring them into contact with the very real demons that haunt our world," he added.
Nonetheless, the stories remain fictional. Made up. Not real. As invented and ultimately harmless as the imaginary witches in Shakespeare's MacBeth.
But it's also by now an integral part of globalization.
Meanwhile, Rev. Reehil is still stuck in the even more fanciful realms of the Vatican.
Please sign up (top right) to receive new Godzooks posts via email, Facebook or Twitter
---

See full Kirkus review, HERE. Find "3,001 Arabian Days" on Amazon, HERE