The lion's share of tax-funded education vouchers in America continues to be used by parents to send their kids to private, mainly Christian religious schools.
This means U.S. taxpayers, with formal government encouragement of vouchers programs, are subsidizing the teaching of religious fantasies to children at the expense of evidence-based realities.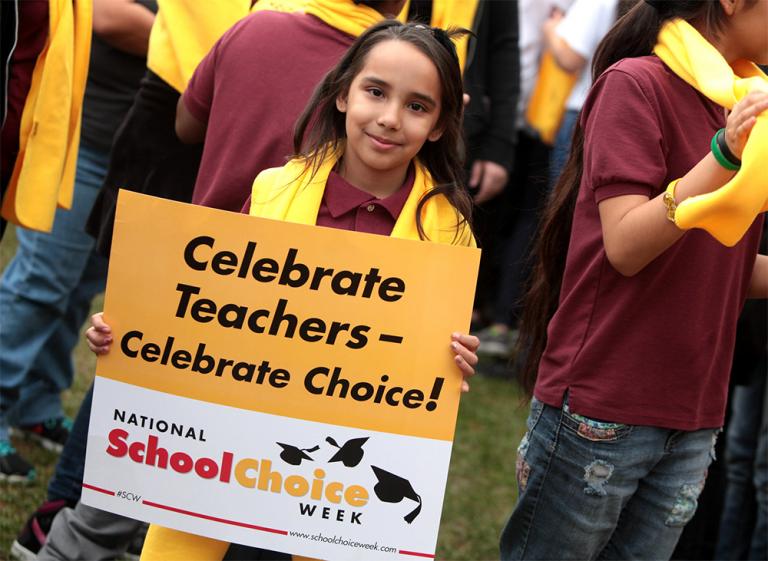 We should remind ourselves of this fact as the U.S. Supreme Court prepares to consider a critical Montana voucher case in the court's 2019-2020 term that begins in October.
To put this ongoing issue in context, a 2011 report in Church & State, the magazine of Americans United for Separation of Church and State, noted that the U.S. Department of Education then reported 76 percent of private American schools were religiously affiliated and that 80 percent of students attending private schools were enrolled in religious ones.
"Most of these religious schools seek to indoctrinate as well as educate," the Church & State article explained. "They integrate religion throughout the curriculum and often require all students to receive religious instruction and attend religious services. Thus, there is no way to prevent publicly funded vouchers from paying for these institutions' religious activities and education."
Since then, school voucher programs — often disingenuously referred to by proponents as "school choice scholarships" — have exploded nationwide, so the issue remains, if anything, much more worrisome to church-state-separation proponents. The "choice" is mainly by parents to send their kids to religious schools at government-authorized taxpayer expense.
The Montana case — Espinoza v. Montana Department of Revenue — concerns a state tuition program that allows Montana taxpayers to, with tax credits, fund organizations that provide "scholarships" for students attending private (mostly Christian) schools.
In late 2018, the Montana Supreme Court struck down the program, which allows a dollar-for-dollar tax credit to taxpayers who donate to school scholarship programs. The court ruled that the "scholarship" funding program violates Article X, Section 6, of the Montana Constitution. The decision holds that that constitutional section prohibits "any direct or indirect appropriation or payment from any public fund or monies … for any sectarian purpose or to aid any … school … controlled in whole or in part by any church, sect, or denomination," the Church & State article reported.
The article noted that, "Critics say it's a voucher-like plan that's designed to legally direct public money to private schools."
In Montana, as elsewhere in America, the vast majority of private schools are religious and predominantly Christian.
Church & State worries that if the U.S. Supreme Court overturns Espinoza v. Montana Department of Revenue, "state constitutional provisions that curb aid to religious institutions may be weakened or overturned entirely," potential resulting in "even more tax money being siphoned away from public schools and into voucher plans."
A similar voucher initiative in Indiana — the
Indiana Choice Scholarship Program
— raises similar worries among secular Americans who oppose public funding for religious schools, whatever the scenario. A 2017 article in the online
Indy Star
reported that students at Colonial Christian, an Indianapolis school, are "warned they
can be kicked out of school
for 'promoting a homosexual lifestyle or alternative gender identity.'" Many faith schools require that families with enrolling children "sign statements of faith" as a precondition of enrollment, "affirming that they hold the same religious beliefs and values of the school."
At Indianapolis' Bishop Chatard High School students are required to attend four years of classes in theology, which Oxford Dictionary defines as "the study of God and religious belief."
"Opponents of the program say it amounts to the state allowing private schools to discriminate," the Indy Star explained. "But advocates point to an Indiana Supreme Court ruling that determined the state's voucher program to be constitutional."
The court decided 5-0 in its 2013 ruling that using public money to finance private Christian education did not violate the state's constitution. Keep in mind that Vice President Mike Pence, a Christian Right, school "choice" zealot, is the former governor of Indiana. The U.S. Supreme Court previously upheld an Ohio program similar to Indiana's in 2002.
In Indiana alone, tens of millions of dollars in state tax funds continue to pay for students to attend private religious schools.
The only way for this to make sense would be if the canons of religion were as true as those of, say, science or mathematics.
But, there's simply no evidence of that.
Please sign up (top right) for new Godzooks posts via email, Facebook or Twitter
---

See full Kirkus review, HERE.  Find "3,001 Arabian Days" on Amazon, HERE