NEWS UPDATE: I learned today that the policy referenced in the following story was apparently rescinded by the sheriff who announced it. His negating statement, according to a report Friday in the Laurinburg (North Carolina) Exchange:
"I realized using the 'law and word of God' might be unfair, regardless of my own beliefs," the sheriff said. "But I also explained to them [the Freedom from Religion Foundation] that there is and never was an official policy established. Any policy created here comes only after employees are asked to sign a document. This situation went no further than a text."
There were four kinds of breathtaking ignorance revealed in a new employee cohabitation policy recently decreed by Scotland County, North Carolina, Sheriff Ralph Kersey.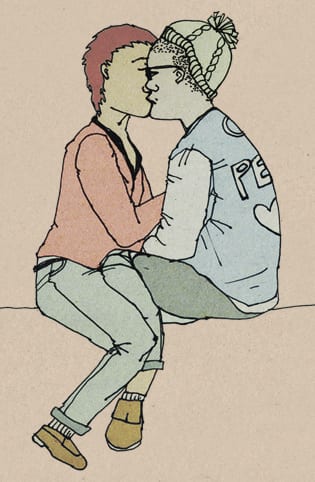 Note that couples cohabiting before the 1960s sexual revolution — when the practice was normalized and its taboo removed — were said to be "living in sin." That term betrays its Christian moral pedigree.
Sheriff Kersey's new policy reads:
Effective immediately!

The policy has been changed in reference to Cohabitation. The policy change will be distributed on Monday. It will be prohibited for you to live with another while employed at the Scotland County Sheriff's Office unless you are officially married according to the law and word of God [boldface mine], sisters, brothers, or family by blood. This shall not apply to those whom are currently cohabitating. However, if your current relationship with the other party should cease, you will comply with the new policy change.

Thank you

Sheriff
The four kinds of ignorance alluded to above are:
 The U.S. Constitution explicitly prohibits any government official favoring or accommodating a particular religious tradition over others.
 A North Carolina state judge acknowledged this previously, in 2016, ruling that the state's cohabitation ban was unconstitutional.
 Christian dogma is not legally enforceable on anyone anywhere in America.
 Christianity and its God do not have hegemony over America, being simply one of many co-equal faiths in the U.S. that share the same rights.
Sheriff Kersey has a long history of overt Christian proselytizing in public, including on his Facebook page, where he has said many such things as,
"Now thanks be to God who always leads us in triumph in Christ …"

"You were created by Almighty God to live a blessed and fulfilled life. But so many people live far below the level of what God truly intends for them simply because they don't see how it could happen. …"

"When things don't look good in the natural, remember, we serve a supernatural God. With God leading you into victory, you can always plan for increase. You can plan for restoration. …"
In response to this new policy, the national nonprofit Freedom from Religion Foundation (FFRF), which promotes separation of church and state, sent this advice to Kersey in a media statement:
"By instating a policy that limits employees' behavior outside of work to that which you deem to be 'according to the law and word of God,' your office unconstitutionally promoted religion and threatens to punish those who believe differently," FFRF Legal Fellow Brendan Johnson writes to Sheriff Ralph Kersey.

"This policy rests on archaic notions of biblical morality that have no place dictating modern workplace guidelines," FFRF Co-President Annie Laurie Gaylor comments. "It is a staggering violation of the rights of conscience of every Scotland County Sheriff's Office employee."
Two previous posts by The Friendly Atheist, here, and Progressive Secular Humanists blog, here, respectively, reported on the same wrongheaded policy.
To me, the most unsettling aspect of this policy is that there are elected officials who actually think it's legal to force their religion on everyone, with government authority.
Every time a flicker of such bogus thinking emerges, it needs to stamped out.
Please sign up (top right) to receive new Godzooks posts via email, Facebook or Twitter.
---

See full Kirkus review, HERE.  Find "3,001 Arabian Days" on Amazon, HERE