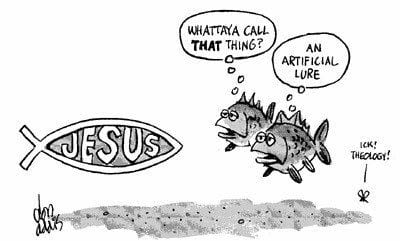 I love this cartoon, which I bumped into on the Facebook page of the Portland, Oregon, chapter of the Freedom from Religion Foundation.
It encapsulates the fundamental driver of supernatural religion — Christianity, in this case — which is to lure converts with an "artificial," which is to say concocted, doctrine that promises supreme reward in this life and "the next."
Except in the case of believers there has never been a shred of evidence that surrender of the faithful to the divine has resulted in any reward whatsoever. And in the case of fish, there has been the opposite of reward.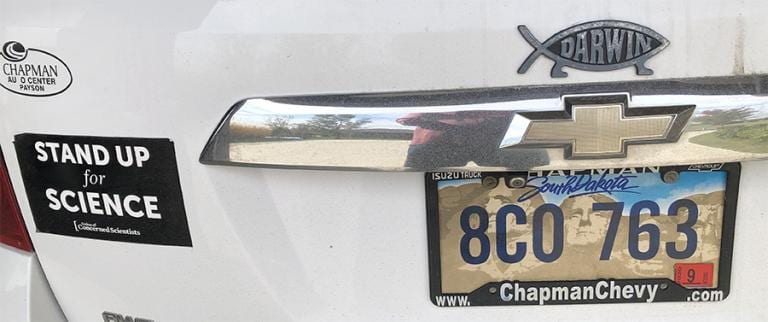 As a small protest against the Christian fish icon, I put the same icon on my car, but it says "Darwin" instead of "Jesus." And my fish has sprouted legs. Nearby is a bumper sticker that says, "Stand Up For Science," from the Union of Concerned Scientists (UCS).
The UCS website explains:
"The Union of Concerned Scientists was founded in 1969 by scientists and students at the Massachusetts Institute of Technology. That year, the Vietnam War was at its height and Cleveland's heavily polluted Cuyahoga River had caught fire. Appalled at how the United States government was misusing science, the UCS founders, including Henry Kendall and Kurt Gottfried, drafted a statement calling for scientific research to be directed away from military technologies and toward solving pressing environmental and social problems. We remain true to that founding vision."
I can't remember where I found the amphibious Christian fish. I just thought it was cute — and relevant.
Considering that American culture is awash in fantastical Christian symbols and doctrines — God is on our money, emblazoned on our school walls and, increasingly, spouted by our top leaders — it seems important to throw in some real-world secular ones for balance.
Cartoon/Freedom from Religion Foundation, Portland, Oregon
Please sign up (top right) to receive new Godzooks posts via email, Facebook or Twitter.
---

See full Kirkus review, HERE. Find "3,001 Arabian Days" on Amazon, HERE