Americans' belief in God has sharply eroded since the start of the new millennium.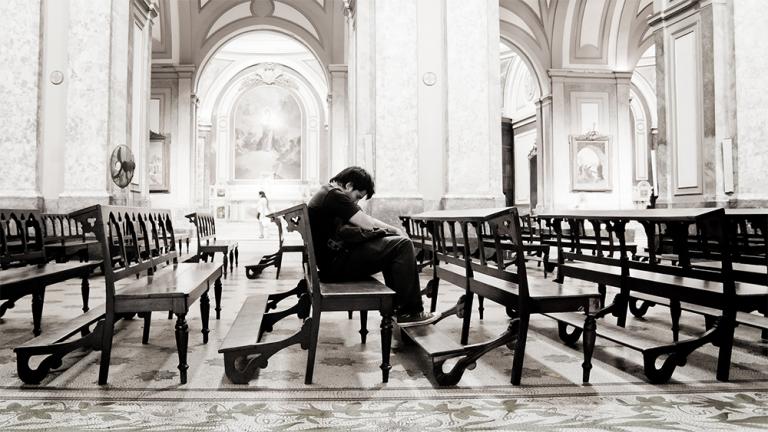 According to a new multi-year Gallup Poll synthesis survey report — "How Many Americans Believe in God?" — no matter how citizens are asked in surveys about their belief or nonbelief in divinity, the trend-lines angle south.
Although a 2018 Gallup poll showed that that U.S. church membership has reached an all-time low of 50%, and that 20 percent of the populace then didn't identify with any religion, the new data in aggregate notes that a majority of Americans overall still believe in God.
But how unequivocally respondents believe and how many believers there are depends on which among three similar questions they've been asked in Gallup studies over nearly two decades, the new survey indicates.
For example, respondents asked a simple yes/no question — "Do you believe in God? (a 2017 survey question) — garnered the highest level of divine belief (87 percent) in the latest data. The faith level dips to 79 percent for people when asked their belief in God in three ways: whether they believe, don't believe or aren't sure.
The least belief (64 percent) was shown for people who were asked only whether they were "convinced" God exists. In other words, people say they believe, but when asked to qualify that belief with unqualified commitment, they seem to waffle.
Decline in the number of faithful is most pronounced (15 points) among those "convinced" of divine existence, dropping from 79 percent who unquestioningly embraced the idea of an extant God in 2004 to 64 percent in 2017.
The percentage of committed believers fell from 90 percent to 79 percent from 2001-2016 among respondents asked where they fell within the believe/don't believe range, and from 92 percent to 79 percent during 2011-2017 for those simply asked, "Do you believe in God?"
"The array of Gallup results leads to the conclusion that putting a percentage on Americans' belief in God depends on how you define "belief," the new survey report explained. "If the standard is absolute certainty — no hedging and no doubts — it's somewhere around two-thirds. If the standard is a propensity to believe rather than not to believe, then the figure is somewhere north of three-quarters."
These data track with a variety of studies and survey, along with anecdotal evidence, which points to a gradual erosion of religiosity in the United States for decades.
Gallup measures Americans' views on God and religion in its Values & Beliefs poll — one of 12 surveys that make up the Gallup Poll Social Series. Find more information from Gallup here and here.
The Gallup report follows a new study from the Pew Research Center, released in October, showing that 65 percent of Americans now self-identify as Christians (a 12 percent general drop from a decade ago, but particularly among the young), and that 26 percent of the populace now identifies as "religiously unaffiliated," the Christian Post reported.
The take-away is that religious faith is slowly evaporating in the U.S., and this consequential demographic change is being led by young Americans.
Please sign up (top right) to receive new Godzooks posts via email, Facebook or Twitter.
---

See full Kirkus review, HERE.  Find "3,001 Arabian Days" on Amazon, HERE