This curious sign outside an American Lutheran Church — it states "The Class on Prophecy Has Been Canceled Due to Unforeseen Circumstances" — was too rich in irony not to share.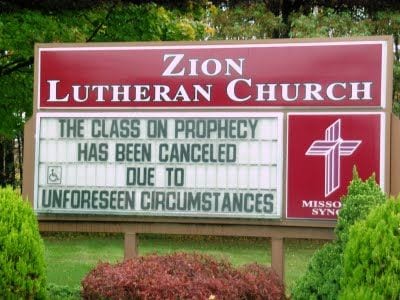 Not to explain the irony, but with the kind of unerring prophecy prophesied in the Christian Bible, such an "unforeseen circumstance" as that heralded by the church sign should never have arisen (so to speak) in the first place.
The irony is not lost on nonreligious folks, who already are convinced that divine prophecy is a wholly invented skill anyway, but I'm not too sure if it wasn't completely missed by the faithful congregation of Zion Lutheran Church.
In any event, one would think that the supposed all-knowing God who "wrote" the "inerrant" Bible through human intermediaries certainly should be able to ensure pastors aren't hampered by "unforeseen circumstances" that could have been divinely pre-seen and avoided.
Or perhaps, the pastor who crafted this sign text just has a wicked sense of humor.
Please sign up (top right) to receive new Godzooks posts via email, Facebook or Twitter
---

See full Kirkus review, HERE.  Find "3,001 Arabian Days" on Amazon, HERE